Saurabh Patel, dropped in August, joined Suryaja in 2010 with his son when he was Minister; the firm has 4.01% stake in GNRL which has stake in 8 blocks .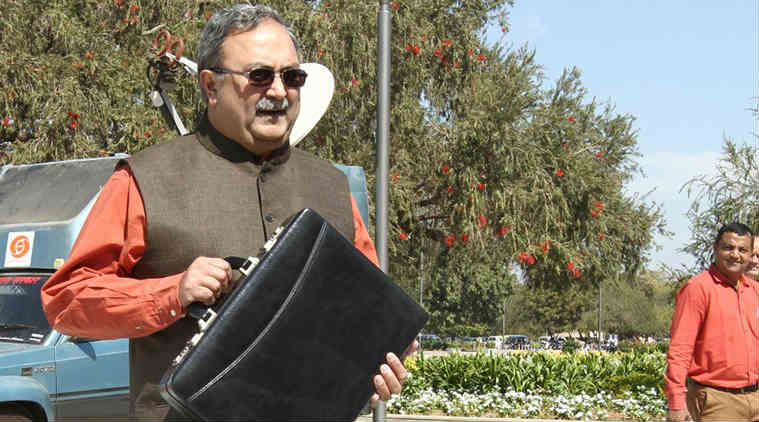 Saurabh Patel (Source: Express file photo)SAURABH Patel, four-time BJP MLA from Gujarat, who was the minister of Energy & Petrochemicals for 14 years, has financial interests in eight onshore oil blocks in Gujarat through a web of companies, an investigation by The Indian Express has revealed. On August 7, 2016, during the change of guard in Gandhinagar, when Vijay Rupani took over as Chief Minister after Anandiben Patel stepped down, Saurabh Patel was dropped from the Cabinet. In April 2008, when Patel was Energy & Petrochem-icals Minister in the Narendra Modi government, his brother Mehul Dalal and his sister-in-law Nikita Dalal set up Suryaja Infrastructure Private limited — each got 5,000 shares. The next year, Patel and his son Abhay Dalal also got 5,000 shares each in the company. This shareholding continues to this date.
Saurabh and his son gave their residence address as Nandan Panchvati, Ellisbridge, Ahmedabad and the company address as 3-C, Centre Point, Panchvati, Ellisbridge, Ahmedabad. When The Indian Express visited this address last week, it found the office had moved to Gulbai Tekra, Panchvati, Ahmedabad.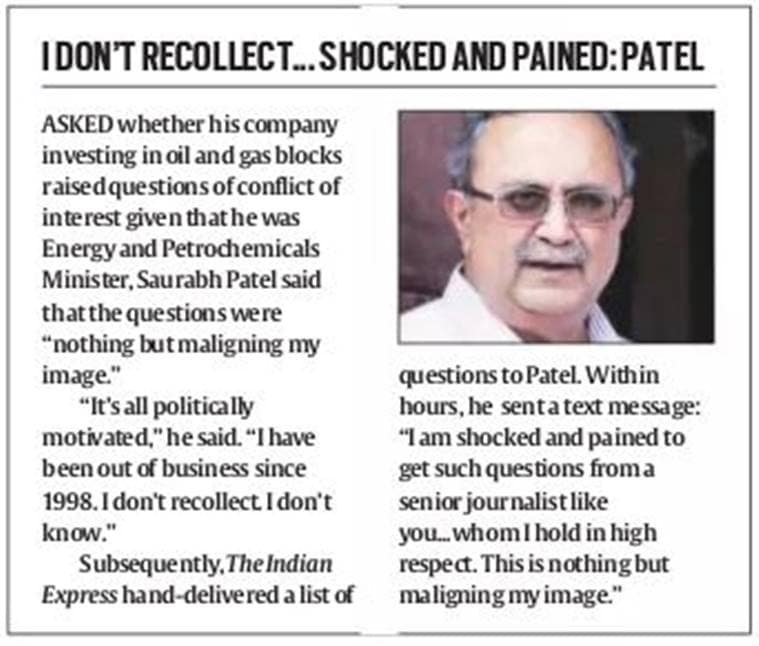 Between October and December 2009 — Patel was still Energy Minister — Suryaja invested in a private listed company Gujarat Natural Resources Limited (GNRL) which is in the oil and gas exploration business. It is this investment that raises questions of propriety and conflict of interest.
For, an investigation by The Indian Express of Registrar of Companies records, company balance sheets, and filings to the Bombay Stock Exchange reveal a web of transactions and a series of name-changes that link Saurabh Patel's company Suryaja to production-sharing contracts signed by Centre and state-owned PSUs for exploration of eight oil blocks in the Cambay basin in Gujarat.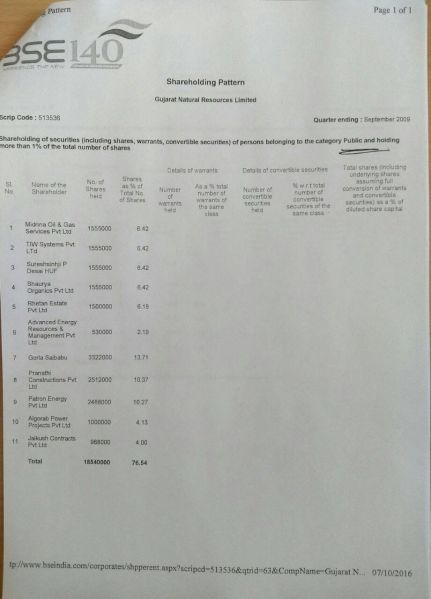 These PSUs include Oil and Natural Gas Corporation (ONGC); Hindustan Oil and Exploration Company (HOEC) and state-owned Gujarat State Petroleum Corporation (GSPC). GSPC, incidentally, was under the purview of Patel's Ministry. The Indian Express has put together a chronological sequence of events that reveals how Patel and his family, via Suryaja, entered the state's oil and gas exploration business when he was the Minister:
August 1991: At the heart of the link between Suryaja and oil blocks is Lesha Steel, a company incorporated in 1991 by Ashok Shah and his son Shalin Shah, two Gujarat-based businessmen. Company records largely draw a blank for this firm for the period 1991 to 2007.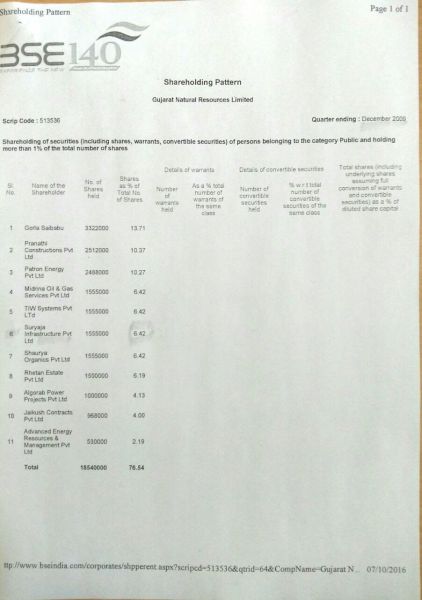 2001: A Bahamas-based company, Heramec, incorporated in 1999, won exploration rights for six oil blocks in Gujarat.
Heramec signed production sharing contracts with GSPC and HOEC for the oil blocks. It had 30% stake in each of the six blocks. Three years later, it got a 10% stake in two more oil blocks with ONGC.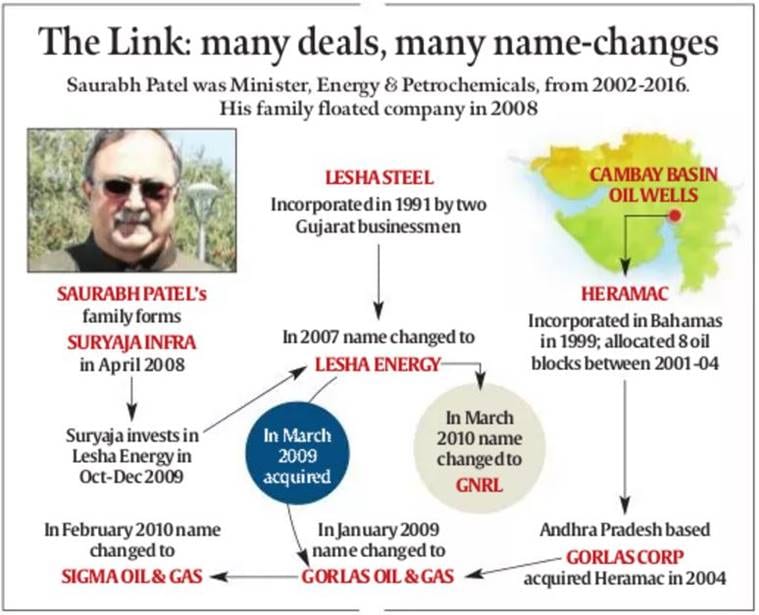 2004: Heramec is acquired by Hyderabad-based Gorlas Corporation owned by businessman Saibabu Gorla and Sailaja Gorla. Saibabu Gorla is CMD of Gorla Group with interests in real estate and oil and gas.
March 2008: Lesha Steel renames itself Lesha Energy Resources Limited
March-September 2008: Lesha Energy issues 15.55 lakh equity shares (11.16%) for around Rs 1.5 – 1.6 crore to Ahmedabad-based Surendra Sinh P Desai who is an uncle of Saurabh Patel.
April 2008: Saurabh Patel's family sets up Suryaja Infrastructure Private Ltd; Saurabh Patel joins the company in 2009-10.
January 2009: Gorlas Corporation renames itself as Gorlas Oil and Gas.
March 2009: Lesha Energy acquires Gorlas Oil and Gas for Rs 15.43 crore.
October-December 2009: Desai's 15.55 lakh shares (6.4%) of Lesha Energy are purchased by Saurabh Patel's Suryaja for Rs 6.40 crore.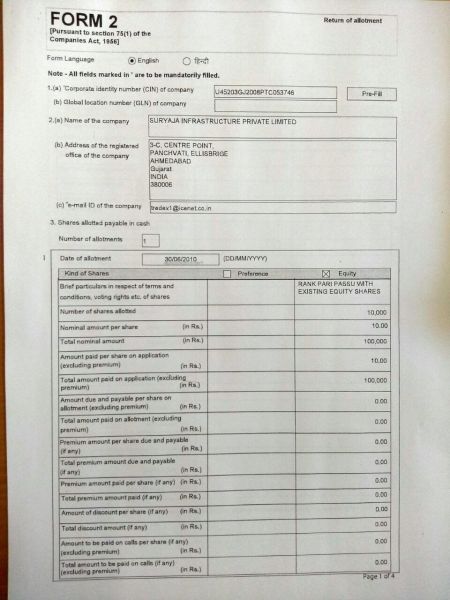 February 2010: Gorlas Oil and Gas, now a subsidiary of Lesha Energy, changes its name to Sigma Oil and Gas.
Month 2010: Lesha Energy changes its name to Gujarat Natural Resources Limited (GNRL). And Heramec's name is changed to GNRL Oil and Gas in September 2013.
As a result of dilution in equity of GNRL between January and March 2010, Suryaja's holding in GNRL came down to from 6.4% to 4.01%.
Market records show that GNRL's stock jumped over 20 times: from Rs 4.13 in April 2007, a year before Saurabh Patel's family launched the company, to Rs 85.6 in December 2008 when Patel joined his company. Its share price today was Rs 45.
In his assets affidavit filed before Election Commission in 2012, Patel did not declare his 5000 shares in Suryaja while listing his investments in several companies.
Patel, 58, is the son-in-law of the late Dhirubhai Ambani's elder brother Ramnikbhai Ambani. In 2002, he was invited to join the Cabinet by Modi. Between 2002 and 2016, he handled several portfolios including Energy and Petrochemicals, Mines and Minerals, Stationery, Planning, Tourism, Civil Aviation, Cottage Industry, Salt Industry, Printing and Labour and Employment. He held the Energy and Petrochemicals portfolio since 2002 when he was a Minister of State.
ASKED whether his company investing in oil and gas blocks raised questions of conflict of interest given that he was Energy and Petrochemicals Minister, Saurabh Patel said that the questions were "nothing but maligning my image."
"It's all politically motivated," he said. "I have been out of business since 1998. I don't recollect. I don't know."
Subsequently, The Indian Express hand-delivered a list of questions to Patel. Within hours, he sent a text message: "I am shocked and pained to get such questions from a senior journalist like you…whom I hold in high respect. This is nothing but maligning my image."
http://indianexpress.com/article/india/india-news-india/saurabh-patel-corruption-oil-gas-blocks-gujarat-energy-petrochemicals-minister-4388863/