Reported by Anant Zanane, Edited by Deepshikha Ghosh |NDTV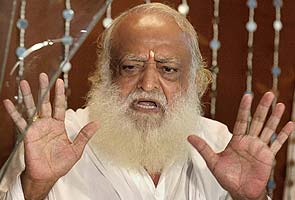 Shahjahanpur, UP: 
In a house in Shahjahanpur,
Uttar Pradesh
, a poster of Asaram Bapu in the prayer room is scratched with blades, proof of a
family
's anger at being betrayed by a man they had worshipped for over a decade.The father of a 15-year-old girl who accused the self-styled godman of
sexually assaulting
her at his ashram in
Jodhpur
, says all he wants is the 'Baba' behind bars."He took my daughter to his private quarters in the Jodhpur ashram to perform some ritual to ward off
evil spirits
. Then he assaulted her," he told NDTV.
"He tried to silence her…told her 'my gunmen are outside, be quiet or they will kill you and your parents'.
The family claims they have been receiving threatening calls from Asaram's men, but they are determined to fight.
A regular contributor to Asaram Bapu's trust, the father says he had taken his daughter to the spiritual leader as she had been unwell.
In her statement to the police, the girl said the 72-year-old yoga guru tried to force himself on her and threatened to hurt her and her family if she dared to reveal what happened.
Yesterday, the Rajasthan police waited for eight hours to serve summons to Asaram Bapu, as his followers claimed he was 'meditating'. Later, Asaram Bapu dismissed the girl's allegations as 'bakwas (nonsense)' and accused the family of trying to frame him.
"Will any man risk his daughter's izzat (honour) like this by making false allegations?" said the father. "We stand by what we told the police. Why doesn't the CBI investigate and verify the truth?"
He hit out at the police for only serving the godman summons, nearly two weeks after the complaint. "He has political connections – he should have been arrested by now".
Related articles