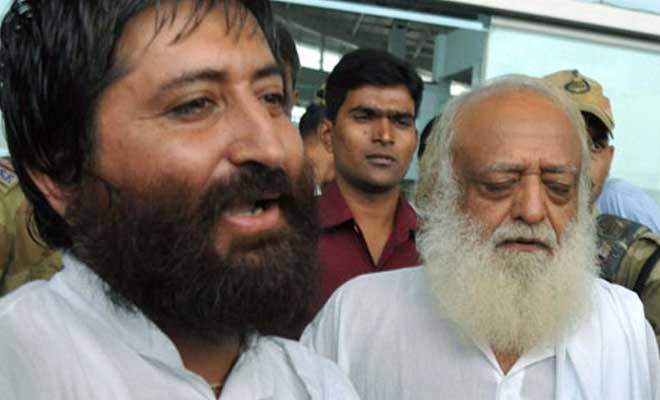 The main witness of the Asaram sexual assault case of Surat sisters, Amrut Prajapati died on Tuesday  after  succumbing to the serious  injuries he suffered  when  he  was  shot at in Rajkot in May last week. Prajapati was brought to Ahmedabad civil hospital for treatment and shifted to Apollo hospital last week.
Vaid Amrut Prajapati, a resident of Odhav in Ahmedabad practiced Ayurveda. He was shot at his clinic at around 1.15 pm at his Rajkot clinic on May 23. He was an important aide and part of Asaram's team as an expert on Ayurveda who parted ways after working nearly for 15 years.
Prajapati was known for raising his voice against Asaram for many years. He had actively raised his voice  during the Surat sisters rape case too spilling the beans on Asaram and Narayan Sai's activities in the Ahmedabad and Surat ashrams with women devotees.
The family members of Prajapati cried foul and demanded action against police inaction in the case. According to the case details, an unidentified person had visited Prajapati at his clinic in Rajkot under the pretext of taking treatment. He was reportedly the last visitor who had entered his chamber when the entire clinic's staff had left for the day. When Prajapati was about to check him,  the unidentified person shot him in his throat. The assailant then fled the spot on a motorbike with his aide.
When the police met Prajapati in hospital, he was unable to speak and had written names of six persons on a piece of paper whom he suspected to be behind the attack and gave it to the police. However, the Rajkot crime branch that jumped into action to probe the case got no leads for over 15 days.
Prajapati's wife Saroj had made several pleas to the Rajkot and Ahmedabad Police demanding arrest of the six men who are allegedly the henchmen of Asaram. Prajapati was shifted to Ahmedabad Civil Hospital from Rajkot after his condition was serious. Last week, the doctors had recommend his family to shift him to Apollo Hospital where he was put on a ventilator.
He was declared dead in the morning. Asaram is lodged in the Jodhpur jail since his arrest in September last year for an alleged sexual assault case registered by a minor girl. In Surat too, a woman has accused Asaram of rape and illegal confinement in his ashram. He was recently chargesheeted by the police after a SIT investigation.
Prajapati was ousted from the Ahmedabad ashram in 2005 for giving evidence against the godman in a case of two children's death under suspicious circumstances in the ashram. He had also accused Asaram of committing about 1,000 rapes in his lifetime and orchestrating attacks on him as the deceased knew about his "mischievous activities".
Earlier, there have been attacks on witnesses in the alleged rape cases against Asaram and his son Narayan Sai. There was an acid attack in Surat on Dinesh Waghchandani. Before him, a key witness Rakesh Patel was stabbed by two men in Surat.
Read more at: http://indianexpress.com/article/cities/ahmedabad/asarams-former-aide-amrut-prajapati-dies/