May 14, 2013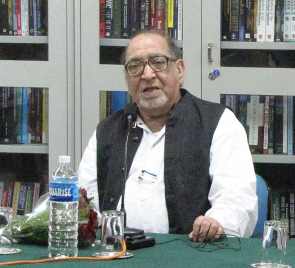 Renowned Islamic scholar Asghar Ali Engineer, who passed away in Mumbai [ Images ] on Tuesday , was opposed to all forms of religious bigotry including by the clergy of his own faith. For opposing the Syedna, spiritual of Dawoodi Bohras, Engineer faced scorn, boycott and even, sometimes, violence. In February 2000 Dilip D'souza had chronicled in Rediff.com one such assault on Asghar Ali Engineer; we reproduce it here. In Tribute.
If you want to find Asghar Ali Engineer on a working day, you'll have to make your way to his office in Santa Cruz, Bombay. To get there, you edge through the chaos outside the railway station: buses and rickshaws bear down on you, hawkers of everything conceivable are everywhere, the occasional cow meanders about. Past them, the grubby building has a too-low entrance on which I've rammed my forehead more times than I can count. That negotiated, you walk up the narrow stairs to a small office, overflowing with books, papers, newspapers and magazines.
Invariably in a white or beige kurta and pajama, Asghar Ali sits in a room at the back. It's a near-sure bet he's busy pecking intently at a keyboard. Earlier, that keyboard belonged to a small red typewriter; lately it is part of a laptop. He writes with energy and passion people half his age can't match, turning out articles and pamphlets and books on a wide range of subjects. He'll be the first to acknowledge that it's not high literature he's producing in that room. But he writes like he talks to you: simply, fearlessly and straight from the heart. Never a hint of hedging or obfuscation.
That is why this man is so widely respected. That is why, too, he is so hated. Hated enough, that at Bombay airport on February 13, three goons beat up this 60-year-old heart patient. Hated enough, that pals of those goons have since gone into a kind of accusatory overdrive, making public statements that it was actually Engineer who was doing the beating and abusing.
To anyone who knows Asghar Ali even slightly, the idea of him assaulting someone is so absurd, it might have been funny. But it is not funny in the least.
To understand what happened at the airport that day, you have to know that Engineer is a Dawoodi Bohra. This is a Muslim sect of traders, originally from Gujarat. Their spiritual head is the 85-year-old Dr Syedna Mohammed Burhanuddin (now 102) known simply as The Syedna. The Syedna maintains strict control over his flock via a system of seven taxes and multiple regulations, all enforced by his priests.
For many years, Asghar Ali has campaigned for reform within the Bohra community, asked over and over again for an accounting from the Syedna for the money he collects through those taxes. As reformers usually are, he is unpopular among the clergy, among the faithful. They have attacked him four times already, going back to 1977.
February 13 saw the fifth attack. That day, Asghar Ali was on an Alliance Air (a subsidiary of Indian Airlines) flight from Bhopal to Bombay, via Indore. It was supposed to be a half-hour halt at Indore, just enough to drop off and pick up passengers. But an hour passed and still the plane stayed put on the ground. Turned out the Syedna himself was to board the flight there, and the great man was delayed.
Nearly 3,000 of the Syedna's followers had gathered to wave tearful goodbyes to him at Indore. Seeing this crowd, the airport Indian Airlines personnel 'felt it could be risky to let the airplane take off without [the Syedna].' So they delayed the departure, hoping 'to prevent a law and order problem.' (Quotes from The Times of India [ Images ], February 17).
Apparently several of the passengers on the flight objected to this delay, and Asghar Ali Engineer joined the protest. Of course, the protest had no effect. But when the Syedna finally arrived and the flight took off, Engineer told Outlook, two of his followers, 'after consulting the Syedna, began abusing … [T]hey said, "You shaitan, get down and see what happens to you." '
What happened to the 'shaitan' was that in the terminal at Bombay, three men assaulted him. One was one of the Syedna's fellow flyers, the other two were from among the hordes who had turned up to fondly greet him on arrival. The assault continued for several minutes. Asghar Ali fell to the ground, bleeding. Eventually the police rescued him and took him to Nanavati hospital.
Meanwhile, more of the Syedna's followers paid visits to Asghar Ali's home and that crowded first-floor office in Santa Cruz. These were not courtesy calls to express concern for his health. No, they ransacked both places, up to the fans on the ceiling. As Asghar Ali wrote to me some days later: "My household things have been destroyed completely. Office computers were also destroyed."
The story does not end there. The Syedna's followers have wasted very little time cranking up the propaganda machine. They took a delegation to the chief minister to demand protection for the Syedna from Engineer. (There was one extremely interesting feature of this delegation that I will get to in a bit). Then they flooded the newspapers with letters recounting what they say really happened on that Indore-Bombay flight.
The assaulter, the propaganda would have it, was Engineer. First, he had stood at the entrance with his arms outspread, preventing the Syedna from entering. After waiting "quietly" for some minutes on the ladder, the Syedna managed to make his way into the plane. That's when Asghar Ali began "abusing" him in "foul language", "provoking" him and his 20 followers throughout the flight to Bombay. The delegation said that Asghar Ali's language was "unbearable and intolerable to any follower of the religion." To top it all, Asghar Ali actually mounted a "physical assault" on the Syedna.
"The fact remains", one letter said, "that it was Engineer who took the law in his hands first and whatever happened afterwards was a result of that." Another expressed these lucid opinions: "Engineer [doesn't] even know how to behave with a person of [the Syedna's] dignity and class. Engineer is … a curse on society. … May [the Syedna's] enemies burn in the fires of hell."
Florid accusations aside, who ransacked Asghar Ali's home and office? The Syedna's nephew, Badrul Jamali Bhai, used strangely familiar language at a press conference: "Someone whose feelings may have been hurt could have done it." More familiar language came from a Syedna spokesman: "It was the natural feelings of his followers that broke out into violence. If someone abuses our father, how can we tolerate it?"
Ah yes, that language of intolerance again. Feelings were hurt, some things just can't be tolerated, the assault was only an expression of those "natural feelings." I didn't catch it in the reports I found, but I am confident someone among the Syedna's men used that word loved by goons intent on lying propaganda, whether during Nazi Germany's [ Images ] Kristallnacht or after the demolition of the Babri Masjid [ Images ].
"Spontaneous."
As in: the attacks on Jews that November 9 night in 1938 were, said Joseph Goebbels, a "spontaneous" demonstration by the German people against the murder of a German embassy official in Paris. As in: leaders of the Shiv Sena [ Images ] admitted that their "boys" were out rioting in Bombay in 1992-93, but that they appeared "spontaneously" to "prevent the massacre of Hindus." As in: the destruction of the Babri Masjid, leaders of the BJP told us, was a "spontaneous" reaction of Hindus whose "feelings had been hurt" enough.
Yes indeed, when it is bigotry, when it is intolerance of differing opinions, there are no religious boundaries. The defenders of the Syedna could be the defenders of German purity could be the defenders of Hinduism.
Apart from his calls for reform among the Bohras, Asghar Ali Engineer is a strong and learned spokesman for religious sanity. In particular, his was a prominent voice after the demolition of that mosque and the 1992-93 Bombay riots. His team of volunteers fanned out to speak to riot victims all over the city. The report he issued based on their findings (Bombay's Shame) is a sad and damning commentary on the destruction the so-called defenders of Hinduism brought on the heads of all Bombay, Hindus and otherwise. His subsequent writings have kept up that commentary. They have brought him hatred from the defenders of Hinduism just as severe as he gets from the Syedna's flock.
And that's why the Syedna's delegation that went to the chief minister was so interesting. It was led by two prominent Bombay politicians: Maharashtra's [ Images ] ex-Minister for Housing Raj Purohit and Khetwadi MLA Atul Shah.
Both belong to the BJP.
Dilip D'Souza
Image: Asghar Ali Engineer passed away on Tuesday  | Photograph: Wikimedia Commons
Related articles