All India | Reported by Akhilesh Sharma, Edited by Sanchari Bhattacharya | Updated: June 29, 2014 22:27 IST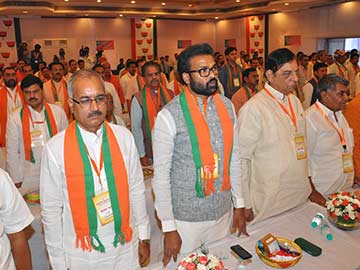 161 first-time BJP MPs are attending the workshop
New Delhi:  Suresh Soni, senior leader of the Rashtriya Swayamsevak Sangh or the RSS, reportedly compared May 16 — the day Lok Sabha election results were declared and the BJP emerged victorious — to August 16, 1947, the day after India won its independence and the erstwhile British rulers finally left the country. (Guard Against Nepotism, Don't Speak Out of Turn: PM to BJP's New Lawmakers)
Mr Soni, a joint general secretary of the RSS, made the comments while addressing 161 first-time BJP MPs at a two-day training camp organised by the party at Surajkund on the border between Delhi and Haryana, said sources. (BJP's Rookie Law-makers are Now in Camp, PM Met Them)
Mr Soni is the RSS's points-person with the BJP.
The Sangh ideologue reportedly told the first-time lawmakers, "On May 16, the day of election results, it felt the same way as it was on August 16, 1947, when the British had left India".
He also talked about the importance of ideology for the RSS, said sources.
"Most of you are aware of the RSS and its ideology. Ideology is our soul and under no condition should one get diverted from it," Mr Soni reportedly told the MPs.
According to sources, he urged the MPs to fulfill people's expectations, saying, "It is a matter of great joy that you have come to power and people have expressed confidence (in you). This is your responsibility. People's trust should not be breached".
Union Environment Minister Prakash Javadekar and Power Minister Piyush Goyal are scheduled to address the MPs later today about how to improve their communication strategy and reach out to the public via social media.
86-year-old L K Advani, who was the final speaker at the gathering, said on Sunday, "I've never seen that a party which has ruled the country for 10 years doesn't even have enough numbers claim the post of eader of the Opposition." Mr Advani also said that our biggest concern should be that Mr Modi's government lasts for 10 years.
Prime Minister Narendra Modi, a first-time MP from Varanasi, was the first speaker at the camp on Saturday morning.
The 63-year-old PM had laid out a clear list of dos and don'ts for the new lawmakers — he warned against any form of corruption or nepotism, asked the MPs to come well prepared for debates in the House and urged them to approach him or party president Rajnath Singh if they needed any help. (PM Modi's Address to New BJP Lawmakers at Training Camp)
Home Minister Rajnath Singh, Urban Development Minister M Venkaiah Naidu, Finance Minister Arun Jaitley and External Affairs Minister Sushma Swaraj were among the top BJP leaders who also addressed the new lawmakers.