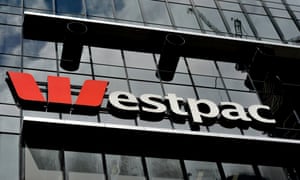 Coalition frontbencher calls for Queenslanders to boycott Australia's second-largest bank after it says it will now only lend to mines in established coalfields
Australia's big four banks have all ruled out funding or withdrawn from Adani's Queensland coal project, after Westpac said it would not back opening up new coalmining regions, prompting a scathing attack from the resources minister, Matthew Canavan.
Westpac, the country's second-largest bank, released a new climate policy on Friday, saying it would limit lending for new thermal coal projects to "only existing coal producing basins".
The coal mined must also have energy content "in at least the top 15% globally", meaning at least 6,300 kilocalories per kg, according to the Westpac policy.
Adani's Carmichael mine would be the first in the Galilee basin and the coal would have only 4,950 kilocalories per kg, the miner told the Queensland land court in 2014.
Canavan, thealso the minister for northern Australia, invited Queenslanders seeking home loans or term deposits to boycott Westpac as a result of its decision.
"I can only conclude from this decision by Westpac that they are seeking to revert to their original name as the Bank of New South Wales, as they are turning their back on Queensland as a result of this decision," he said.
"May I suggest those Queenslanders seeking a home loan or a bank deposit or some such in the next few months might want to back a bank that is backing the interests of Queenslanders."
Canavan also accused Westpac of turning its back on "the Indigenous people of Queensland" because of majority support for the project among Wangan and Jagalingou traditional owners, although this is contested by an anti-Adani faction.
The Queensland senator castigated the bank for "almost zero consultation with the people of north Queensland", saying it was "more interested in listening to the noisy activists in Sydney than the job hungry people" in his constituency.
Westpac has come under pressure from environmental groups and various activist campaigns, including one that targeted its cash machines and a rally that interrupted the bank's 200th anniversary celebrations in Sydney this month.
Adani's final investment decision on Carmichael had been slated for this month but the company subsequently said it would be made by Junebefore mine construction from August.
An Adani Australia spokesman said the company had not approached Westpac for funding for the mine, rail or port expansion.
But Blair Palese, the chief executive of climate advocacy group 350.org, said Westpac's decision represented "an enormous blow to this project and the future of coal in Australia".
Palese said the federal and Queensland governments, which both support the proposed mine, were "becoming increasingly isolated as businesses and international investors refuse to touch coal and the Adani project".
"After months of community pressure, Westpac's announcement is a strong indication that people everywhere are ready to stop this climate disaster in its tracks and that Adani and our government ignore them at their peril," he said.
Adani is seeking a $1bn concessional loan from the commonwealth for its rail project linking the mine to its Abbot Point coal terminal.
On Thursday Andrew Harding, the CEO of Adani's rival Aurizon, told the Melbourne Mining Club his company could build the line for "at least $1bn less" than Adani's proposal, with fewer land acquisitions and less impact on the environment.
Adani wrote off that suggestion as "fanciful and monopolistic".
"The so-called plan is a smokescreen aimed at defending Aurizon's expensive monopoly of coal rail lines in Queensland," Adani said. "The Aurizon plan is designed to instil fear and stifle hope in the people of regional Queensland."
The CEO of Westpac, Brian Hartzer, also said the bank would increase its lending target for "climate change solutions" from $6.3bn to $10bn by 2020 and $25bn by 2030.
"Westpac recognises that climate change is an economic issue as well as an environmental issue, and banks have an important role to play in assisting the Australian economy to transition to a net zero emissions economy," Hartzer said. "Limiting global warming will require a collaborative effort as we transition to lower-emissions sectors, while also taking steps to help the economy and our communities become more resilient."
Adani previously received a $543m loan facility in two deals with Westpac, alongside others from Commonwealth Bank and National Australia Bank, to acquire a 99-year lease on the Abbot Point terminal, according to the climate advocacy group Market Forces.
NAB ruled out funding the Carmichael project in September 2015, a month after Commonwealth Bank parted ways with Adani as project finance adviser.
The CEO of ANZ, Shayne Elliott, in effect ruled out financing the mine last December when he predicted a downward shift in the bank's exposure to coalmining would continue for the foreseeable future.
Critics of the Adani proposal, which would be Australia's largest and one of the world's largest coal mines, argue the impact of carbon emissions from its coal is incompatible with global attempts to limit warming to less than 2C.
Canavan said Adani's target markets in India and north Asia would simply source lower quality coal with higher emissions elsewhere, a conclusion he said was shared by the Queensland supreme court in its recent rejection of a "green activist claims" against the mine.
The Adani spokesman said the company was "fervently committed" to the project "despite Westpac and other Australian financial houses choosing to ignore the opportunity to invest".
"The financial houses have, instead, chosen to bow to environmental activists," he said. "In so doing, they have chosen to continue to invest in overseas coal projects that will generate jobs in those countries at the expense of Australians, many of whom are their investors and depositors."
The Carmichael coal "easily meets the emissions standards announced by Westpac", the spokesman said.
https://www.theguardian.com/environment/2017/apr/28/big-four-banks-all-refuse-to-fund-adani-coalmine-after-westpac-rules-out-loan#ampshare=https://www.theguardian.com/environment/2017/apr/28/big-four-banks-all-refuse-to-fund-adani-coalmine-after-westpac-rules-out-loan