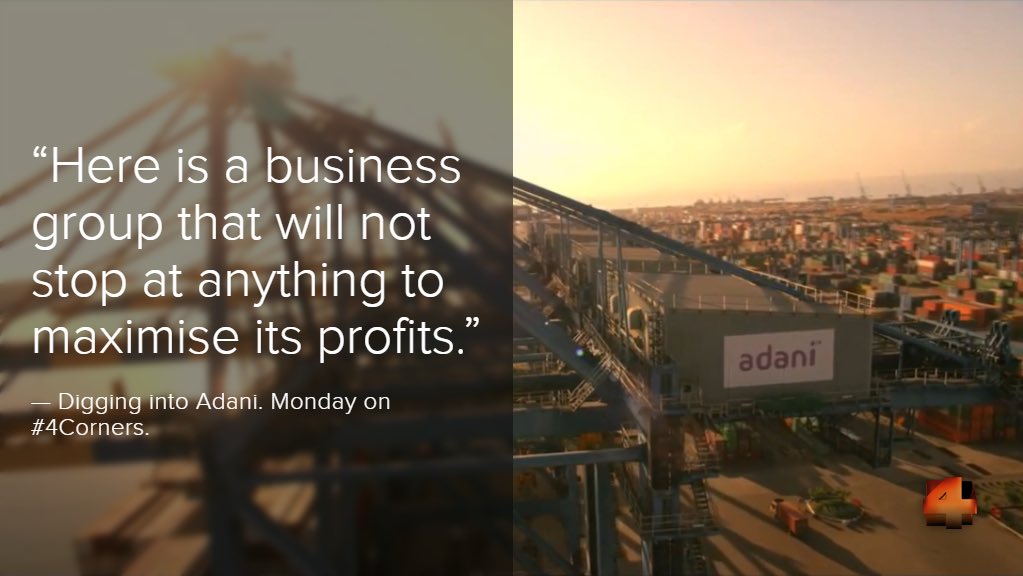 NEW DELHI: Four Corners, Australia's leading investigative journalism program has been exposing "scandals, triggering inquiries, firing debate and confronting taboos" since 1961. This time around it chose to investigate Indian industrialist Gautam Adani as he has been in Australian news for several months now with his mega mining project, facing strong protests from local groups. Despite this he bagged the contract, with Four Corners journalists travelling to India for an expose that has been aired on October 2. The video link is at the end of this report for those who are interested in viewing it, filmed by Four Corners as it says "to serve the public interest."
Four Corners reporter Stephen Long said that he had been in Mundra, in Adani's home state in Gujarat for less than 24 hours when the police turned up at the crew's hotel. He said that their main concern was to safeguard the interviews and footage they had filmed on the story they were investigating. Long said, "We were questioned on and off for about five hours, the senior policeman kept on going outside and talking to someone on his mobile, and whenever he'd return the questioning, the hostility, would ramp up."
"It was obvious they knew why we were there but everybody was avoiding the 'A' word: Adani.", he added.
"They'd told us that if we stayed there'd be officers from three Indian intelligence agencies coming to see us the next day, plus we'd have an entourage of crime squad detectives and local police wherever we went," Long said on camera while introducing the film. The journalists left India and in their subsequent story telecast in Australia on October 2, share concerns whether Australia should be supporting Adani's controversial mine in Queensland.
This is the text that Four Corners put out:
"Why would the crime branch want to see us?" Stephen Long, reporter
When Four Corners travelled to India to investigate the activities of the giant Adani group, they soon discovered the power of the company.
While attempting to film and gather information about Adani's operations, the Four Corners team had their cameras shut down, their footage deleted and were questioned for hours by police.
The team were left in no doubt that their investigations into the Indian company triggered the police action.
For months, Four Corners has been digging into the business practices of the Adani Group. This is the corporate colossus that plans to build Australia's biggest mine site.
"I do know about Adani and that means thousands of jobs for regional Queenslanders …" Annastacia Palaszczuk, Qld Premier
The polarising debate around the proposed mine site in Queensland's Galilee Basin is often pitted as a simplistic jobs versus greenies argument.
But there are influential figures in India who warn that Australians need to know much more about the Adani Group.
"You know, the Australian politicians are obviously not properly briefed by their offices." Former senior energy official
On Monday Four Corners examines the troubled corporate history of the Adani group in India revealing the findings of government investigations into financial and environment crimes.
"The report found not accidental violations, the report found deliberate violations, wilful violations." Former Government Minister
The program analyses the Adani Group's opaque financial operations and investigates the ramifications for their Australian operations.
"What this tells you is that here is a business group that will not stop at anything to maximise its profits."Economist
This investigation examines whether, in the rush to secure jobs and shore up the mining industry, Australian politicians have failed to properly scrutinise the company that's now hoping to receive a taxpayer funded loan of up to $1 billion for its project.
"I think the Australian Government ought to do environmental due diligence, which it seems not to have done. It certainly has to do financial due diligence. Both due diligences are required, both for the financial side and from the environmental side." Indian politician
The film is fast being picked up by organisations and the media across the globe.This is what Greenpeace reported, for The Citizen readers to get a sense of how this investigation is playing out across the globe:
"An expose aired last night by the ABC's Four Corners program revealed a shadowy network of companies and trusts behind Adani's Australian assets, which offer the Indian firm "multiple ways" to reduce their tax in Australia, experts say.
Adani Australia has previously boasted its Carmichael mine could boost Australia's tax coffers by up to $22 billion over the life of the project.
However, Adani's Australian assets are seemingly owned by companies domiciled in notorious tax havens such as the Cayman and British Virgin Islands, which provide a means to minimise tax paid in Australia.
The investigation also revealed that the man behind a British Virgin Islands company variously described as ARFT Holding Ltd, AFRT Holding Ltd, and Atulya Resources Family Trust, which appears to be the ultimate owner of Adani's Australian assets, has been accused of money laundering.
Vinod Adani, the older brother of Adani Group chairman Gautam Adani, has been investigated by Indian authorities with ex-Adani Group employees and Adani companies for allegedly executing a "planned conspiracy of siphoning off foreign exchange abroad … and Trade Based Money Laundering".
Adani has requested a $1 billion loan, currently under consideration, from the publicly funded Northern Australia Infrastructure Facility.
"The Four Corners revelations prove that Adani is a company which cannot be trusted with a taxpayer loan, or to build the world's biggest export coal mine on the Great Barrier Reef coastline," Greenpeace Australia Pacific Climate and Energy Campaigner Nikola Casule said.
"Now more than ever, it's time for the government to rule out any public money for Adani and say no to the proposed $1 billion NAIF loan for Adani's rail line connecting the proposed Carmichael mine and Abbot Point coal port."
"Its secrecy, apparent use of tax havens and alleged money laundering provide the Australian government with all the evidence it needs to rule out even one cent of public money going to Adani's rail line."
This is what Adani group stated in its response:
Dear Mr Long,
The team from ABC Television while visiting Mundra did not adhere to the journalistic codes of conduct and fairness. While you had earlier expressed your desire to visit Mundra, without further discussion or intimation you and your team landed in Mundra and started filming the sensitive areas without proper permissions and any kind of intimation to the company officials. To our mind it is both unfair and unethical apart from a serious security breach at the industrial site locations in border area.
The Adani Group is one of India's leading business houses with a core vision of nation building. The group has created a portfolio of businesses aligned with the national priorities of infrastructure development, food security, energy security and clean energy. Each of our businesses is integrated to the core of the country, touching millions of lives and generating direct and indirect employment for thousands of families.
We at Adani Group follow every principle of law that governs operations of company like us in India. To therefor suggest through a documentary, which in its essence have been made surreptitiously and without any legal sanction, is indicative of the fact that the purpose of the documentary is malafide and riddled with the singular agenda of national shaming. For reputable organisation like ABC Television to indulge in this form of ethical violation is truly sad.
On the issues mentioned in your last email, please find our response below. We request you to use the same verbatim, without tweaking its context.
Issue 1 – The reference that has been made to the Lokayukta of Karnataka, Retired Justice Santosh Hegde
Pursuant to the report by Justice Hegde and reports of CEC the Hon'ble Supreme Court passed an order directing CBI to investigate the allegations over illegal export of Iron Ore from Belekeri Port. After the detailed investigation CBI came to the conclusion that Adani Enterprises Limited and its officials had never violated any State and/or Central laws of India. Accordingly, CBI filed closer report and the same was accepted by the designated CBI court at Bangalore.
With regard to another allegation of "Illegal gratification to public officials", Karnataka Lokayukta formed Special Investigation Team. Adani Enterprises Limited submitted all the data to SIT as required. However after the detailed investigation, SIT found that no case is made out against AEL & others. Accordingly, closer report was filed and the same was accepted by the court.
To summarise, our activities at Belerkeri Port have been conducted within the framework of Law. The Adani Group is absolute and religiously Law abiding organization and respect Law of the land.
Issue 2 – The ruling of HC of Gujarat about developments in the Mundra SEZ without valid environment clearances
The Gujarat High Court in its order passed in January 2014, ordered that 12 units operating in Mundra SEZ cannot operate till Mundra SEZ is granted the Environmental Clearance (EC). The said order was challenged before the Supreme Court of India and the Supreme Court stayed the order of Gujarat High Court and permitted 12 units to continue with their operational activities. The matter is pending before the Supreme Court.
There is no restriction for units to set up their facilities and operate in SEZ with their appropriate clearance, till SEZ is granted the EC. Even the Ministry of Environment and Forests (MoEF), Ministry of Commerce and Industries (MoCI) and Pollution Control Boards have granted clearances to units even irrespective whether the SEZ was having the EC or not. Therefore, it was not a case of development of Mundra SEZ without valid EC, as such practice has been followed in all SEZs across India. In any case, Mundra SEZ is also granted Environmental and CRZ clearance by MoEF on 15.7.2014.
Issue 3 – Sunita Narain on environment violation in Mundra
The Sunita Naraian Committee submitted its report in 2013 and it was India's largest business daily The Economic Times which in July 2014 revealed the manner in which the committee was appointed. In any case, the committee's findings were just that – recommendations. Neither they were absolute; nor were they binding or implementable because of the malafide agenda driven nature of those findings.
Based on the Report, MoEF issued a show cause notice in September, 2013 which has been disposed of on 18.9.2015. The final order is not challenged since. Therefore, Report cannot be cited to defame the Adani Group. Further, the Gujarat High Court dismissed the public interest litigation in April, 2015 concerning this issue and the Supreme Court of India also did not entertain appeal against the order of Gujarat High Court.
Issue 4 – National Green Tribunals decision on Hazira Port
The order that NGT has passed has been challenged before the Supreme Court of India. NGT failed to appreciate the facts and no reasons are given which supports the order. NGT observed that the company damaged mangrove whereas, in February 2007, MoEF itself substituted the condition based on NEERI report and permitted development in that area. The company came into picture only in November, 2010. Likewise, all the findings of NGT in its decision are wrong and contrary to the facts placed before it. In any case, the matter is pending before the Supreme Court and is sub-judice and it is unfair and unethical for responsible media to jump to any conclusion and report a story till the matter is finally decided.
Issue 5 – As for the really trite charge of money laundering
On August 22, the adjudicating authority of Directorate of Revenue Intelligence (DRI) has passed orders striking all proceedings launched by the DRI against Adani Group for alleged money laundering. This can be only be challenged at the higher appellate authorities and that too by governmental authorities. Since no challenge as of now has been made, there is not only complete acquittal but in fact a validation of what we at Adani Group has always been saying.
Adani Group adhere to the laws of the land in which we operate – be it India or any other of the 50 geographies we work in. To suggest that we are non-compliant, deviant or unethical will once again attract defamation and severe legal action. As an organisation with more than 11,000 employees spread across the world, stakeholders and vertical businesses ranging from agriculture to port to logistics, we cannot be held to either ransom or blackmail by media organisations that indulge into sensationalism without any basis and contrary to facts.
For any media organisation to jump the gun and believe that we have indulged in any malafide is in itself is illogical because we shall have to wait for the Supreme Court of India to pass its judgement. Some of the issues have even attained finality which cannot be blatantly ignored and no damage can be inflicted on Adani Group on the basis of vexatious allegations.
Please note that any manipulation of this message by way of twisting the facts will compel us to undertake legal recourse. We request you to use our response in totality to avoid any misinterpretations.
Thanks & Regards,
Mitul Thakkar
Associate General Manager Corporate Communications Adani Enterprises Limited
(Interestingly, the Adani's have not slapped a legal notice on Four Corners limiting the response so far to the above rejoinder)
http://www.thecitizen.in/index.php/NewsDetail/index/1/11905/Australian-Journalists-Questioned-by-Gujarat-Cops-Film-Digging-Into-Adani-Creates-Waves