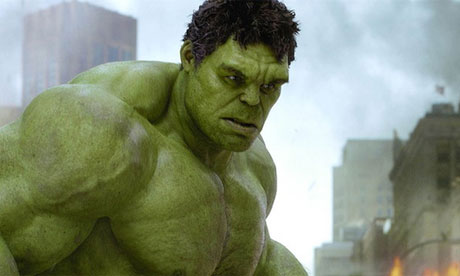 Bad taste … scenes set in India of Bruce Banner – AKA Hulk – in The Avengers have been criticised. Photograph: Planet Photos/Marvel
The Avengers might be carrying all before it at the global box office, but inIndia, its healthy reported opening of INR110m (£1.3m) has been marred byhigh profile complaints over its portrayal of urban living conditions.
The Avengers [also known as Avengers Assemble]
Production year: 2012
Country: USA
Cert (UK): 12A
Runtime: 142 mins
Directors: Joss Whedon
Cast: Chris Evans, Chris Hemsworth, Cobie Smulders, Gwyneth Paltrow, Jeremy Renner, Mark Ruffalo, Robert Downey Jr., Samuel L Jackson, Scarlett Johansson, Stellan Skarsgard, Tom Hiddleston
Exception has been taken in regard to two brief scenes showing Bruce Banner – AKA Hulk – (played by Mark Ruffalo) working as a doctor in Kolkata in an attempt to avoid the rage triggers that transform him.
Actor Rituparna Sengupta, best known for the Bengali-language films Alo and Dahan, told the Hindustan Times: "Kolkata has a rich culture and heritage, and a film-maker should respect that. There are two scenes about India and they only show slums. It could have been done in better taste."
Neha Dupia, an actor in Bollywood films such as Singh Is Kinng and Dasvidaniya, said: "It is disturbing to see the murky underbelly of India in Hollywood films … we need to make efforts to change [the west's] perception about us."
However, the film-makers cannot be accused of "slumdog tourism" a laSlumdog Millionaire: according to the Hollywood Reporter, the Kolkata slums were filmed in New Mexico.
Meanwhile, Disney has reported that The Avengers' box office figures for its US opening were even higher than estimated. On Sunday, the studio entered a figure of $200.3m (£124m) for its first three days on release. But better than expected figures for the Sunday's takings mean the figure is now $207.4m.
Even with the lower estimate, The Avengers – renamed Avengers Assemble for the UK and Irish market – had comfortably eclipsed the previous opening weekend best, Harry Potter and the Deathly Hallows Part 2's $169.2m. The Avengers has also become the first film to break the $200m mark for its opening figures.