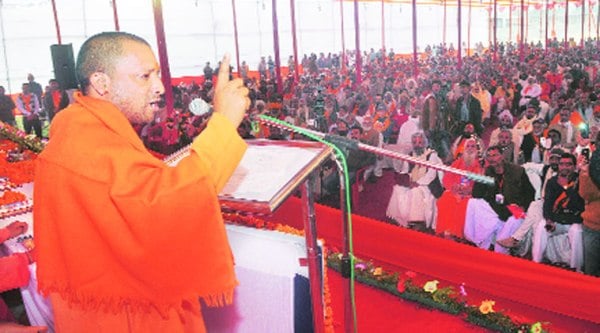 Adityanath addresses gathering in Vaishali. (Express photo by Prashant Ravi)
Written by 
Santosh Singh
 | Vaishali (bihar) |Posted: December 15, 2014 4:12 am
Batting for the 'ghar wapsi' campaign of the RSS and its affiliates, BJP MP Yogi Adityanath on Sunday urged the Centre not to intervene "if Hindus who were forcibly converted want to become Hindus again". He also called for "Hindu unity", saying "one had measure of their unity in 1992 when they united and the Babri Masjid was demolished".
The MP from Gorakhpur, addressing a three-day 'sant samagam' called by the Dharm Jagran Manch of the RSS, told a gathering of 2,200 heads of mutts and temples to "connect with Hindus" at the village-level against conversion.
"Why don't we care why Nalanda University was destroyed, and who destroyed it? Because the sants did not remain united and lost connect with Hindus. You should know your strength. The Prime Minister has started the Swachh Bharat campaign, become part of it to get in touch with people," Adityanath said.
He said the Opposition is "silent when Hindus convert" but "opposes the return of converted Hindus".
Giving the gathering the 'mantra' of "mala ke saath bhala" (pray and fight), he said: "If 15 lakh sants start visiting 6.23 lakh villages of the country, the handful of Christian priests and maulvis will not be able to convert Hindus."
The West, he said, followed "Krishna's philosophy of punishing devils even if they are your relatives" but Indians had become "soft" and followed "Christ's philosophy of offering another cheek if slapped on one".
"It is time to be Dronacharya who carries a bow, arrows with his message of peace of love. Shastra ke saath shaastra," he said.
Adityanath's hour-long speech comes days after remarks by Minister of State Sadhvi Niranjan Jyoti and BJP MP Sakshi Maharaj led to an uproar inside and outside Parliament and both had to apologise — Jyoti for her Ramzaadon-versus-haramzaadon remark and Sakshi Maharaj for his praise of Mahatma Gandhi's assassin Nathuram Godse.
The 'sant samagam' at Vaishali is the first in Bihar since the change of government at the Centre. The state too goes to assembly polls next year. Those who came calling during the three-day conclave included Union Minister and Pataliputra MP Ramkripal Yadav, Vaishali MP Rama Kishore Singh of LJP and former Bihar BJP president Gopal Narayan Singh. Posters of LJP chief Ramvilas Paswan also welcomed the 'sant samagam'.
The gathering adopted a resolution opposing conversion but "welcoming back those Hindus who were forcibly converted".
"Wherever the number of Hindus is decreasing, anti-national activities are on the rise there. So conversion should be stopped to protect safety of the country and its culture. Those who had forgotten their paths and become Christians or Muslims should be welcomed back home," the resolution stated, referring to to the 'ghar wapsi' campaign.
Swami Parmatmananda Saraswati of the Akhil Bhartiya Acharya Mahasabha said the UPA government "did not work for the cause of Hindu culture". He said he expected Prime Minister Narendra Modi to help the cause. "The RSS has been under attack for its stand on conversion. Bu
– See more at: http://indianexpress.com/article/india/india-others/babri-demolition-was-show-of-hindu-unity-dont-stop-ghar-wapsi-adityanath-to-govt/99/#sthash.KyTsSDC8.dpuf