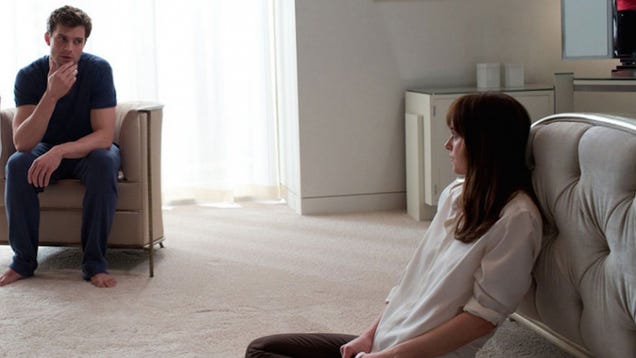 1
A dude at University of Illinois at Chicago decided to reenact Fifty Shades of Grey without the consent of his partner and then was surprised that he couldn't just go home after his case went to court. How many more ways can we explain the concept of consent? How many?
On Monday, according to the Chicago Tribune, 19-year-old Mohammad Hossain was given bail at $500,000 after prosecuting Assistant State's Attorney Sarah Karr argued that the bionuclear student attacked a woman he'd been intimate with before with tricks he picked up from the S&M-driven film. The problem is one of consent, she argued, the consent that Hossain didn't obtain from his partner after inviting her to his dorm room where he tied her up with a belt and then filled her mouth with a necktie.
Hossain used a knit cap to cover the woman's eyes, Karr said, and removed the woman's bra and underwear. He then began striking the woman with a belt. After hitting her several times, the woman told Hossain he was hurting her, told him to stop, "and began shaking her head and crying," said Karr.

Hossain continued striking the woman — including with his fists, according to an arrest report — and she managed to get one arm, and then another, free. But he then held her arms behind her back and sexually assaulted her as she continued to plead for him to stop, according to Karr.
Not long after the assault, Hossain's roommate came home and he didn't let him in the room, said prosecutors. Then the victim left, told another person and the police. On Saturday night, Hossain was arrested, admitted "doing something wrong" and allegedly that he got the idea of the assault from Fifty Shades of Grey.
Guys, do not do this. Don't be this guy. The irony here is that the whole basis of S&M is consent and established safe words to be deployed when things get too intense or violent. How this guy missed that is just …
And if you are so daft that you think you should do everything that you see in films, please stay away from the theater. Hollywood is fine without your patronage.
http://jezebel.com/guy-allegedly-beat-raped-fellow-student-because-fifty-1687577206