Back in 1995, the RSS and its affiliated organisations had about 650 such units in the Northeast; today there are over 6,000.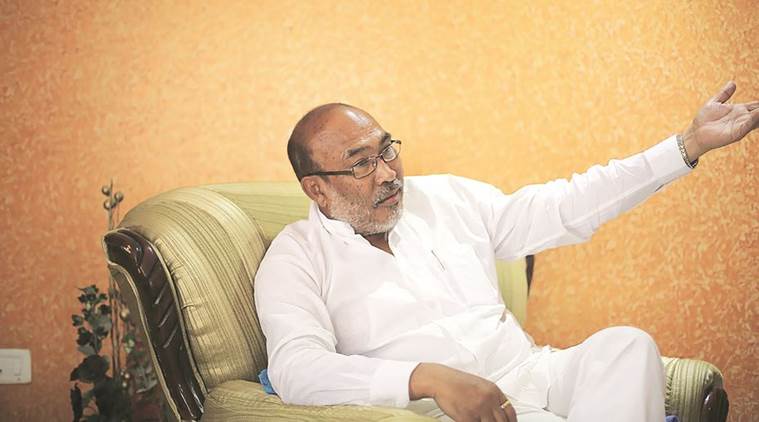 To form N Biren Singh's government in Manipur, the BJP has risen meteorically to win 21 seats. (Source: Express Archive)What do T Thangzalam Haokip of Henglep, Vungzagin Valte of Thanlon, V Hangkhanlian of Churachandpur, Samuel Jendai Kamei of Tamenglong and Nemcha Kipgen of Kanpokpi have been common? They are all tribals, members of the new Manipur Assembly, elected on BJP tickets. More significantly, they are all Christians, and have been elected from constituencies where almost 99% voters are Christian. The elections in Manipur have dismantled the myth that the BJP is a party that belongs to and works only for Hindus.
In Manipur, the BJP has risen meteorically to 21 seats; less than a year ago, it had swept the Assam elections, increasing its strength from 5 to 60 in the Assembly. While credit for the success in Manipur is due to a team led by Northeast Democratic Alliance (NEDA) convener and Assam minister Himanta Biswa Sarma, BJP national general secretary Ram Madhav, the young strategist Rajat Sethi, party secretary in charge of Manipur Prahlad Patel, and Assam BJP secretary Jagadish Bhuyan among others — the party also owes is remarkable showing to the work carried out silently by a number of organisations of the Sangh Parivar, some of whom have been working in 100% Christian areas in the Manipur hills.
"It is a fact that the BJP worked hard. But one must also remember that various Sangh wings have been working very hard for years, both in the Imphal Valley as well as the surrounding hill districts," Jagdamba Mall, a veteran RSS organiser who has spent 40 years in Nagaland and was deputed to Manipur for the elections, said. "Tribal people, irrespective of their religious faith, particularly trust and respect our welfare programmes. This trust was definitely converted to votes," Mall said. As many as 15 organisations affiliated to the Sangh have been active in Manipur, some for over three decades. "All the good work these wings have done have paid dividends," said Shankar Das, prachar pramukh of the RSS's Uttar Assam prant, which covers most of Assam, and the whole of Nagaland and Meghalaya. Instead of openly campaigning for the BJP, the RSS wings focused on getting people out on polling day. "When you go from door to door, house to house and village to village asking voters to come out early, the message not only becomes clear, it also gets translated," Das said.
Organisations like Sewashram, Ekal Vidyalaya, Vanavasi Kalyan Ashram, Sewa Bharati, Kisan Sangha, ABVP, Vidya Bharati, Friends of Tribal Society or Van Bandhu Parishad, Vishwa Hindu Parishad, Bharatiya Jan Seva Sansthan, Bharat Kalyan Pratishthan, Bal Sanskar Kendra, and the Rashtriya Shaikshik Mahasangh have been running formal and informal education units across Manipur, and have had some impact, especially on the parents of children attending these centres. "You should not be surprised if you find children of some so-called extremist leaders of Nagaland attending English-medium schools run by a Sangh wing," said one RSS worker who belongs to Maharashtra but has spent over 20 years in the Northeast.
Back in 1995, the RSS and its affiliated organisations had about 650 such units in the Northeast; today there are over 6,000. The number of Ekal Vidyalayas is said to have crossed the 3,000 mark. The RSS has over 120 shakhas and mandalis in Manipur alone, and its Ekal Vidyalayas — though restricted to the Imphal Valley — have touched a large number of families. "We have not only promoted Indian culture, but have also successfully driven home the point that Manipuri culture is an inseparable part of it," said Kedar Kulkarni, who has recently moved to Manipur after having served for several years in Nagaland. And while the illegal influx of Bangladeshis resonates across the region, RSS chief Mohan Bhagwat had, during a recent visit to Manipur, declared that the problems of the state were the problems of the entire nation.
The BJP's alliance with the Naga People's Front (NPF) in neighbouring Nagaland — which had not gone down well with the Meiteis because the NSCN (IM) includes parts of Manipur in its Nagalim map — too contributed to the BJP's victory. Although the Congress initially gained some ground among Meitei and non-Naga voters of Manipur underlining the central government's signing of the Framework Agreement with the NSCN (IM), a sizeable section of Meiteis later changed mind, with the RSS playing a role in persuading them. "We have been focusing for long on the patriotism and nationalism of the Manipuri people," Mall said. The membership of the RSS has been increasing in the Hindu-majority areas of Assam. In the Imphal Valley, Arunachal Pradesh and Tripura, the Sangh's organisational structure has grown from 2 divisions until 2013 to 4 now.
Veterans in the RSS strongly believe that Manipur is just the beginning of the realisation of their potential in the hill states, and more is in store. The number of workers in Tripura has doubled in just a year, and with Assembly elections likely in February 2018, the BJP could give the ruling Left Front a run for its money. The RSS is also working to prepare the ground for the BJP in Meghalaya, another Christian-majority state that goes to polls early next year. Various Sangh wings are fast adding units, and last year, over 300 RSS cadres — mostly from the Khasi and Jaintia communities — paraded through Shillong in khaki shorts and white shirts, holding sticks. The BJP already has an ally in Conrad Sangma's National People's Party, which has a strong base in western Meghalaya — what it needs now is the help of the RSS's wings to reach out rapidly in the eastern region of the state. http://indianexpress.com/article/explained/bjp-success-northeast-sangh-rss-4586929/