While Hindus, the presentation noted, have a fertility rate of 2.1 per cent, the "other community" has more than eight per cent.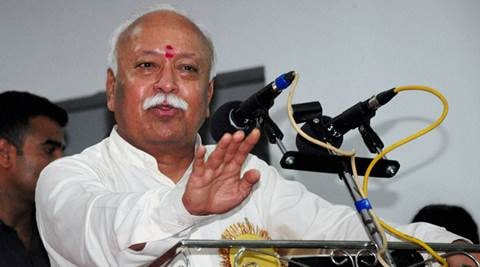 RSS Chief Mohan Bhagwat PTI PhotoAround the time BSP chief Mayawati was slamming RSS sarsanghchalak Mohan Bhagwat for urging Hindus to have more children, Bhagwat was presiding over a function barely 2 km from the venue of Mayawati's rally and making a power-point presentation about population growth in India.
While Hindus, the presentation noted, have a fertility rate of 2.1 per cent, the "other community" has more than eight per cent. "If this remains the situation, one should forget about their existence in one's own country by 2025," was the conclusion of the Yuva Dampati Sammelan attended by some 2,000 young couples and organised by the Sangh's Kutumb Prabodhan in Agra Sunday.
The contrast with Mayawati's rally was stark. At her rally attended by over a lakh persons, possibly nine out of ten were Dalits, Muslims and most backward castes. At Bhagwat's event, with BJP workers as organisers, upper castes seemed to number at least eight out of ten. They wore their identity on their badges — Upadhyay, Mishra, Jha. Stalls at Bhagwat's event sold books on the glories of Hinduism; those at Mayawati's had books such as Daliton ka Hindu Hona Gunah Hai and Evils of Brahminism.
On Saturday, Bhagwat had said in Agra that "there is no law that stops Hindus from producing more children". This followed an RSS resolution last October seeking a uniform population policy to check "demographic imbalance" caused due to what it claimed was an increase in the population of Muslims and Christians. And at last year's Vijaydashami speech, Bhagwat had cited figures of the last two Census reports to cite "imbalances" and stress the need for "a holistic approach, equally applicable to all citizens, towards the population policy".
Census figures, in fact, showed that while India's Muslim population had risen 0.8 percentage points to 14.23 per cent (17.22 crore) from 2001 to 2011, this growth was less than 1.73 points in the previous decade.
At the Sangh platform Sunday, the presentation cited instances of countries including France and Russia, and claimed that native religions of a country have become a minority because one community — represented by a green flag, a moon and a star on it – has been having more and more children.
One page carried the quote, "The 50+ million Muslims (in Europe) will turn it into a Muslim continent within a few decades." Apparently, this quote was accompanied by a picture of slain Libyan dictator Muammar Gaddafi. Pictures of this page have gone viral on social media, with users slamming the RSS for using the photograph alongside "unverified content".
An RSS swayamevak told the couples that if they want to save their nation and culture, they must have more children and teach them the core values of their religion. One woman asked Bhagwat that if all Hindus and Muslims start producing more children, would this not create a population outburst. "Who will arrange for food, employment, basic necessities?" she said.http://indianexpress.com/article/india/india-news-india/bhagwat-presiding-rss-gives-couples-a-presentation-on-fertility-and-culture-2989639/