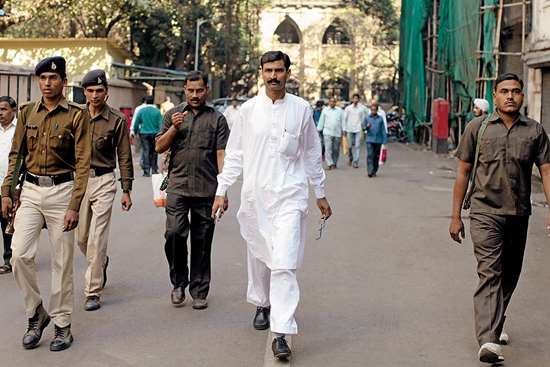 APOORVA SALKADE
REPORTER'S DIARY
'Bhai Ka To Encounter Hua, Par Meri Bhabhi Ke Saath Jo Hua Woh?'
Dispirited yes, but not defeated yet. Brother Rubabuddin is determined to fight.
He has absolute faith in the written word, having once got the telephone lines to work at their village in Madhya Pradesh by writing to the authorities. So when Rubabuddin suspected that policemen had killed his brother Sohrabuddin, he wrote to the Chief Justice of India, seeking that the Supreme Court and top central agencies investigate the fake encounter. That was in November 2005. He wrote every month till his voice was heard. He attended every court hearing. In the end, in December last year, a special CBI court discharged Amit Shah, who was minister of state (home) in Gujarat when the killing took place and one of the accused in the case.
"The CBI is like a courtesan, a prostitute. It has to go with whoever is in power," Rubabuddin says. "I'm disappointed, but we won't give up." Tall and lean, Rubabuddin is a successful farmer. He says his children go to good schools and that he doesn't need much money to live comfortably. He has had police protection since 2007, and the Jan Sangharsh Manch, a rights group, supports him in his fight for justice for his brother and sister-in-law. Every time there is a case hearing, he travels from his village Jhirniya, in Ujjain district of Madhya Pra­desh, spending his own money. He wants to see that justice is done to his brother and his "missing" bhabhi.
"Mere bhai ka toh encounter hai, par meri bhabhi ke saath jo hua uska kya? Aaj tak koi thos baat samne nahin aai jab ki unka koi kasoor nahin tha. Unke baare mein toh koi bol hi nahin raha (My brother may have been killed in an encounter, but what about my sister-in-law? She was innocent, but till today nothing has been uncovered about her disappearance, or how and why it happened. No one says anything about her?)," Rubabuddin says.
But he has not stopped raising questions—whether it is about the case or about transfers or the deaths of the previous two CBI judges. All his questions and doubts are set out in black and white—in letters addressed to the Supreme Court.
Of his persistence he says, "People ask me why I am investing so much time, money and energy into this. But I want justice. My brot­her and bhabhi were killed illegally. I want justice for them."
Shah's discharge in the case has come as a setback: he says the fight has now got far more difficult. "See the body language of the other accused and their lawyers. They seem so arrogant and confident of being able to get out. They seem to suggest that it is our government and that we will get out," says Rubabuddin. "We respect the court and its verdict, but it is our right to appeal. We will do that. Tell me where have I gone wrong?"
He expresses concern over government getting involved in appointments of judges. He speaks of the Jessica Lall, Bilkis Bano, Zaheera Sheikh and Akshardham cases, where "the wheels of justice only moved with higher courts' intervention". We will continue to fight, protest, he says, in court and at Jantar Mantar.