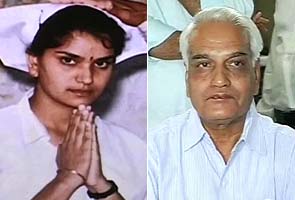 Press Trust of India  | Jodhpur 
May 26, 2014 Last Updated at 19:09 IST
Almost three years after the murder of auxiliary nurse Bhanwari Devi, a court here will commence the trial from June 23 while it framed murder charges against all the 17 accused in the sensational murder case today.
Bhanwari was killed in 2011 and the case had hogged the limelight after Rajasthan Minister Mahipal Maderna was sacked for his alleged involvement in the case.
Additional Chief Judicial Magistrate (SC/ST Cases), where the trial will take place, today directed the CBI to produce the list of the prosecution witnesses to be examination.
"The court has fixed June 23 to 28 for the initial phase of the examination of the witnesses for the trial," said Senior Special CBI counsel Ashok Joshi.
"We would submit the list of our witnesses with their order to be produced in the court during this 6-day period," the lawyer said.
Before this, the judge, Mahendra Kumar, today reread the charges against all the 16 accused in their presence, except absconder Indra Bishnoi.
Today's proceeding took place after the decision of the revision petition moved by the CBI in the High Court in December 2012. The petition was decided on Friday.
"In the fresh reframing, all the accused have been charged under Section 302, 364, 120 B and 201 of IPC, while the charges under SC/ST Act have been struck down by the court," said Joshi.
Earlier, the trial of the case was to begin from January 15, 2013 and a schedule of 4 days had been listed by the court then with the CBI having submitted the list of the prosecution witnesses.
But revision petitions from both the sides delayed the start of trial.
"On account of the slew of the revision petitions from both the sides, the trial could not begin then and it took about 16 months for all these petitions to be decided," said Joshi.
Read mor ehere-  http://www.business-standard.com/article/pti-stories/bhanwari-case-court-frames-murder-charges-against-all-17-114052601066_1.html