Tension is rife in Saharanpur in Uttar Pradesh in wake of the murder of the brother of a local Dalit rights leader. Sachin, brother of Bhim Army's Regional President Kamal Walia, was shot dead on May 9, just days before the first anniversary of the Saharanpur Riots.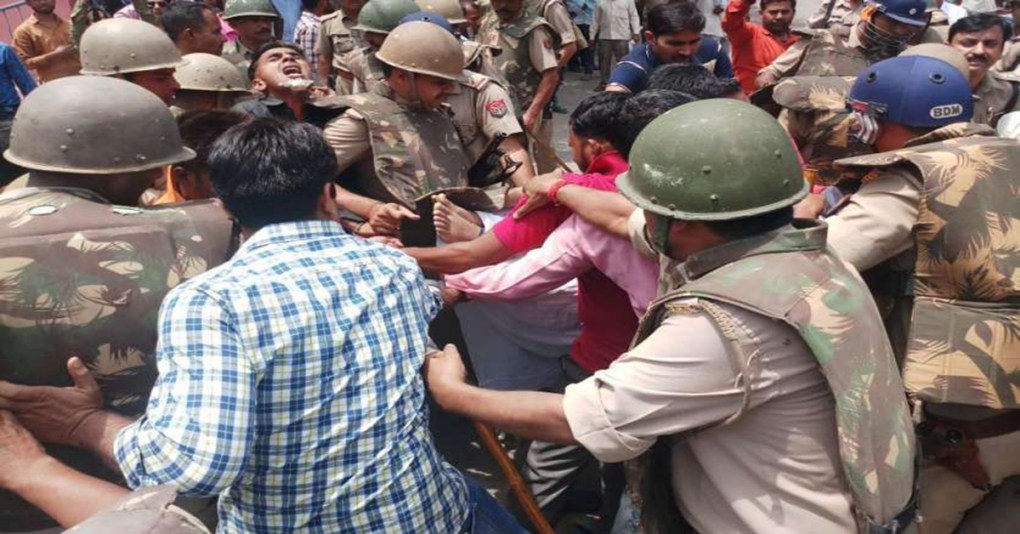 Feature Image courtesy Patrika
Activist and member of Bhim Army Defense Committee, Pradeep Narwal confirmed the killing and said, "The body is still in the hospital and no one is being allowed inside. Meanwhile, internet services have been suspended."
The Maharana Pratap Angle
It is notable that Sachin was killed on Maharana Pratap Jayanti, the very trigger behind last year's violence. This year, the Bhim Army had warned residents against commemorating the event and 800 police personnel were deployed at Maharana Pratap Bhavan to avoid any untoward incidents. Following the attack on Sachin Walia, security has also been beefed up along the Mahlipur road. According to Bablu Kumar, SSP Saharanpur, adequate police deployment has been made across the city and there will be a thorough inquiry into the murder.
As per reports emerging from the ground, the Kshatriya community members had asked for a permission to celebrate the Maharana Pratap Jayanti and take out a procession through Ramnagar area of Saharanpur. Bhim Army had then, under the leadership of Kamal Walia, submitted a memorandum to the District Magistrate and SSP stating that in case permission is granted for the yatra and any untoward incident takes place during the program, then the administration will be held accountable.
Though, initially the administration showed a lackadaisical attitude in granting permissions, they later (May 8) gave permission to carry on the procession (Shobhayatra) with as many as 150 members. In view of the said procession, the district administration had given instructions to have strong security measures in place.
Further, reports claim that preparations for the procession had been taking place since Wednesday morning. Sachin Walia was shot just as he was walking past the procession as it reached Maharana Pratap Bhavan in Ramanagar. He was rushed to the District Hospital where he was declared dead. Saharanpur area remains tense as of now and Bhim Army workers have gathered in large numbers around the hospital.
Anti-Dalit violence in May 2017
Last year exactly at this time violence between the two groups broke out at Ramnagar when Dalits protested a 'Shobha Yatra' initiated by Thakur community members to commemorate Maharana Pratap Jayanti. Dalits had alleged that there was no permission for the said Yatra. In this incident 60 Dalit houses were burnt. In the same month, mob violence broke out in Shabbirpur village when the police lathi-charged a group of peaceful protesters who had assembled in Gandhi Maidan under the leadership of Bhim Army. After this incident Bhim Army leaders such as Chandrashekhar Azad, Kamal Walia, Vinay Ratan Singh, Sonu Pahalwan and others have been constantly targeted by the authorities. Kamal Walia was just released on bail.
The Kairana Bypolls
Social Activists and AIUFWP member Ashok Chaudhary believes that the incident could be related with the Kairana elections that are due on May 23. "Kairana elections due on May 28. Kairana has a huge Dalit constituency, so it may be an attempt to terrorise Dalits. Even though Bhim Army is not a political organisation, it has a significant hold over Dalits," he said.
He added that BJP is particularly baffled after it lost the Corporation elections for the post of Mayor in communally sensitive areas such as Aligarh and Meerut and instead candidates from BSP won. He said that in Western UP particularly, there is a lot of awareness among Dalit youth and they are not willing to let 'upper caste' people humiliate them. Equally threatening, for the BJP, is the fact that Dalit-Muslim unity is gaining strength.
Earlier this year, BJP lost by-poll elections in two important constituencies, Gorakhpur and Phulpur and Chief Minister Yogi Adityanath was quoted as saying that the BJP wasn't well prepared. "This should be interpreted as the fact that BJP wasn't able to terrorise Dalits and Muslims in these areas, to its liking", says Chaudhary.
In the same light, it appears that when the same Kashatriya community, threatened to boycott Kairana by-polls, the administration which largely constitutes upper-caste members, granted permission for the Yatra.
Bhim Army being targeted
Bhim Army members are fending off attacks coming from different directions and one has to see these attacks as a sign of fear of the growing Dalit assertion on various fronts. This is part of a larger plan to crush Dalit resistance using any means necessary including the watering down of the SC-ST Atrocities act earlier this year, and the violence unleashed on Dalits subsequently.
On May 2, the UP state government further increased the period of detention for Bhim army chief Chandrashekhar Ravan by three months. Earlier, on April 28, they had rejected a petition pleading to drop NSA charges. Moreover, the UP Police pasted a 'wanted' notice of Rs. 12,000 on another Bhim Army leader Vinay Ratan Singh's house after which he surrendered before the Saharanpur Chief Judicial Magistrate on April 23.
In the entire episode, two key elements emerge. One, that the incident took place less than a month before the upcoming Kairana by-polls. Two, the need to crush the assertion of Dalits, given how Thakurs in the region are allegedly increasingly feeling insecure about their caste identity. All the preceding, multi-pronged attacks on Bhim Army can be seen as an attempt to crush the morale of the Dalit youth who feel empowered to challenge the dominant feudal and castiest structures that prevail in the given geography.
https://sabrangindia.in/article/bhim-army-leaders-brother-murdered-1st-anniversary-saharanpur-riots?utm_source=winkemail