el | TNN | Updated: Jan 14, 2021, 08:33 IST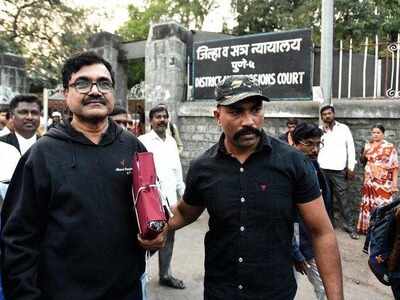 File photo of Anand Teltumbde (holding red file)
MUMBAI: Refuting allegations that he was one of the conveners of Elgar Parishad, arrested activist and academic, Anand Teltumbde, in his bail plea said he had made a brief visit to Shanirwada on December 31, 2017, to meet his wife's nephew and sister-in-law and that he was in Pune to attend the wedding of his former classmate's son.
The plea said the former classmate had booked 16 rooms in the same hotel, including one for Teltumbde. "The investigating officer has deliberately either not recorded the statement (of the former classmate) or must have recorded but not sent with the chargesheet as he must have realised that it is not supporting the prosecution at all," the bail plea said.

"Even otherwise, due to the differences the applicant (Teltumbde) had, he did not take any further part and did not attend the Elgar Parishad at all," the bail plea added.
The NIA in its chargesheet has said on December 31, 2017, Elgar Parishad at Shaniwarwada, Pune, was funded by the banned CPI (Maoist) as part of a conspiracy to create unrest. The investigating agency alleged provocative speeches by the activists of Kabir Kala Manch promoted enmity between various caste groups. This, they said, led to the January 1, 2018, caste clashes at Koregaon Bhima.
Referring to one of Teltumbde's (70) published books, the plea said this evidence indicates he was critical of Maoist ideology. Denying the NIA's claims in its chargesheet that he used to attend international conferences under the guise of academic visits, the plea said he had attended a conference in Paris in 2018 and that its organiser had written a letter following the allegations by the police against the university. "She (organiser) informed the applicant (Teltumbde) vide an e-mail that the provost of her university has also written to the French Embassy complaining against these allegations," the plea said.

Citing lack of evidence, the plea states the letters allegedly seized from co-accused Rona Wilson are addressed to someone else. "The letter refers to one 'Anand'. But there is nothing in the chargesheet to show this accused had knowledge about the contents of the letter or had acted upon the letter or is the Anand mentioned in the letter…Thus conspiracy is stillborn…" the plea said.

The plea further said despite hailing from a poor family, Teltumbde, due to his sheer brilliance and hard work had reached the position he has in Indian society and was a world renowned Dalit scholar. "However, casteist forces cannot digest this fact and have implicated him in an attempt to belittle his achievements and to humiliate the Dalit community," the plea said.