Submit details of Varavara Rao's medical check-up: Bombay HC to govt
The plea has raised grievances that Varavara Rao is not being given proper medical attention in jail and seeks to shift him to Nanavati Hospital where he underwent treatment after he tested positive for Covid-19.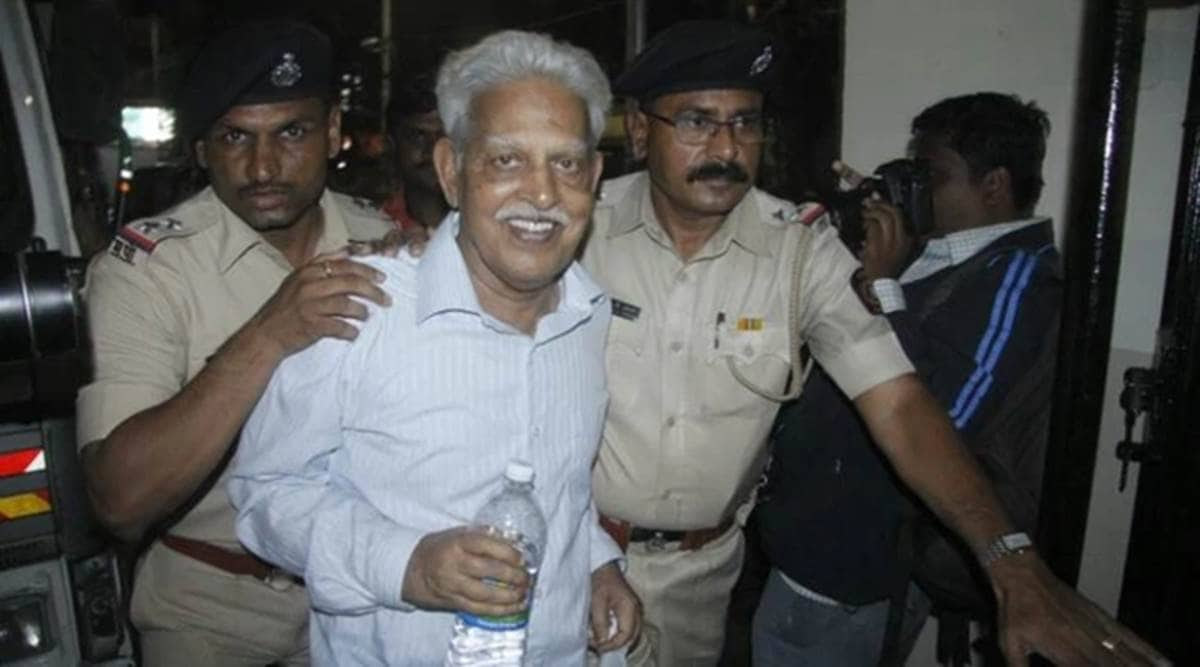 Varavara Rao was shifted to Nanavati hospital on July 19 for neurological and urological treatment.
The Bombay High Court, which is hearing a petition filed by Telugu poet Varavara Rao's wife seeking to shift him to a hospital from Taloja jail, directed the state government on Tuesday to submit details about his medical examination.
Initially, the public prosecutor who represented the State of Maharashtra also opposed shifting the ailing poet to Nanavati hospital, and instead suggested the government-run JJ hospital. He, however, gave up the objection after the bench said it would give reasons for its choice of Nanavati Hospital.
Chief Public Prosecutor Deepak Thakare, however, added that Dr. Rao's case would need to be treated as a special case and not be cited as a precedent.
"A man is almost on his death bed and wants some treatment, can the state still say that they will treat him only in Taloja jail hospital", Justice Shinde asked during the hearing.
Senior advocate Indira Jaising, for Dr. Rao, submitted that his health had been deteriorating ever since he was arrested in the Bhima Koregaon case in 2018.
"He (Dr. Rao) has been shifted from one hospital to another and then in jail hospital since May. His catheter has not been changed, the jail has no facility for this. It is an expert job. He is in diapers. The catheter is kept 24×7", submitted Jaising.
Rao's lawyer, senior advocate Indira Jaisingh, informed the court that the authorities had sent a one-page report via WhatsApp hours before the hearing of the tele-consultation done by doctors.
"This report will have to be read in conjunction with the earlier report by Nanavati Hospital where he was admitted. It makes no mention of his (Rao's) co-morbidities and was submitted through examining him for barely 15 minutes through a teleconsultation. There is no report by a neurologist though he is suffering from dementia or a urologist. This is nothing but delay tactics and the report is a complete eyewash," Jaisingh submitted to the division bench of Justices S S Shinde and Madhav Jamdar.
Jaising added that Dr Rao's neurological status was still unavailable. A video consultation was just not enough for this; and in that too, his neurological examination had not done.
"The video consultation only lasted for 15 minutes. How can they determine in such a span if he is fit or not?" Jaising asked.
The court was hearing the plea filed by Pendyala Hemalatha, the wife of Dr Varavara Rao, alleging violation of the right to life, dignity and health of her husband on account of the 'degrading' and 'inhumane' treatment being meted out to Dr. Rao in Tajolia jail.
The plea stated that Dr. Rao was completely bedridden in jail in diapers and a urinary bag with two co-accused as his 24-hour attendants who were not medically trained persons. This, the plea, stated had caused him to suffer from further urinary infection and added to his medical woes.
It was also considering the bail application on medical grounds.
Last week, a vacation bench, while hearing a plea filed by P Hemlatha, Rao's wife, had directed the NIA and Taloja jail authorities to permit his medical examination, preferably by doctors at Nanavati Hospital who had treated him earlier.
The plea has raised grievances that he is not being given proper medical attention in jail and seeks to shift him to Nanavati Hospital where he underwent treatment after he tested positive for Covid-19.
The HC deferred the hearing to Wednesday due to technical difficulties in the virtual hearing. Jaisingh will be appearing before the HC for a physical hearing on Wednesday. A bail application has also been filed on medical grounds on behalf of Rao.