By JYOTI PUNWANIJuly 23, 2020
'In what must go down as one of the most nonchalant remarks by the head of any hospital, J J Hospital Dean Dr Ranjit Mankeshwar said: 'We do not know where the staff was, but he did not suffer serious wounds'.'
Jyoti Punwani reports on how the authorities have treated the poet-activist and his co-accused in these harrowing times of the pandemic.
More like this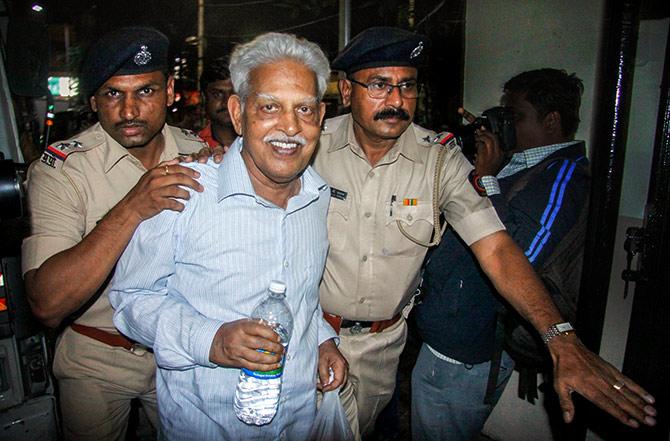 IMAGE: Professor Varavara Rao, poet and activist.
This is prison
The voice muffled
Movements confined
But the hand scribbles
Torment of the heart doesn't cease
Dreams in lonely darkness float toward
Lighted shores
…
And prison
That stops my tongue
The light of the moon is barred
But who can bar the brilliance of the sun?
A dream soaked in blood was written in one of his many stints in jail by Varavara Rao.
Almost three decades later, the poet, behind bars again, wrote a letter to his family vividly describing a dream he had had
Rao, among the 11 intellectuals charged under the UAPA for their alleged links to the violence that took place at Bhima Koregaon on January 1, 2018, has been in Taloja jail since February.
In the dream, wrote Rao, he was released from jail and in Warangal, his hometown. When he woke up, he realized he was still behind bars.
For Varavara Rao, Warangal has always been special.
In 1987, he wrote about the city:
Oh, the city that taught me
Even as learning from me
The city that spread my words
While teaching me how to talk
The city that paved my path
While making me sing
The city that loved me and enamoured in my love
Oh, my gift and my curse,
My first love,
My Paradise Lost…
Can I ever regain you!More from around the web
The letter describing the dream of being back in his beloved city was dated March 19, 2020. The four months in Taloja jail since then, have turned the poet into a wreck.
Who should be held responsible for this degeneration that comes as a shock not only to all who have read and heard him, but also to his family in Hyderabad who should have known about his condition?
VV, as he is popularly called, wrote two more letters from Taloja jail, on June 6 and June 26.
The first had some indicators of the professor of literature being disoriented. But the June 26 letter was, as a relative described it: "Just words, making no sense. He was struggling to express himself but couldn't find the words. A writer struggling to write."
The family however, could not detect the gradual degeneration in the writer's faculties because they got all three letters together just last week.
They had all been posted at the same time by Taloja jail.
Had the June 6 letter been received in time, his family could have alerted his lawyer about his condition.
As it turned out, they discovered it only after a call from him on July 11 where it was clear that he was hallucinating.
Similarly, it was from the media that Professor Rao's wife and three daughters discovered that he had fallen from his bed at the J J hospital in south central Mumbai and had to be given stitches.
The dean of the J J hospital later clarified that he had not fallen, but had banged his head against the hospital bed while reaching out for a glass of water.
In what must go down as one of the most nonchalant remarks by the head of any hospital, J J Hospital Dean Dr Ranjit Mankeshwar said: 'We do not know where the staff was, but he did not suffer serious wounds.'
This is the dean of Maharahstra's premier government hospital talking of an 80-year-old patient entrusted to his care, one suffering from a range of illnesses, and who has just tested positive for COVID-19.
Dr Mankeshwar chose to ignore what had by then been reported widely and even commented upon by the National Human Rights Commission: The condition Professor Rao's family found him in two days after he was suddenly admitted to the J J hospital.
In the transit ward, Professor Rao was sitting on the edge of the bed, unattended, with both bed and his own clothes soaked in urine.
The casual nature of the J J Hospital dean's remark only reflects the callousness with which Professor Rao and indeed, all the Bhima Koregaon accused have been treated.
When Professor Rao was first taken to the J J hospital on May 28, his family was not informed by the jail.
His lawyer told the court that the Taloja jail authorities first called the Vishrambaug police station in Pune where the FIR against him had been lodged.
From there, a call was made to a police station in Hyderabad. Those policemen informed Professsor Rao's family.
Again on July 13, when Professor Rao was shifted to the J J Hospital after his family held a press conference about his alarming condition, they were not informed.
Nor were they kept in the loop about his shift from the J J hospital to St George's hospital in south Mumbai and thence to the Nanavati hospital in Vile Parle, south Mumbai.
It is almost as if the jails in which the Bhima Koregaon accused are lodged have decided that these undertrials will receive not even the basic rights a prisoner is entitled to.
More than once, Taloja and Byculla Jail authorities have not sent medical reports of Varavara Rao and Shoma Sen despite orders by the court.
The report on Sudha Bharadwaj's health sent by the Byculla Jjail early this week was 'illegible' said the court.
Yet, not only have the jail superintendents not been pulled up, the orders by the special National Investigation Agency court rejecting interim bail to Professor Rao and 61-year-old Shoma Sen have not even mentioned this flouting of court orders by the jail authorities.
As COVID-19 spread through Maharashtra's jails, the high powered committee set up to implement the Supreme Court directive to decongest jails allowed those aged over 60 to apply for bail even if they were charged under special laws.
At least five of the 10 Bhima Koregaon accused are over 60; some also suffer from other ailments.
While rejecting interim bail for Professor Rao and Shoma Sen on June 26, the court was in possession of their medical reports.
Thus, it knew that while discharging Professor Rao on June 1, the J J hospital had recommended follow up treatment, about which there was no mention in the report ultimately filed by the Taloja jail.
The jail's report also revealed that after Professor Rao's discharge from the J J hospital in May, he had been vomiting and complaining of stomach pain, symptoms not seen in the three days he was at the J J hospital.
So, despite knowing that his health had worsened, the court ordered that he remain in jail.
June 26 was the day the court rejected his bail. That was also the day Professor Rao wrote the incoherent letter from jail.
Within 15 days of this, he had turned completely unstable, unable to talk properly or even brush his teeth.
Who should be held responsible for this deterioration?
Even as the media reported the observations of J J doctors that Professor Rao seemed to be suffering from dementia, even after the wide publicity given to his family's account that he failed to recognise his wife when she visited him on July 15, the NIA, in its latest reply to Professor Rao's bail application, has charged him with 'trying to take undue benefit of COVID-19 and his age' to seek bail!
It used the same words in May while opposing 59-year-old Sudha Bharadwaj's bail application.
This shouldn not shock us. The NIA is, after all, nothing but the police.
But in the Bhima Koregaon case, the judiciary has made almost the same argument. Denying bail to Shoma Sen, Special Judge D E Kothalikar wrote that suffering from 'some diseases' cannot be ground for bail.
63-year-old Vernon Gosalves was assigned by the Taloja jail to look after Varavara Rao in the jail hospital. After Professor Rao tested positive, it became the jail's duty to immediately test Gonsalves.
But his wife advocate Susan Abraham's frantic calls to the jail yielded no satisfactory response.
On July 20, Gonsalves and fellow prisoner Anand Teltumde, 70, had to plead with the Bombay high court that they be tested because they had come in contact with Professor Rao.
'Institutional failure' were the words used by Chief Justice of India Sharad Arvind Bobde to explain why Uttar Pradesh criminal Vikas Dubey, accused in 65 FIRs, was out on parole.
What better words can there be to describe what has happened with Varavara Rao and his co-accused?
Such has been their treatment by the three institutions: The police, the jail authorities and the judiciary that they have had to whittle down their perfectly legal demands.
From asking for bail on merit, they have gone down to asking for bail on medical grounds, from there to no bail but medical treatment, and finally, in Varavara Rao's case, to a plea that the family be requested to see him from afar in his last days.
Let us not forget that there are two others accused of exactly the same crime.
Hindutva leaders Sambhaji Bhide and Milind Ekbote were the first to be charged with instigating violence in Bhima Koregaon on January 1, 2018. Bhide got a clean chit from then Maharashtra chief minister Devendra Fadnavis and was never arrested; Ekbote is out on bail.
courtesy= Rediff.com