Sunday, 11 January 2015 – 7:39pm IST Updated: Sunday, 11 January 2015 – 7:40pm IST | Place: Bhopal | Agency: PTI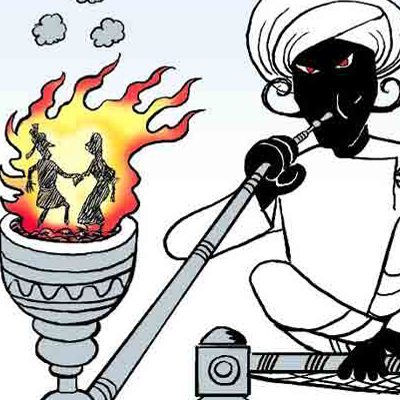 A 23-year-old Dalit man and his two friends were allegedly burnt alive in a case of 'honour killing' at the border of Balaghat and Seoni districts in Bhopal, police said on Sunday.
Chandraboj (41), Deendayal (30), Subham (18) and Vinod (25) were arrested for killing Dipak and his two accomplices on Thursday for having relationship with a minor girl of their family, Balaghat's Tirodi police station in-charge inspector Harish Yadav told PTI.
"The killings were carried out for honour," he said. Chandraboj, Deendayal and Subham were arrested on Saturday while the fourth accused was nabbed on Sunday, Yadav said. The accused allegedly tricked the victim by sending him an SMS from the girl's phone asking him to meet her at Dhobi Tola area three days ago, police said.
Dipak along with his friends Rajesh (26) and Nihal (18) rushed to meet the girl and were thrashed by the accused, Yadav said, adding that the trio was locked in a jeep and the vehicle was set on fire by the accused. Chandraboj, uncle of the girl was furious after he read some intimate messages sent by Dipak to his niece and thus hatched a plan to kill the youth with the help of other family members, police said. Further probe in the matter is on, they added.
http://www.dnaindia.com/india/report-bhopal-dalit-man-burnt-alive-in-honour-killing-2051682