An emergency ward that remained closed throughout the night, a patient who was administered saline drip on a bench in a corridor, only two nurses to take care of four wards and no doctors reporting for an hour after the scheduled time. This was the situation encountered by a team of Bhopal gas tragedy survivors' organisations that made a surprise visit to the Shakir Ali Khan Hospital of the gas relief department recently.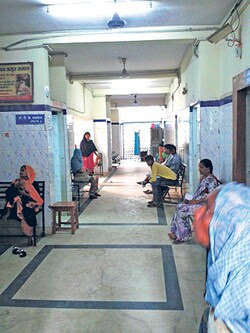 Patients wait at Shakir Ali Hospital in Bhopal as no
doctors arrived till 9am on August 25. (HT photo)
The team representing three organisations that went to the hospital at 8am — the opening time of the out patient department (OPD) — on August 25 found all the rooms except the registration room locked. Interestingly even the emergency ward (with six beds) was found locked. It was opened only at 8.35am, the report of the team submitted to the Supreme Court Monitoring Committee on Medical Care says.
A patient Rizwan, 25, who had arrived at the hospital at 4am with serious symptoms of diarrhoea was lying on a bench in the corridor in front of the medical ward. He was administered a saline drip on the bench only, the report said.
Doctors did not start arriving until after 9am and most of them left before 1pm although the official outpatient department (OPD) timing is 8am to 2pm. Only two nurses were on duty during previous night in four wards with roughly 60 patients. Patients complained of mosquito infestation, making them apprehensive of getting malaria or dengue.
Balkrishna Namdeo of Bhopal Gas Peedit Nirashrit Pension Bhogi Sangharsh Morcha, a team member, said lots of money was recently invested in opening the emergency ward, but the lack of staff was forcing the administration to keep it closed at the night. "What is the point of having an emergency ward when it does not function at night?" he asked.
He said that as a gas victim, he himself had to make several rounds of the hospital just to get his eyes checked, simply because doctors arrived late and left quite early on most days. The other team members were Satinath Sarangi of Bhopal Group of Information and Action and Nawab Khan of Bhopal Gas Peedit Nirashrit Mahila Purush Sangharsh Morcha.
Member of the Supreme Court monitoring committee, Purnendu Shukla, said the report has been received and placed before the chairman (Justice VK Agrawal) and the committee was proposing an inquiry visit to the hospital itself to ascertain the facts.
Chief medical and health officer (CMHO) of the Gas Relief Hospitals, Dr Ravi Verma said the emergency ward could not function effectively due to shortage of staff and already a proposal in this matter has been forwarded to the state government.