Dumped for studying, woman and baby stay at exam centre in Bihar
The Madhepura administration was so moved by her story that they made arrangements for her and her baby to stay in a room in the campus.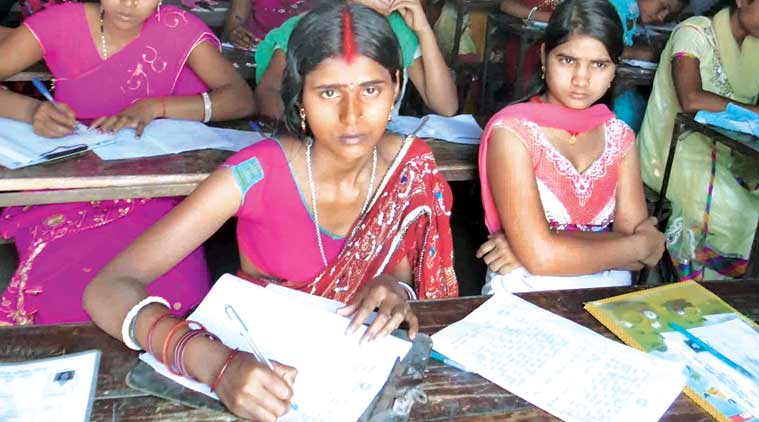 Bina Kumari appears for her Class X exam.These days, Bina Kumari is usually the first to make it to the exam hall. "That's because I stay at the centre," she says.
For the last three days, ever since the 18-year-old and her year-old baby were allegedly thrown out of her husband's home in Bihar's Madhepura district because she had insisted on writing her exams, Bina has been staying at the Udakishanganj Higher Secondary College, which is a centre for the Class X Bihar School Examination Board. The Madhepura administration was so moved by her story that they made arrangements for her and her baby to stay in a room in the campus.
By the time Bina sits down for her exam, she has already packed in quite a bit. She is up at 6 am, prepares for the day's exam before her baby wakes up, bathes and feeds the child and does some last-minute cramming before making a dash for the exam hall. The college staff help her with her baby while she is writing her exam, though on Wednesday, Bina's mother came down to the centre to babysit.
Speaking to The Indian Express from her examination centre, Bina says, "I failed two papers last year. Ever since, I have been spending a lot of time preparing for my exams. I want to be the first matriculate in my family. When my daughter was born, I named her Saraswati, the goddess of learning." About two years ago, Bina, a resident of Tilakpur village in Alamnagar district, got married to Mukesh Sah of Hathiyonda village in Madhepura.
Soon after their wedding, Mukesh moved to Punjab, where he works as a labourer. "My husband doesn't know I have been thrown out of the house. I don't have a phone and I don't know his phone number either," she says. Bina says her husband's family — her mother-in-law, her brother-in-law and his wife — wasn't happy with her because she insisted on studying. So on Monday, when she went home after one of her exams, her brother-in-law Yugesh Sah allegedly threw her and her baby out of the house.
Bina's in-laws work as labourers and sell milk for a living. "My brother-in-law Yugesh would shout at me for studying, saying that when other members of the family were happy cutting grass and clearing cow dung, why was I hell-bent on studying. I would tell him I want to be a teacher and he would laugh at me saying I am not going to get a first division anyway, so there is no point taking the exams," she says.
Though no formal case has been lodged against Bina's in-laws, they have been absconding since the local media reported the incident. Bina says she could have stayed at her parents' home to attend the exams but that would have meant travelling 15 km everyday, leaving her with little time to prepare for her papers. "I am deeply hurt at what my in-laws have done to me.
But I am happy that a government official gave me Rs 200 on Tuesday and made arrangements for my stay here," says Bina. A K Srivastava, a magistrate at the examination centre, says, "We got to know of her case when a woman official at this centre called the women's helpline.
We are very impressed with the way she took on her in-laws to pursue her studies. We do not know how well she has been dong in her exams but the fact that she rebelled for the sake of education itself is a success story." Bina has one other exam to go — Home Science on Friday — after which she hopes to find some way of getting in touch with her husband. "I will return to my in-laws only after my husband comes back," says Bina. – See more at: http://indianexpress.com/article/india/india-news-india/dumped-for-studying-woman-and-baby-stay-at-exam-centre-in-bihar/#sthash.ooIPxqve.dpuf