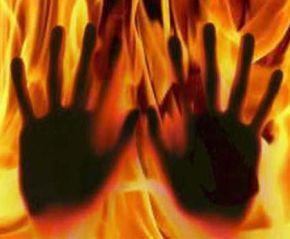 A 15-year-old Mahadalit was allegedly burnt to death in Bihar's Rohtas district by an upper caste man because the boy's goat grazed standing paddy crop.
The incident occurred at village Mohanpur under Karakat police station in Rohtas district on Wednesday afternoon when a village strongman, Kumkum Singh, and his three associates forcibly entered the house of one Jiut Ram and set the latter's 15-year old son, Sai Ram, afire after pouring kerosene oil on him from a can. The boy's only crime was that his goat entered the farm of Singh a few hours earlier.
The boy was earlier thrashed black and blue by Singh and his associates. The boy somehow managed to run away to his home, but the assailants followed him.
Bikramganj SDPO Ashok Kumar Das said the victim had sustained 90% burn injuries. He was rushed to Bikramganj for treatment, but died soon after being admitted to a government hospital.
Das said, police have registered an FIR against Singh and his three associates on the basis of the statement of the victim's father. A special police team has been constituted to arrest the assailants. Raids were being conducted. However, no arrest was made till the time of going to press.
Police said that 15-year-old Sai Ram was torched alive by Arvind Singh alias Kunkun Singh on Wednesday evening after his goat grazed on Singh's crop of paddy, said Rohtas superintendent of police Chandan Kushwaha.
"Sai was declared dead when he was brought to a local government hospital," he said.
Kushwaha said a murder case had been lodged against accused in the case on the basis of deceased's father Jiut Ram's statement. "Police have begun investigations into the case," he added.
Communist Party of India –Marxist-Leninist workers protested against the incident by blocking roads and demanding the arrest of the accused on Thursday.
http://timesofindia.indiatimes.com/india/Mahadalit-boy-burned-alive-in-Rohtas-village/articleshow/44829446.cms