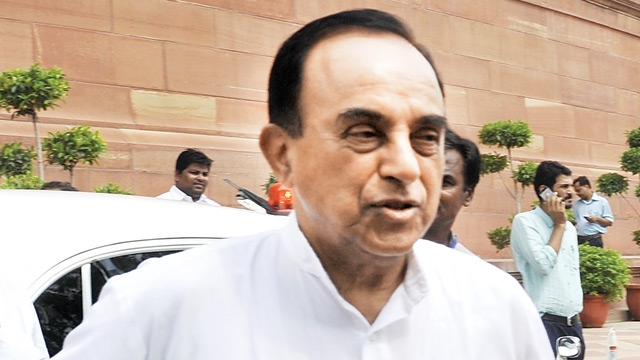 In the history of Indian parliament, only one private member's bill has so far become a law.
Keeping date with his promise, BJP member Dr Subramanian Swamy on Friday introduced the Cow Protection Bill, 2017 that could invite controversy for providing death penalty for slaughter of the 'revered' bovine.
Moving the private member bill, Swamy said, "I beg to move for leave to introduce a Bill to create an Authority to ensure stabilization of population of cows (Bos Indicus) and to suggest such measures to comply with Articles 37 and 48 of the Constitution, to ban the slaughter of cows and to provide for deterrent punishment including death penalty for slaughter of cows and for matters connected therewith or incidental thereto."
In the history of Indian parliament, only one private member's bill has so far become a law. Almost as a thumb rule scores of private members bills, that are introduced in Parliament each session, are withdrawn by the respective members after the government gives its views or assurance on those particular subjects.
With the motion getting adopted by the House, the bill is expected to be discussed in the Rajya Sabha in the coming week or next and may see some fireworks because of the controversy surrounding it. During the last couple of years, cow protection has become a contentious issue in north India with vigilante groups punishing and even murdering people of the minority community and even Dalits for allegedly consuming or killing cows.
Invoking Mahatma Gandhi in its statement of objects and reasons, the bill referring to article 37 and 48 of the Constitution calls for "a law to be enacted to ban the slaughter of all cows as wished by Mahatma Gandhi as an imperative for free Independent India" and recommends "punishment including death penalty as a necessary deterrent for the prevention of the criminal offence of cow slaughter."
The bill provides that the authority should have Animal Husbandry Secretary and five eminent persons from fields like agricultural economics, animal welfare and ancient Indian history or culture.
It says that the body should formulate schemes to provide for health of cows and calves and provide funds to help incentivise adoption of cow and setting up 'goshalas'.
"The authority should also recommend to the Central government, deterrent penalties including death penalty, to those who commit offences against cows," the bill says.
It says that the Authority should frame syllabus for awareness about importance of cows protection and development all over the country and that the Authority should prepare an annual report which should be tabled in the Parliament.http://www.dnaindia.com/india/report-bill-providing-death-penalty-for-cow-slaughter-introduced-in-rs-2367373