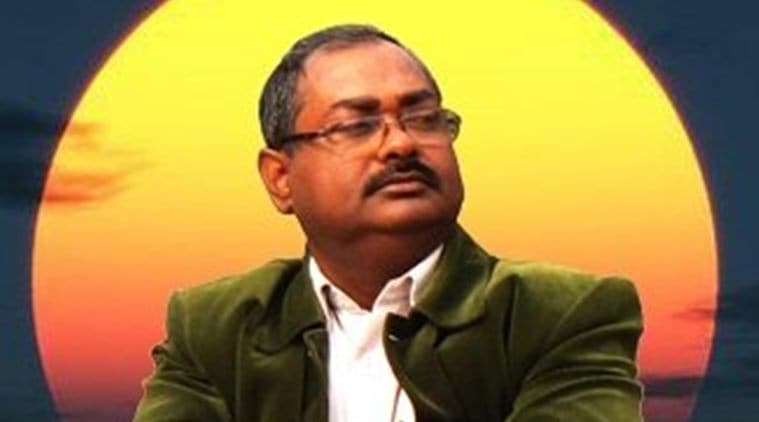 Tarun Sengupta, the BJP IT cell in charge in Asansol, West Bengal
The Birbhum district court on Wednesday rejected the bail plea of BJP IT cell (secretary) Tarun Sengupta who has been in jail for over a month for his alleged fake Facebook post.
"His bail prayer has been rejected today for the second time by the lower court Birbhum," Adg (CID) Rajesh Kumar told the Indian Express. According to officials, the case was heard on Monday and the order was kept preserved till today. The court after seeing the case diary rejected his bail prayer, said officials. His earlier bail plea was rejected by August 3. Sengupta was arrested on 12th of July 2017,
Sengupta was arrested on July 12 this year after he allegedly uploaded a fake video of a Muslim police officer beating a Hindu man. Officials said the video was accompanied by an image of chief minister Mamata Banerjee. The CID noticed the Facebook post in July and subsequently nabbed him. His arrest came at a time when the state government was cracking down on social media following communal flare ups in Baduria and Basirhat areas.
"The post had named two IPS officer from the minority community and had claimed that they were deliberately targeting Hindus," added an official.
The BJP's Asansol president Tapas Ray said, "Tarun Sengupta was IT convenor. Till date, he hasn't resigned. He is still with us."
The Facebook post reportedly read, "is Birbhum a part of Bangladesh or Pakistan ? Nishat Parvez SP and ADSP Farhay Abbas ordered the brutal lathicharge and serious thrashing on the peaceful Hanuman Bhakts . Both these Muslim IPS officer were performing their religious duties of destroying the Kafors and idol worshippers without even thinking duties of of their service.Birbhum is next Bangladesh".
Incidentally, one of the IPS officers named in the fake video is DIG (operations) of CID in Bengal.
The Trinamool Congress-led government had blamed the BJP for using Facebook to create communal tension in the past following which state agencies had increased their vigilance on social networking sites. BJP too has accused the TMC of appeasing minorities on several occasions.
http://indianexpress.com/article/india/bjp-it-cell-secretarys-bail-rejected-twice-in-connection-with-fake-video-post-4809795/