BJP MLA Ganesh Joshi booked for 'attacking police horse, breaking its leg'
According to sources, doctors have told the police that the horse's leg may have to be amputated.
BJP
's
Mussoorie
MLA, Ganesh Joshi, during a protest in Dehradun Monday afternoon. The animal suffered multiple fractures during the incident near the
Vidhan Sabha
which occurred during a protest called by the BJP against the state government. The injured horse was immediately rushed to the district veterinary officer for treatment.
According to sources, doctors have told the police that the horse's leg may have to be amputated. Police have also sought opinion from doctors at the Indian Military Academy's Veterinary Hospital.
Dehradun SSP SR Date said doctors had ruled out early recovery due to multiple fractures in the animal's rear leg. In the evening, Uttarakhand Chief Minister Harish Rawat visited the city's reserve police lines to check on the horse's condition.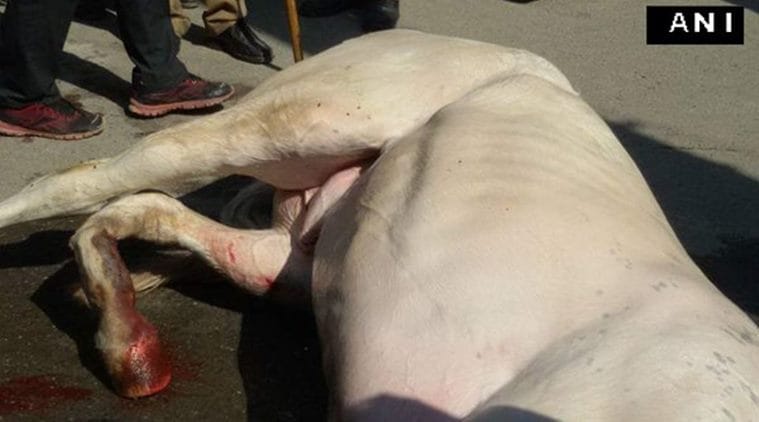 The animal suffered injury on his leg and was taken to the hospital. ANI photoMeanwhile, an FIR has been lodged at Nehru Colony police station against the BJP MLA and his unidentified associates. Apart from invoking the Prevention of Animal Cruelty Act, the case was lodged under Section 429 (mischief by killing or maiming cattle, etc., of any value or any animal of the value of fifty rupees) and 188 (disobedience to order duly promulgated by public servant) of the IPC. No arrests have been made so far.
When contacted, MLA Ganesh Joshi denied the charge and said the state government was trying to shift focus from real issues by falsely implicating him in the case.
"It was a quiet protest, but still mounted police was deployed to create terror. During the protest, a horse hit our party worker, 28-year-old Munni, who suffered an injury on the chest. I snatched a stick from the policeman and tried to stop the animal from attacking others.
Later, I along with other party workers sat on a dharna….While we were sitting on the dharna…we came to know that the rear leg of one of the horse got trapped in the iron-angle on the roadside. While trying to pulled it out, the horse suffered injuries. I did not beat up the horse," said Joshi.
According to Vinod Singh, the Station Officer of Nehru Colony police station, Joshi and his supporters were seen beating the animal with sticks.
SP (City) Ajay Singh said they had video footage of the incident and action would be taken accordingly. He denied the police had used lathis or horses to disperse the crowd
A police horse was allegedly attacked by the 
See more at: http://indianexpress.com/article/india/india-news-india/bjp-mla-beats-up-police-horse-in-dehradun-animals-leg-to-be-amputated-says-doctor/#sthash.eY9GFUmP.dpuf