The 'Silver Touch' Behind BJP's Online Dominance?
An examination of one of many trending pro-BJP Twitter hashtags leads to clues as to how these campaigns are possibly being financed using government funds.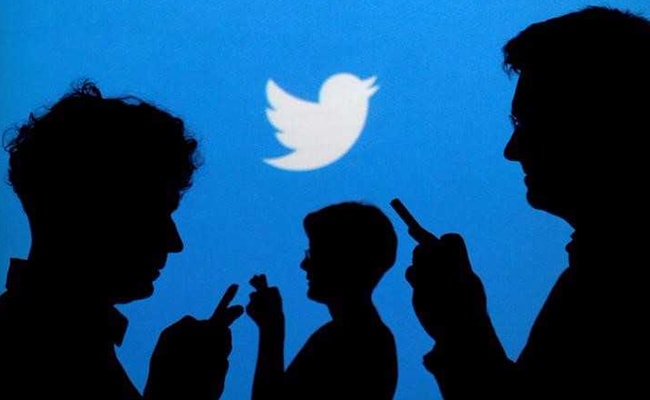 NEW DELHI: 
 While the BJP (and its famed IT cell) have always strenuously denied the suggestion that its social media dominance is powered by paid supporters, increasingly, evidence is mounting of a party – and government – taking recourse to cut-and-paste tweets and manufactured trends to firefight crises and counter its critics.
One such trend offers a clue as to how these efforts are possibly being financed using government funds.
On August 31, as criticism mounted that Haryana Chief Minister ML Khattar had failed to contain the violence after Dera Sacha Sauda chief Gurmeet Ram Rahim Singh was convicted of rape, the hashtag #HaryanaWithKhattar began to trend.
In what has become a familiar modus operandi, the trend was powered by a cluster of pro-BJP handles furiously posting the same tweets. For instance: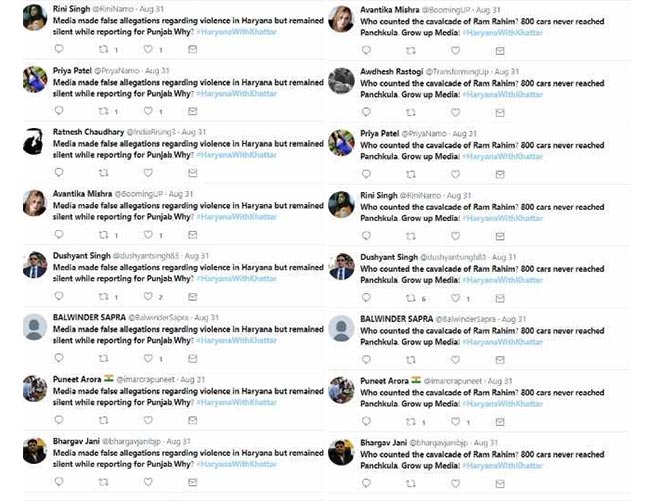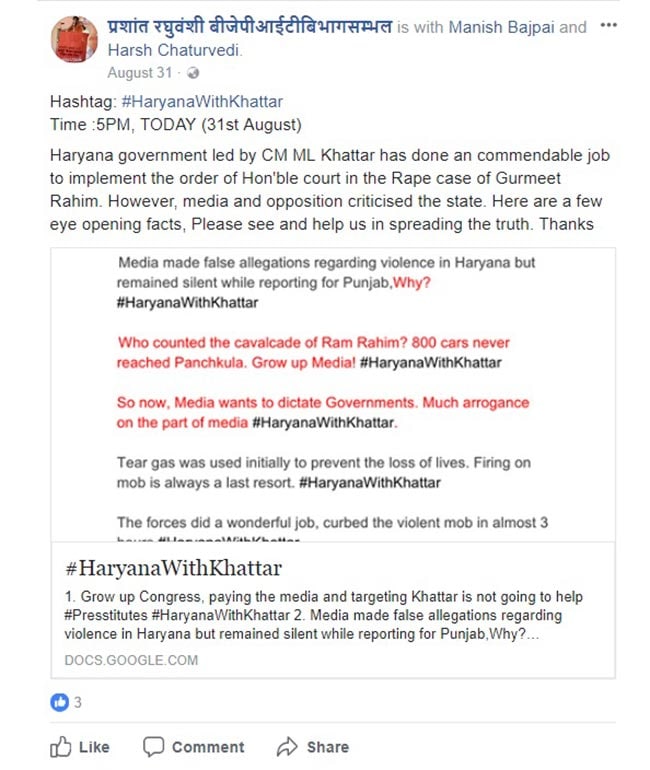 Among those helping to amplify this trend was Bhargav Jani, whose handle is @bhargavjanibjp. He posted 63 tweets (that originated on other accounts) in 92 minutes with the #HaryanaForKhattar hashtag.
On LinkedIn, Bhargav Jani describes himself as a "Social Media Manager for BJP" since January 2009. (He is also followed by the Prime Minister on Twitter). He also says he is "Manager in Social Media in Silver Touch Technologies Ltd" from December 2016.
In a more detailed CV, uploaded on LinkedIn, Mr Jani stresses that he is a "Social Media Performer" who tweets "at least 30 times a day while engaging influencers to increase the followership (sic) of client's social media profiles".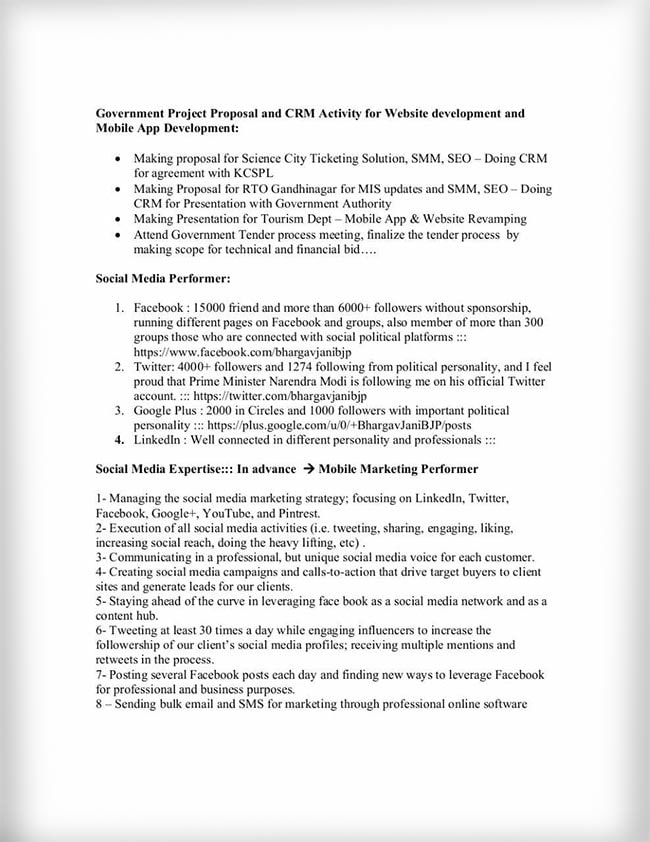 Here's how gamed or manufactured hashhtags work: a person puts out, say, a dozen templated tweets and a hashtag to go with it; at a pre-determined time, a cluster of pro-BJP handles begin to release the same tweets with the hashtag and at a high intensity.
On its website, Bhargav Jani's employer, Silver Touch, appears to be an old and reputed IT firm, established in 1992 in Ahmedabad. It has a roster of private clients like Reliance Industries, Adani Group, Hitachi, Nirma Group.
Government contracts, however, appear to be a mainstay. The firm's list of business includes the maintenance of 46 government websites, as well as developing apps for the Ministry of External Affairs, the President of India and many others.
The government of Gujarat appears to be a big client – we counted at least 17 departments who have availed of Silver Touch's services.
In its draft red herring prospectus filed before the National Stock Exchange of India in September this year, it said that it got 53% of work from government contracts worth approximately 62.5 crores rupees in the last financial year.
It is unclear, however, why the company would hire someone like Bhargav Jani. There is no mention on its website that it does any social media work.
And yet, Bhargav Jani is not the only employee of Silver Touch actively amplifying pro-BJP and pro-government trends on social media. One of its directors, Himanshu Jain, described as being with the company since 2010, tweets under the moniker HeMan NAMO (@HimanshuJainOn).
Himanshu Jain, too, is followed by Prime Minister Modi on Twitter and his timeline is full of tweets in support of the BJP or Centre or attacking its rivals, and little else.
For instance, he was part of gamed hashtags like #ModiTransformsIndia on the day when PM Modi delivered a lengthy speech defending the economy and #LiesAgainstShah to counter the backlash after reports on the finances of Jay Shah, son of BJP president Amit Shah.
We called Silver Touch, posing as representatives of a senior minister from Uttar Pradesh, keen to engage the services of someone like Bhargav Jani to boost the fictional minister's profile on Twitter and counter his critics.
The receptionist transferred us to a man identified as Mr Jaiswal, who described himself as Bhargav Jani's senior.
Mr Jaiswal said our request would fall under what Silver Touch offers as "online reputation management".
"If somebody does a negative comment, how do you react to the negative comment, how to neutralise it. It comes under online reputation communication. So we do all these activities," he said.
He said they had a dedicated team for this purpose.
Mr Jaiswal then passed us on to a Mr Manoj (no surname offered), who we were told is senior to him.
Mr Manoj confirmed that Silver Touch did do "reputation work" for Haryana, and it could be replicated for us. "It will be managed," he said.
He said the contract could be signed with the government allowing the minister to avail of their "reputation management" services.
The contract, however, he said will not mention "reputation management". "We can't write all this," he said. "We would write it as content writing or something else."
He explained how other government departments have gone about it in the past. "NIC SI (National Infomatics Centre Services Inc., the government's IT backbone) agency is responsible for all the procurement and consultancy related to IT specific needs of different government departments, different ministries across states and across country. Your request can be routed through NIC, it will be faster. You just have to identify a sponsor department and then when you approach NIC SI, it will weigh the scope of work."
Mr Manoj said the company only does BJP work.
A detailed questionnaire sent to Silver Touch initially elicited no response.
When we visited the offices of Silver Touch in Delhi, no one was willing to talk on camera.
When we called one of their executives, Sanjay Roy, on the phone for an official comment, he flatly denied the company provided social media services, saying "We are an IT services firm and have nothing to do with social media promotions."
When we cited examples of Himanshu Jain and Bhargav Jani's Twitter activity, he told us they were tweeting in their private capacity.
Both of them tweet during office hours: for example on October 10, a Tuesday, Himanshu Jain posted 59 pro-BJP and pro-Modi tweets between 10 am and 6 pm.
Bhargav Jani promoted #SwacchtaHiSeva during working hours on September 15, a Friday, tweeting 55 times with the hashtag between 3 pm and 4pm.
As for our conversations with Mr Jaiswal and Mr Manoj, where they explicitly offered Silver Touch's social media services with instructions on how to mask the services we would be availing, Mr Roy said he "does not know anything about that".
At their Ahmedabad offices, our reporter was initially given the run around, directed to meet an executive named Minesh Doshi, but then later told he was not in office. Instead, he was asked to meet someone who introduced himself as a human resources executive. He told us that Silver Touch does do social media work, and that Mr Jani is an employee of Silver Touch, but that he could not tell us anything further.
Silver Touch finally responded 10 days later, via an email from Himanshu Jain, the director referred to earlier in this report. He said "Bhargav Jani works in Ahmedabad office of our company. His social media activities as are not part of his official work. I have been tweeting in personal capacity. I have never been paid for my tweets. We have never worked for any political party on any issue. We have no BJP IT cell persons. We are primarily a software and System Integration company."
Himanshu Jain didn't address the questions pertaining to what his company official told us over the phone when we called Silver Touch posing as potential BJP clients, nor did he specify what exactly Bhargav Jani does for Silver Touch.
The BJP IT cell head, Amit Malviya denied any knowledge of Silver Touch Technologies and Bhargav Jani. In an email response, he wrote, "I don't know of anyone with the name Bhargav Jani who works with BJP IT Cell in any formal or contractual capacity, either in the national team or any of the state teams. He may be a volunteer though. I also don't know of Silver Touch Technologies. Have never met any of their representatives. So the question of BJP IT department having any kind of dealing with them doesn't arise."
He also said that the BJP's IT department doesn't engage with PR agencies to drive its social media engagements, adding "Is Bhargav Jani, who ever he is, not entitled to his political views irrespective of his employment status?"
Questions raised with the government of Haryana are as yet unanswered.
https://www.ndtv.com/india-news/exclusive-silver-touch-behind-bjps-online-dominance-1766114