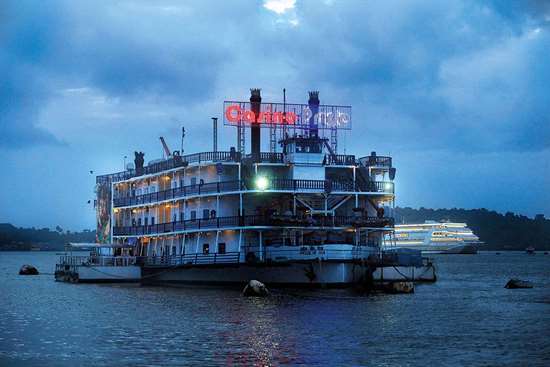 HINDUSTAN TIMES
GOA: GAMBLING
No issue provokes more contradiction in Goa than the so-called offshore casinos. These gambling boats, which came up around 1999, remain stubbornly moored in the Mandovi river, near Panaji, even though they've been known to break laws. The people of India's smallest state are united in opposing them—and every party that's not in power does so too. But all politicians, once elected, generally let them be.The latest shocker has come from the BJP government of Goa. Former chief minister Manohar Parrikar, now the Union defence minister, calls casinos a "social evil" and "dens of vice" and on the campaign trail had promised to root them out. As chief minister, Parrikar had sworn his government would never need "bad money" from the casinos for development, and that those funds—some Rs 135 crore was collected in taxes and duties—would be kept separately and used only for homes for the aged. But now, Goa's present CM Laxmikant Parsekar, known to work under Parrikar's guidance, has reneged on the March 2014 promise, made in the state legislative assembly, that the casinos would be shifted out of the river when their licenses expired on August 29, 2015. Instead, a day ahead of the deadline, Parsekar made an executive decision to extend their licences, citing "revenue flow" and "investor confidence".
Goans feel betrayed, but not shocked. The steady subversion of the state's democratic process and the open collusion between its most powerful politicians has played out in full view of Goa's voters. It has escaped no one's attention that the biggest player in India's casino trade, Delta Corp's Jaidev Mody, had been prominently seated on stage at the swearing-in of Parrikar in 2012. Or that Parrikar has repeatedly defended his friendship with the gambling magnate.
| | | |
| --- | --- | --- |
| | | |
| | No one is really shocked. For casino magnate Jaidev Mody is considered close to Goa's BJP strongman Parrikar. | |
| | | |
Barely 20 days after sweeping into power with an unprecedented mandate that brought together all communities of Goa, the Parrikar-led government quietly cut the entry fees to casinos from Rs 2,000 to just Rs 500. While campaigning (and again last year), after incessant complaints from affected citizens, the BJP leadership had insisted it would implement its pledge that locals wouldn't be allowed in the casinos. The promise lies forgotten.In 2014, the National Green Tribunal was petitioned about sewage pollution from the casinos and enjoined Goa's pollution control board to test the Mandovi river water. The findings were of "alarmingly high" faecal bacteria and other matter that is at levels harmful even for skin contact. Immediately, Parrikar had called a press conference, where the IIT graduate gave a dubious clean hit to the casinos, declaring the fatally contaminated Mandovi water "the cleanest in the state", even "safe for drinking".
Long-time observers of the global impact of casinos point out that Goa is at the inevitable point of no return, with a torrent of questionably sourced cash overwhelming the political system, as happened in Macau, Las Vegas and other corrupted gambling destinations. It is an industry based on financial irregularities—both Delta Corp and Pride Group (the biggest gambling companies of India) have been raided by the income tax department over money-laundering and tax evasion.
So nobody was surprised when the Louis Berger bribery case, which landed former chief minister Churchill Alemao in jail (and threatens another former chief minister, Digamber Kamat, with the same), showed up a casino angle. Special public prosecutor G.D. Kirtani told the court that hawala trader Raychand Soni, who provided the money to pay the bribes, "funds many casino gamblers in Goa. Casinos are running on his funds". It was another alarming allegation that should result in a serious investigation, probably an immediate suspension of all casinos in Goa until the so-called "industry" is thoroughly cleaned up and properly regulated. Will that happen? Don't bet on it.
---
By Vivek Menezes in Panaji
http://www.outlookindia.com/article/blackjack-takes-all/295250