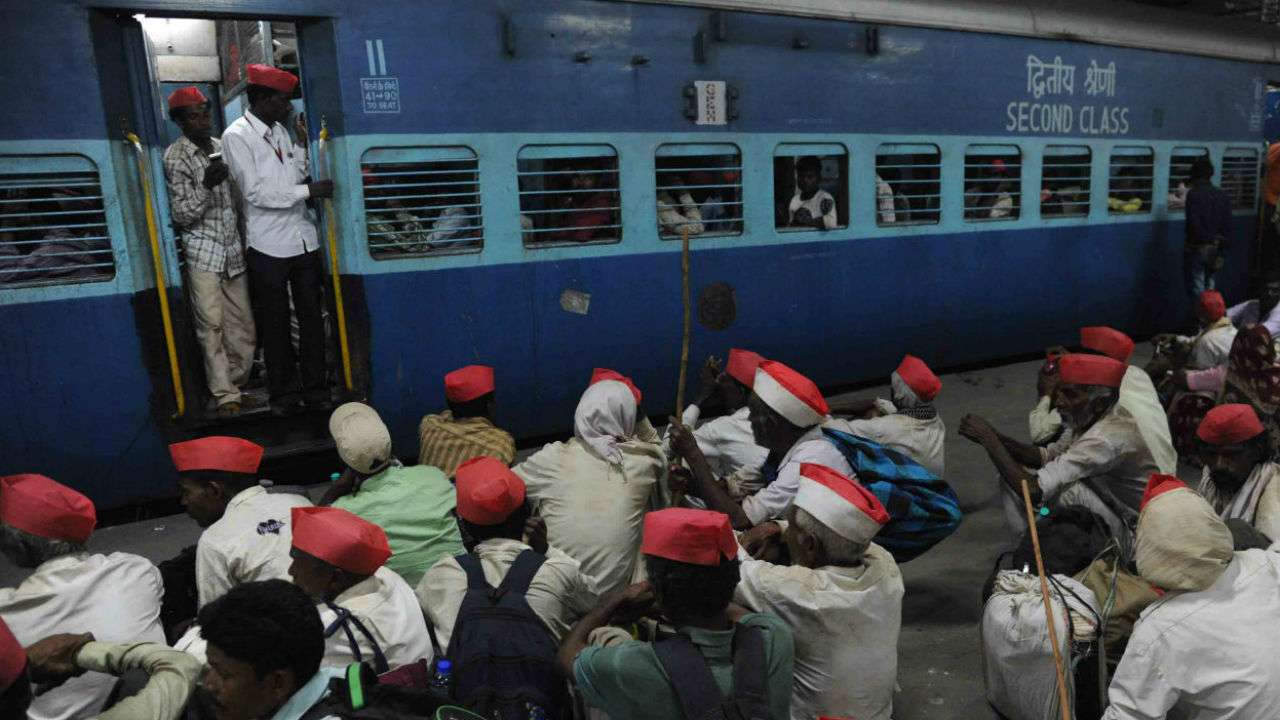 Maharashtra farmers return home on special train , Hemant Padalkar/ DNA
The agitating farmers were sent home in special trains on Monday as they ended the 180 km 'Kisan Long March' on Monday after Devendra Fadnavis government agreed to their key demands.
The protesting farmers, who walked with blistered feet for about 180-km in the sun over the sun over last five days, heaved a sign of relief on Monday as they sat on the special trains provided to them for their safe return to their respective villages.
The Central Railway on Monday ran two special trains from Mumbai's Chhatrapati Shivaji Maharaj Terminus (CSMT) to Bhusawal to send the agitating farmers back.
"We are very happy. Our demands have been met. We will be getting back our land which is like mother to us," Suresh Jairam, a Nashik farmer who was participating in farmers' protest, was quoted as saying by ANI.
The Devendra Fadnavis-led government of Maharashtra on Monday agreed to the list of demands of the thousands of farmers who marched in Mumbai. "We have accepted most of their demands and have given them a written letter," Maharashtra Chief Minister Devendra Fadnavis said in a statement.
On March 6, over 30,000 farmers began walking from Nashik with the aim to cover 180 km on foot and stage a protest outside the Vidhan Bhawan in Mumbai in a bid to force the state government to accept their demands. The Kisan Long March, organised by the Communist Party of India – Marxist's farmers body All India Kisan Sabha (AIKS), was supported by Shiv Sena, MNS, CPI, AAP and the Swaraj Abhiyaan.
The poor farmers also managed to ensure no inconvenience to students taking the HSC and SSC exams as they walked on Sunday night to Azad Maidan. "We do not want to create problems for students and the office goers. We don't mind suffering more but we don't want our students to suffer more," said Ashok Dhavale, national secretary of ABKS.
The farmers had demanded fair prices and complete loan waiver among other things. They also demanded a change in the plan to link rivers in Nashik, Thane and Palghar districts so as to ensure that tribal lands are not submerged and water from the scheme be made available to these areas and other drought-prone districts.
They also protested against the state government's land acquisition for projects such as high speed rail and super highways.
"We are demanding an increase in pension schemes for poor peasants and farm workers, compensation for losses due to pink bollworm and pest attacks and rehauling of the public distribution system," the march organisers had earlier said.