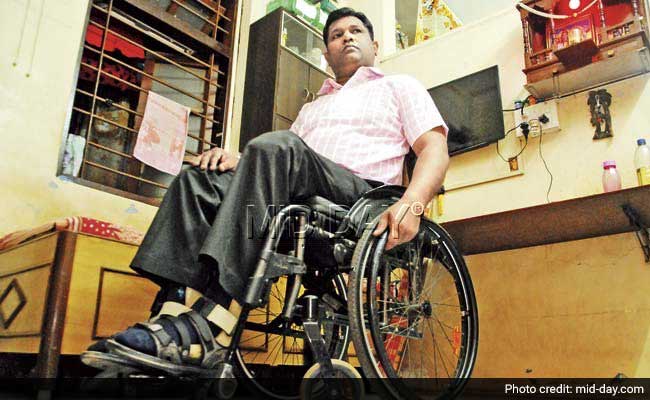 MUMBAI: 
 When it comes to thankless jobs and inconsiderate employers, Mumbai's firemen seem to have everyone else beat.
When a fireman was paralysed from the waist down after being injured on duty in October 2005, the BMC did not cover his hospitalisation cost, denied him salary for nearly three years and even refused to give him his job back, saying the fire department does not employ handicapped people.
Forced to take him back following a court order, they now want the 45-year-old to pass a physical test, which would involve the use of his paralysed legs, to get a promotion.
Accident
Tushar Parab had joined the Mumbai fire brigade in August 1999. While on duty as a fireman in October 2005 at the Worli fire station, he fell down while tying a ladder to the fire engine. He had to be admitted to the KEM hospital where he was declared paraplegic due to injuries to the spinal cord.
He took treatment there for about 20 days, after which he underwent physiotherapy at the All India Institute of Physical Medicine and Rehabilitation in Haji Ali from July to September 2006.
He wrote to the fire brigade in February 2006, requesting accommodation at the Worli fire station since he was staying in Kalwa at the time and travelling to Haji Ali for his planned physiotherapy was difficult in his condition. He got the accommodation in June 2006, but only for a year, after which he was asked to vacate it.
Job woes
When he wanted to resume service in 2007, the fire department allegedly denied him a job with them, stating that they do not employ handicapped people.
In October that year, he approached the court of the Commissioner for People With Disabilities in Pune, which ruled that Parab should be given a job as well as accommodation. In April 2008, he was employed as a fireman in the wireless department at the Worli fire station.
"But the BMC never paid me for the lost months between October 2005 and March 2008. Besides, I had to bear the cost of my own hospitalisation, which was around R2 lakh. The BMC only paid for my medication, which came to about Rs. 20,000.
This despite the fact that I was injured in the course of my duty. How can the fire brigade treat its own people like this?" asked Parab.
Promotion test
Parab is now entitled to a promotion to the post of leading fireman, but he, like several others that are eligible for time-bound promotion, has to appear for a physical test to get it.
The fire department drew up a list of all such employees and called them for the physical test. Parab also got the call. "They know I am handicapped and yet they want me to pass a physical test," said Parab.
http://www.ndtv.com/india-news/bmc-wants-handicapped-fireman-to-give-physical-test-for-promotion-764562?pfrom=home-cities
Related posts