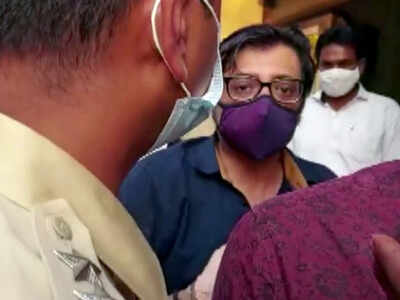 Republic TV Editor Arnab Goswami arrives at Alibagh Court in Mumbai on Wednesday. (ANI)MUMBAI: Arnab Goswami, the chief editor of Republic TV, on Thursday, through his counsel pleaded before the Bombay high court at some length for release on interim bail after his arrest in a 2018 abetment of suicide case of an architect Anvay Naik who had worked on the interior design of his office in Mumbai.

His counsel Aabad Ponda invoked the wide plenary power of the HC to do justice. The HC made it clear that it would be hearing "all parties". Goswami had on Wednesday filed a 'habeas corpus' petition and sought to have the 2018 FIR quashed and probe stayed.
Arnab Goswami spends night at school in Alibaug
Ponda in his submissions to the HC judges said, "I appeal to Lordships' judicial conscience to give interim bail." Harish Salve and Ponda, both of whom appeared for Goswami, contended that his arrest was illegal and his liberty was at stake.
"Even a second of such illegal custody cannot be countenanced,'' said Ponda saying the urgency was also because Friday is the last working day before the Diwali vacation. But the HC bench of justice S S Shinde and justice MS Karnik, after hearing for a while, directed him to make the original informant—the widow of the interior designer who committed suicide—a party to his petition and passing no interim order, adjourned the hearing for interim bail to Friday 3pm.

Arnab resisted arrest, made false claims of assault: Police
Ponda informed the HC, "no date was given for bail application before the Alibaug magistrate so I withdrew the bail plea". He also said Alibag court expressed doubt whether it could hear the bail plea since the offence is sessions-triable (the law requires it to be heard by a sessions court).
He chose to seek interim bail for ARG from HC, as he argued that "police cannot suo motu resurrect a dead case" when a magistrate accepted a closure report last April. Needed to have got a court order, either from the same court or a superior court to reopen a closed case and cited SC Judgments.

Ponda said, "here is a case where order of accepting A-summary (closure report where police says crime is true, but undetected), it is like a closure or a nail on coffin and if they want to remove it they must move some court."
Republic TV's Arnab Goswami held in 2018 abetment to suicide case
Ponda submitted that in a letter dated 15-10-2020, there was an intimation to the court but "it does not tell the court that the order on closure report passed by magistrate has been given where he accepts the report report of a deputy superintendent of police," on April 16, 2019. He said whether "rightly or wrongly or otherwise, the case was close without notice to the informant." Ponda said, "Can this error be rectified by the police without going to some court of law? Can a police review a final order closing the case passed under provisions of the code of criminal procedure?" The order continues to remain and the legal provision is that police ought to have invoked a private complaint under section 156(3) of CrPC and got an order of the magistrate for a probe. "Merely saying we are informing you under provisions of 173(8) for further probe" will not suffice, he submitted.

The document said Ponda says "Seen and filed" but that is not an order. "It is not a nod of the magistrate."
He said his urgent plea was for Goswami's release and a stay on the probe in the 2018 case.

The HC however asked him if he had made the original informant a party and since he had not, asked him to.
Salve submitted that the court may give "oral leave to amend the petition" but hear the informant who had separately filed a petition which too was before the bench. The kin of the late Anvay Naik, sought orders for a further probe in the case.

Shirish Gupte counsel for Naik said he would make his legal submissions once he amends his petition.

Amit Desai was the counsel for the state and will make his submissions on Friday.

The HC posted the matter for a hearing on Friday for interim plea, once all parties are added and served. "We do not want to make the same mistake that you said the magistrate made of no notice to informant. We cannot ignore the rights of the victim…Let us see what happens tomorrow," said the HC.

Nitesh Sarda, the other accused who was arrested on Wednesday in the abetment of suicide case also petitioned the HC and his counsel Vijay Aggarwal with karan Kadam said Naik has been made a party in his petition which also challenged the arrest.

The TRP case has been adjourned to November 25. The HC said police submitted a status update on investigation in a sealed cover which it saw and returned. And directed that on the next date too an update be similarly submitted.