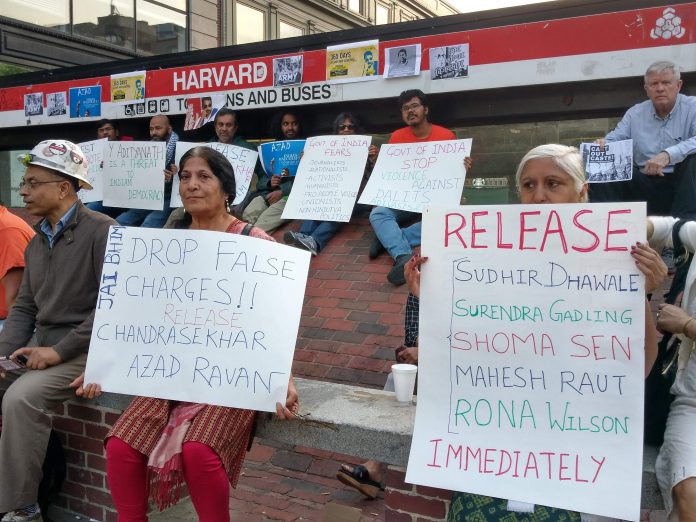 Several community organizations in the Boston area came together on the evening of June 8 to protest the arbitrary arrests of Surendra Gadling, Rona Wilson, Shoma Sen, Mahesh Raut and Sudhir Dhawale by the Pune police in their alleged relation with Bhima-Koregaon violence.
"We are appalled to learn the recent developments of the arrests of the Dalit rights activists and progressive intellectuals in India. Surendra Gadling, Rona Wilson, Shoma Sen, Mahesh Raut and Sudhir Dhawale are all people who have spoken about the rights of the Adivasis and Dalits. It is shameful that the Indian government is arresting them for a service they are rendering to society," said the press statement released after the protest.
Moreover, the protestors also issued a press statement over the arrest of Chandrashekhar Azad Ravan, the founder of Bhim Army.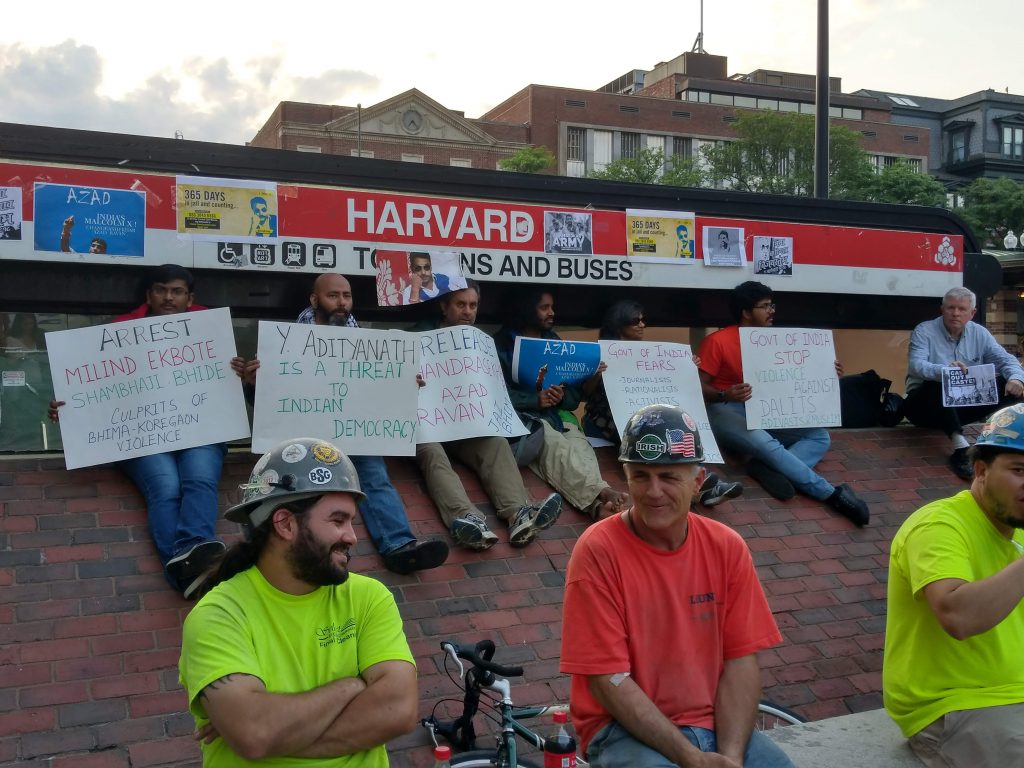 The statement said, "Chandrashekhar Azad Ravan, a firebrand leader of the Bhim Army who has galvanized the repressed Dalits, Adivasis and Muslims to fight against the terror state of Brahminical Hindutva imposed by the RSS led BJP government in the Uttar Pradesh is incarcerated in the jail for over a year under the arbitrary National Securities Act (NSA) by the state even after Allahabad High Court struck down all allegations against him as being politically motivated."
Protesting organization said that the Uttar Pradesh has turned into a "dangerous fiefdom" ever since Ajay Kumar Bisht aka Yogi Adityanath has been made the Chief Minister. "A corrupt and inefficient administration instead of providing basic services to the people is busy intimidating young couples, protecting rapists and arresting all dissenting voices. It is horrifying that 12-year-old Dalit boys have been arrested on the charges of murder on the day when Dalit organizations called for a Bharat bandh on April 2," said the statement.
Protestors raised demand to try Milind Ekbote and Shambhaji Bhide, the prime accused in the Bhima Koregaon violence earlier this year. The current BJP government is "blatantly subverting democracy by letting the actual perpetrators of violence in Bhima Koregaon roam freely and arresting others who actually contributed to the peaceful nature of the protest". It further said, "We have seen the Maharashtra state government run by a Brahminical order unleash brutality on the Dalit youth after Bhima Koregaon."
The protestors "condemned the repression by the Indian government and demand the immediate release of these activists working for Dalit, Adivasi, Muslim, and other minority communities to build an egalitarian and progressive India". "We will alert the international community and the United Nations about such repressive state of affairs in India," said the statement which was read at the protest march of the coalition of the progressive organizations in the New England area at the Harvard Square on June 8.