Food waste report shows UK families throw away 24 meals a month
Report finds Britons are chucking out 4.2m tonnes of food and drink every year that could have been consume
d
Rebecca Smithers, consumer affairs correspondent
Thursday 7 November 2013
The average UK family is wasting nearly £60 a month by throwing away almost an entire meal a day, according to a new report that reveals the scale of the ongoing challenge to reduce household food waste.
Britons are chucking out the equivalent of 24 meals a month, adding up to 4.2 million tonnes of food and drink every year that could have been consumed. Almost half of this is going straight from fridges or cupboards into the bin. One-fifth of what households buy ends up as waste, and around 60% of that could have been eaten.
There has been no progress in reducing meat and fish wastage, with Britons still throwing away the equivalent of 96 million chickens every year. The top three foods being thrown away uneaten in British homes are bread, potatoes and milk. The equivalent of 24m slices of bread, 5.8m potatoes and 5.9m glasses of milk are being wasted daily, while even cakes and pastries make it into the top 10 most wasted items.
The study by the government's waste advisory body, the Waste & Resources Action Programme (Wrap), shows that since 2007, avoidable household food waste has been cut by 21% to 4.2m tonnes, saving consumers almost £13bn a year.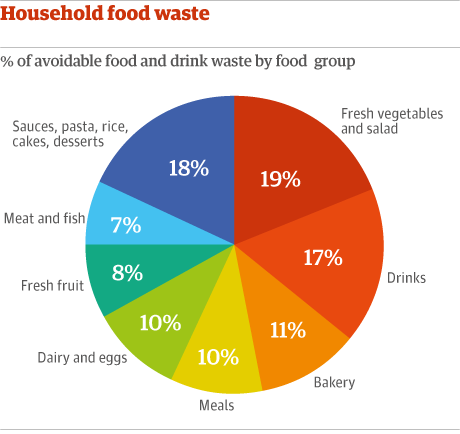 Wrap said that such waste should be cut a further 1.7m tonnes a year by 2025, saving up to £45bn. Its chief executive, Dr Liz Goodwin, called on retailers, manufacturers, governments and consumers to agree to a "major combined effort".
Read more here-  http://www.theguardian.com/environment/2013/nov/07/uk-households-food-waste