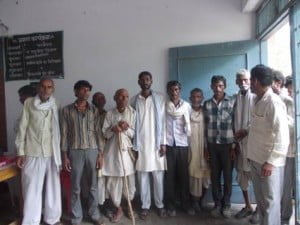 In Bundelkhand's Mahoba district, residents of Roorikala village have alleged that the local ration dealer has manipulated ration cards and is distributing grain to those known to him in the village. Below Poverty Line (BPL) cards have been made out for the relatively well to do, and landless Dalit labourers have been left with fewer benefits and in some cases no ration cards at all.
Mintoo, one of the residents of Roorikala was at the Kulpahad Tehsil on 4 August to submit a formal complaint against the dealer, 'The local dealer Jwala Prasad has made BPL ration cards for those in the village that are known to him personally. These are well to do people who have pucca houses, even two-wheelers and land.' Most complainants who accompanied Mintoo were landless Dalits who work as labourers to earn their living. 'We used to have BPL cards where we were eligible to get grain and oil at lower rates. This year when the list was prepared for new ration cards to be made, our names were on the Above Poverty Line list. From Rs. 4.65 per kg for wheat and Rs. 6.15 per kg for rice now they want us to suddenly start paying Rs. 6.60 per kg for wheat and Rs. 8.45 for rice. We cannot afford these rates,' said Nand Kishor, another resident of the village who was at the Tehsil to register a complaint.
KL spoke also to Kalka, Leeladhar and Bhan Pratap, who were in shock as they discovered their names were no longer on the list of ration card recipients, apropo of no change in their economic status. This means that they are no longer eligible for grain or kerosene at subsidized rates under the Public Distribution System in the state. They also alleged that money was paid by some villagers to the local dealer to manipulate the list. 'The village head first prepares the list of beneficiaries. Here too, if the village head so pleases he can add names of his relatives or those from his community to the Below Poverty Line list so they get grains at a much lower price. This list is then given to the local dealer, who in turn can also add names of his own. No one comes to check. This list goes to the Department that issues ration cards accordingly. We are left at the mercy of the whims of the village head and the local dealer,' explained Mintoo.
With the latest Socio Economic Caste Census (SECC) data pointing to the fact that only 9.7% of rural families have a salaried member, it is more important than ever for subsidized grain to be made available to the rural poor. But in several instances, Khabar Lahariya has found that the system for public distribution of grain in rural Uttar Pradesh is rampant with extensive corruption right from documenting the poorest and neediest families to the actual distribution of grain. In January 2015, Khabar Lahariya had reported about 200 fake ration cards that were discovered in Mahoba's Raipura village. Here too, residents had complained that the local dealer had been distributing less grain than the statutory amount and was found to be in possession of fake ration cards. An enquiry was ordered but no definitive steps were taken.
The absence of a transparency and accountability mechanism in the system has often spelt trouble for Dalits, the most disadvantaged in the village power hierarchy. In July this year, villagers from Mahoba's Jaitpur block had alleged that the local dealer in their village would open the shop as and when he desired. Those who suffered were mostly Dalits. The caste dynamic at the local level works against them as most dealers are usually 'higher caste' and people are forced to wait for higher officials in the local administration to order an enquiry.
The Public Distribution System in rural India has always been notorious for the corruption at each stage. Every five years, a survey is conducted to determine the list of beneficiaries under BPL and APL and accordingly ration cards are prepared. Often, there are families who either have no ration cards or are missed out in these surveys. According to a Khabar Lahariya report, last year many villagers from Mahoba's Supa village had complained that despite their village being surveyed, they had not been given any ration cards. In other instances, the survey lists have failed to reflect the actual economic status of rural households, leaving those with little or no means to provide sufficient food for the family out of the BPL list. Conducted at a local level with few checks and verifications, this has been easy for those who stand to gain from siphoning off grain and dictating who should be in which list as beneficiaries. Many activists working on the Right to Food have also argued for a Universal Public Distribution System wherein all beneficiaries can avail of the same benefits.