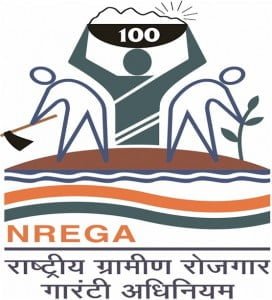 A decade after it was enacted, the Mahatma Gandhi National Rural Employment Guarantee Act (MNREGA) is triggering exactly what it was known to curb: labour migration to cities. The Panchayati Raj institutions and state bureaucratic machinery that were intended to play a vital role in executing the programme in grassroots are the ones muddling it up. With no work for months together – and blank job cards merely symbolic of the scheme's existence on paper – the villagers are heading to cities in search of livelihood. Khabar Lahariya brings you the ground report from Chitrakoot district in Bundelkhand that was brought under the 100-day employment scheme in the first phase of its inception.
It has been five years of shuttling between hope and despair for the residents of Khajuriha Kala village in Ramnagar block of Chitrakoot. Their blank NREGA job cards tell the story of their workless days spent in the hope of finding work under the scheme. Their last resort is to migrate to cities in search of work and livelihood for families. Kallu Devi, Hiramani and Kamlesh Kumar have taken the fight to the office of the pradhan, who they say is responsible for not sanctioning any work.
'We were issued job cards, but never allotted any work under the scheme. Now we have no option but to move to cities to find work. How else will we feed our family,' Hiramani says.
The pradhan Rukmani Devi, who has been operating since five years now, says the villagers are very much involved with drainage construction in village. But the villagers, who last took complaints to her on July 5 said they are only given hollow assurances of upcoming work that never really comes their way.
'Every time we go the pradhan with our appeals, we are either refused for any work or told about some upcoming work … it has been like this since five years,' Hiramani adds. Even as the block development officer (BDO) Rakesh Soni has assured an inquiry into the case, many others like Hiramani have already been pushed to urban centres as labour on construction sites. Other than non-allotment of work, villagers have also pointed to non-payment of wages and non-issuance of job cards which Khabar Lahariya has constantly reported about.
The NREGA was passed in 2005 to guarantee 100 days of wage employment to rural households through participation in unskilled manual work. The architecture of the UPA-flagship programme laid significant onus on gram panchayats that implement at least 50 per cent of the works in terms of cost. The Act stipulates that payments are made to workers within 15 days of completion of work. With the NDA government coming into power last year, the scheme has undergone several budgetary cuts and tweaks. According to reports by the ministry of rural development for 2014-15, nearly 72 percent of the total wages disbursed under NREGA were delayed.
From the lowest echelon of the elected representative to the higher bureaucracy – problems ranging from corruption to poor planning and the arbitrary management of the scheme have crippled the potentially valuable measure to provide sustenance to the rural poor.  While debates on the efficiency of the scheme will continue over time, poor accountability and nexus at the ground level is ailing the social security scheme.
The Socio-Economic and Caste Census released by the government earlier this month tell us why poor implementation in broken social security schemes should bother us. The census, carried out in 2011-12 in 640 districts, remains silent on migration triggered by NREGA in recent times, but it does depict that the rural poor have been unable to find jobs that can pull families out of poverty.
The Census presents a grim picture of rural India where over 10 crore households — almost 60 percent — qualify for 'deprivation.'  The seven criteria taken to assess deprivation in a household include literacy levels, caste status, presence of a differently-abled member, kuchha construction of the house, land-ownership and dependence on manual labour, among others.  With over half the rural households landless and an equal share relying on casual labour as major income, the leakages in NREGA will only make things worse.
Bundelkhand Shows Signs of an Ailing MNREGA: Workless Job Card Holders Migrating to Cities for Work