.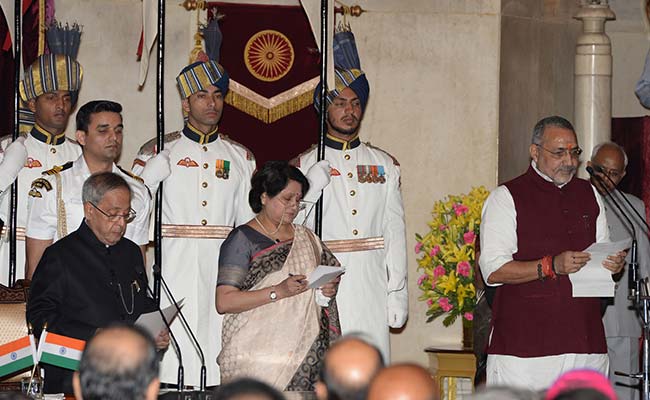 PATNA: 
Giriraj Singh, 63, of the BJP, who was made a Minister of State for Micro, Small and Medium Enterprises today, faces criminal charges for allegedly delivering a hate speech and is out on bail. Mr Singh is a first-time MP from Nawada in Bihar.
Ahead of the national election, Mr Singh, at a rally in his home state of Bihar, suggested that after Narendra Modi became Prime Minister, his critics would be banished to Pakistan.
After that remark -a long with some others that were seen as anti-Muslim, Mr Modi, who was focusing his campaign on development and reviving the economy, had urged, "Petty statements by those claiming to be BJP's well wishers are deviating the campaign from the issues of development & good governance…I disapprove any such irresponsible statement & appeal to those making them to kindly refrain from doing so."
Mr Singh's addition to the PM's council of ministers – 21 people were added today – comes months ahead of elections in Bihar, where the BJP hopes to evict the ruling Janata Dal United, which is headed by Nitish Kumar. After today's expansion, the Union government has eight ministers from Bihar.
In July this year, two months after he won the Lok Sabha election, over a crore in cash was found from thieves who had robbed Mr Singh's home in Patna. A cousin of his publicly said the money belonged to him, and not the politician, but Mr Singh is being investigated by the state police for alleged violation of tax laws.