Hundreds of inmates across the state enter second month of protest against 'inhumane' solitary confinement units
Rory Carroll in Los Angeles
Friday 9 August 2013
The Guardian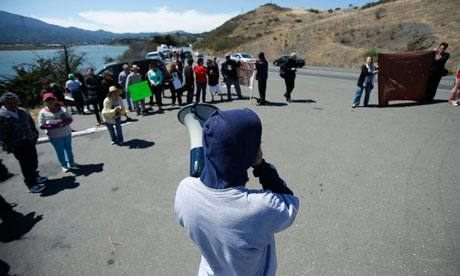 California's prison hunger strike is pitting hundreds of inmates against authorities in a battle of wills largely invisible to outsiders.
A mass protest which has just entered its second month is playing out in the solitary confinement units of maximum security jails where an estimated 400 prisoners are refusing food to demand an end to what they call inhumane conditions.
Some have been hospitalised as their bodies, stripped of fat, now consume muscle, a point when health can be permanently damaged.
Inmates' supporters held small rallies in Oakland and Los Angeles on Thursday to mark one month – 32 days – since the July 8 start of the protest. A "bike for the strike" event is scheduled in Oakland on Friday.
The core demand is an end to indefinite solitary confinement in Security Housing Units, known as SHUs. Some inmates have been in such cells for decades, prompting denunciations from Amnesty International and other human rights advocates.
Strike leaders – an unusual alliance of whites, African Americans and Latinos – say the conditions amount to torture and that the system for selecting those for segregation is callous and capricious. A condition of release into the general jail population is to "debrief" – inform – against gang members.
Authorities reject the criticism and say the strike is an attempt by gang leaders to regain the ability to terrorise fellow prisoners, staff and communities throughout California. Each side accuses the other of brutality and manipulation. There is little sign of negotiation or compromise.
The media have not been granted access to striking inmates but eight in solitary confinement at Pelican Bay state prison, an isolated, windswept facility outside Crescent City, and the protest's epicentre, have written to the Guardian shedding light on their motivations and states of mind.
In handwritten letters on A4 notepaper they all pledged continued defiance and gave no indication about when the strike may end. Todd Ashker, an outspoken member of the so-called Short Corridor Collective, a group of segregated strike leaders, said he was inspired by the 1981 hunger strikes by republican prisoners in Northern Ireland which left 10 men dead.
Ashker said he had become friends with Denis O'Hearn, a sociology professor and author of Nothing But an Unfinished Song: Bobby Sands, the Irish Hunger Striker who Ignited a Generation. He called the book "one of many inspirations" and vowed to continue his protest. "Staying strong and committed!!"
Ashker, 50, a convicted killer with neo-Nazi tatoos, has obtained a paralegal degree and initiated multiple lawsuits, helping inmates win the right to order books and earn interest on jail savings accounts.
He said he had been denied human contact with loved ones during 27 years in solitary confinement. "Each minute has been torturous to my mind and body." He would be released into the general prison population only if he informed against others but he had no information, he said.
Ronnie Dewberry, 54, another strike leader who has adopted the name Sitawa Nantambu Jamaa, called himself a "captive new Afrikan prisoner of war" unjustly jailed for a 1980 murder he denies.
An alleged member of the Black Guerrilla Family, he enclosed a five-page essay titled "I know my destiny" which vowed to never inform on fellow inmates. "From this day until the day I die I shall always be ready to keep fighting/struggling and liberating the mental chains from our people's minds."
Marcus Harrison, who has adopted the name Kijana Tashiri Askari, sent "revolutionary greetings" and said he was a political prisoner at a "slave kamp" which waged psychological war against inmates.
Fati Carter, who has been in the Pelican Bay SHU "for 23 years and one month", alleged authorities were manipulating the media by giving occasional access to inmates who had been released from solitary confinement after informing. Such men were compromised and "attempting to curry favor with their handlers", said Carter.
Strikers could not communicate but were united, he added. "The motive force which inspired those I know to support the strike is the injustice we suffer."
The Aryan Brotherhood and Black Guerrilla Family reportedly instigated the hunger strike and persuaded traditional latino rivals, the Mexican Mafia and Nuestra Familia, to join.
Inmates abandoned two hunger strikes in 2011 after authorities promised to review solitary confinement cases and change selection procedures. Activists say some 33,000 inmates joined the beginning of the latest strike and that the number has settled to around 400. The Department of Corrections and Rehabilitation has not supplied a recent estimates but usually gives a lower number than activists.
Martin Bibbs, who was convicted of attempted murder, said this time strikers would continue until obtaining meaningful change. "Change is sometimes just a new pile of shit. And that's what we've been getting – new piles of shit which they call change."
There are 122,000 inmates in California's 33 state prisons. Last week the US supreme court upheld a federal court ruling that the state cut its jail population to 110,000 by the end of the year to reduce overcrowding, which has been blamed for illness and violence. Four of the state jails – Pelican Bay, Corcoran, Folsom and Tehachapi – have the special security SHU units.
Jeffrey Beard, who heads the California department of corrections and rehabilitation, urged the public not to be "fooled" by the strike, calling it an attempt by homicidal gang leaders to turn the clock back to when they ran jails like fiefdoms.
Many of those refusing food were doing so under duress, he said in a Los Angeles Times op-ed. "The inmates calling the shots are leaders in four the most violent and influential prisons gangs in California. Brutal killers should not be glorified. This hunger strike is dangerous, disruptive and needs to end."