They added that for the cashless economy to flourish, infrastructure on acceptance needs to  develop further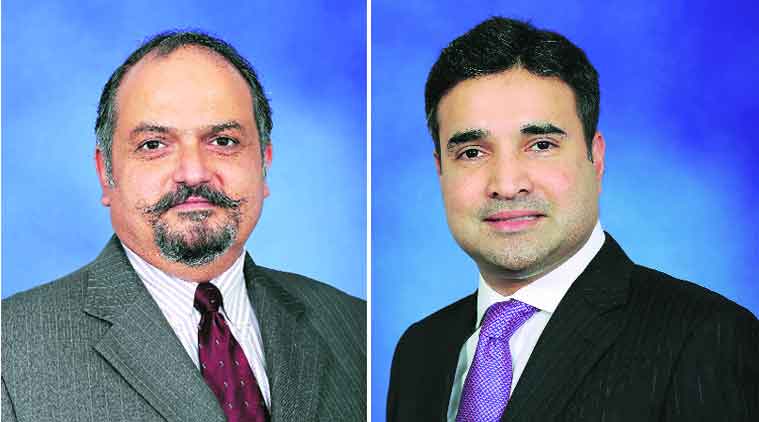 Porush Singh (L), Ari SarkerThe government's recent demonetisation push has been a big boost for the cashless economy. However, Mastercard's Ari Sarker & Porush Singh in an interview with Khushboo Narayan said that cyber crime is a clear and present danger. They added that for the cashless economy to flourish, infrastructure on acceptance needs to develop further.
Government has asked banks to waive off debit card charges till December 31. How is it going to affect you?
We have done it because that is the need of the hour. India has 700 million debit cards. A large number of them are used in ATMs but are not active at point of sale (PoS). I think with demonetisation, we have seen an increase in transactions in cards which were never used at PoS terminals. To make sure there is no friction in the ecosystem and to encourage electronic payments, we have all as an industry decided to waive off all charges on domestic debit transactions till December 31. Obviously, it is a long term journey. How do you build up acceptance. There are only 14.4 lakh acceptance locations. There are 5.8 crore SMEs and micro SMEs. We are looking at how do we all work together to double down on acceptance and build the acceptance infrastructure in as many locations as we can. Of course the waiver of charges will affect the industry but it will be a small amount in the overall scheme of things.
Watch What Else Is making News
Sushma Swaraj's kidney transplant surgery successful
How are you facing up to the challenge from RuPay considering it said it will have 50 per cent market share in the next two years?
Market share depends on how you define it. Market share of cards, absolutely. There are two different parts. What they are saying is on the issuance of cards, right? To my mind cards being used at PoS is the real measure of market share. That's a long way off for them. Having said that, that's not the problem. I think, I would step back and say this is not the time for Mastercard versus RuPay or Visa or Amex. 5 per cent of personal consumption expenditure is spent on cards. Of that 95 per cent is cash withdrawals. Look at any developed market, there are in the region of 60 per cent upwards of personal consumption expenditure on cards. The government's aim is to get to that. That 55 per cent is more than enough for everybody to play in… and of course the battle for share will continue.
Have you been able to make a dent in semi urban areas?
We have roughly about 200 million debit cards in India. A lot of this is going much deeper into India and not just in the metros. If you really look at probably going into the top 30-40 cities or towns in India, that is where a very substantive base of the acceptance environment is. So if you want to go deeper than that the challenge is when you haven't got the infrastructure on acceptance, there is no point pushing plastics into that end of the market.
How has Mastercard's business grown compared to Visa and RuPay?
I cannot comment on it as the information is not public unfortunately. But what we hear from the market, there is a fairly heavy growth of transactions happening with all the banks from November 9 and therefore all of us are growing and the cake is growing. We are very excited about the opportunity. We have made huge investments in the market already in people, infrastructure, mobile development from India. We want to keep on doing that.
There has been a spurt in cyber attacks. Does India have the infrastructure to prevent cyber attacks since we are continuously talking about moving to a cashless society?
Cyber security is clear and present danger. It is here to stay and is getting much more severe and organised. We are investing very heavily in this whole space. We have moved to EMV which has very high encryption technology at the physical point of sale. We have introduced a global standard on a product called tokenisation which will deliver EMV for online transactions. The biggest challenge to cyber security is, if you become over cautious and decline transactions after five declines a consumer will revert back to cash. So you got to have the ability to continue to provide a simple safe secure consumer experience with the highest levels of safety and security. This will need investments from all participants.
What measures have you taken to strengthen your systems after the recent debit card fraud where 3.2 million debit cards in India were potentially at risk?
It's important to keep in mind that the actual cards compromised were 600-700. The fact is that the industry prevented a major catastrophe by reacting fast enough to zero down to the real point of compromise. Participants and players need to adhere to international standards to mitigate potential fraud.
Have you done any study on movement of cash?
The cost of cash is anywhere between 0.5 to 1.5 per cent of GDP. If you assume you are able to move electronic payment penetration to 25 per cent, it will actually have a positive impact on GDP growth. It will add about 20 basis points growth to GDP. Any economy grows because of access to capital, if you move electronic, that will lead to greater financing requirements, access to capital and bank financing. These things will all lead to spurt in economic growth in medium term.http://indianexpress.com/article/business/economy/cashless-economy-cyber-crime-acceptance-infrastructure-immediate-hurdles-to-plastic-push-4393837/