By- Isheeta Sharma & Vaidehi Gautam
---
Internet Freedom Foundation hosted a session titled 'Settled Habits, New Tricks: Casteist Policing Meets Big Tech in India' on June 18 with Ameya Bokil, Avaneendra Khare, Nikita Sonavane, Srujana Bej and Vaishali Janarthanan; chaired by Apar Gupta. The session was based on an essay co-authored by the five speakers by the same name.
The speakers explored how casteist policing gets involved with technology to create a dangerous system of surveillance for many communities. Focussing on Vimukta communities, the speakers briefly touched upon the history of the Criminal Tribes Act (CTA). The Act was established in 1871 under colonial rule to bring under surveillance several communities as hereditary criminals. One of those communities was the Pardhi community. Although the CTA was repealed in 1952, it's casteist and racist idea continues to plague the Indian policing system. After the CTA was repealed the communities were termed as Denotified Tribes (DNTs) or Vimukta Jaati – a liberatory term.
The purpose of policing in India has been to control by force but who is to be targeted is often informed by the caste system. This was displayed through the adoption of provisions pertaining to 'Habitual Offenders' (HO). The HO provision gave the police a large amount of discretionary power in deciding who the HOs will be and to surveil and harass the same communities. The demographic and personal information of the HOs are saved and stored informally in registers called 'history-sheeters' along with their evidence of criminality which is, again, for the police to record and decide.
The daily impact of this surveillance is immense. Speaking of an example from one of the community members they interviewed, Janarthanan said, for a 21-year-old Pardhi law student the first experience of going to jail is at the age of 8. Pardhi children often see their parents being beaten by the police in front of them – an act which is meant to be a deterring message. With no steady employment, the community members have to resort to daily wage labour where the women are often sexually harassed and assaulted by the police. The police often extort money from them and even the courts set a high amount of bail. The targeting of the communities is evident from what one police officer told one of the community members – "Tum sudhar jaaoge toh humari kamai kaise hogi?" (If you start behaving better then how will we earn our money?)
Technological tools such as Crime and Criminal Tracking Network & Systems (CCTNS) are being built by the Union Government to digitise the information stored about HOs. This will create a centralised database which allows for the information to be shared between other police stations or with judiciary and other organisations. Under the garb of increasing efficiency and objectivity of the police, however, these systems work as predictive policing tools which will mark certain areas as hotspots for policing, certain communities and castes as the HOs and allow for more stringent surveillance of their day to day activities. Janarthanan mentioned how the DIG of Bhopal openly admits the intention behind Bhopal EYE app is to livetrack people in order to control habitual offenders.
Srujanabej addressed the notions around body cameras, which is the belief that with more surveillance there will be a check on police impunity and there will be a greater police accountability. This belief, according to her, stands untrue in reality. She cited the Supreme Court judgement which said that there needs to be camera installed in every police station in order to keep custodial violence in check; however, the feeds involving custodial violence are never submitted in courts, or certain rooms in police stations don't have cameras just for the purpose of avoiding any violence being recorded, which makes this court order redundant. Even in matters of crimes being committed publicly, the police hold a huge amount of power and discretion in terms of which recorded evidence must go out to the prosecution and which must not. The speaker then talked comprehensively about the Bhopal Eye and its application which involves police access to private-owned cameras. The information regarding the legal safeguards associated with this app and other useful information still remains disclosed. The introduction of this app has, however, resulted in consistent coaxing by the Bhopal police to various neighbourhoods of the city to install CCTV cameras. The nature of this coaxing varies a lot according to the kind of neighbourhood that the police approach.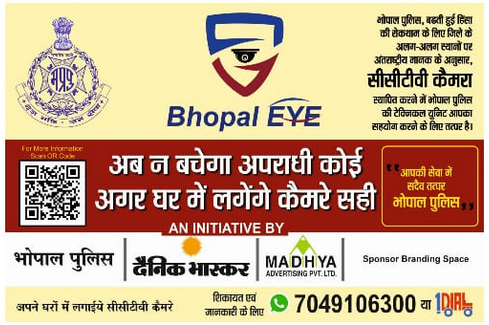 On the question of incentives to the bureaucrats for delving in this system of surveillance, Sonavane pointed out how these ideas are driven by neoliberal corporate interests which cast a shadow on the concept of public good, and in order to win a partnership with the state, they facilitate these drives surrounding technological surveillance and digitisation. This also has implications on the state's relationship with its citizens. It has turned more like a customer service relationship where the population is a clientele to its police department. Moreover, the overarching idea around surveillance of the citizens is the notion of self-discipline to keep crimes and violence in check. What kind of behaviours come under self-discipline and what does not – poses a huge question with regards to the caste of the person in whose behaviour is subject to regulation through cameras and other forms of surveillance. Sonavane touched upon Lucknow Police's proposal of introducing AI technology to determine whether a woman is in distress or not through her facial expressions. A system like this tends to incriminate a certain section of men especially due to the official's belief that a woman's safety is in danger only when she is out in public and only from a certain caste, class of men. Predictive policing in this way tends to perpetuate caste in technological frameworks, hence busting the myth of technological neutrality, eventually leading to the emergence of a parallel digital caste system.
The speakers discussed what the future looks like in the context of casteist policing and social justice in a technological context. The police administration of not just Madhya Pradesh but all over India are aiming to further their technological interests with respect to surveillance in order to be at par with the Western standards of surveillance; Telangana being first in the line to reach that level. Despite the awareness of racial bias in Western police departments, similar conversations haven't taken place in India with respect to the social stratifications unique to India, even though the stratification in India is far more complex than that in the West. The basis on which police exercises its duties and powers is never questioned which is clearly based on a caste rationale. The centering of the caste system amidst the ideas of data protection, privacy and surveillance is extremely important in order to demand for police accountability. There is a clear disparity between who are at the receiving end of these issues and who are the leading members of the organisations that execute power. There is a need to move beyond representation and redistribution.
An anti-caste framework needs to be envisioned where affirmative action is not only for hiring but also for salaries and promotions to challenge the organisational hierarchical structures that tend to imitate caste hierarchy in other non-organisational spaces. Facilitating leadership is one such way to look forward to ensuring a socially just environment.
: *Isheeta is a features writer and a student of Gender Studies at Ambedkar University, Delhi. She enjoys dissecting popular culture through a gendered lens, adding new books to her overflowing book rack and sipping coffee in quiet corners. She is currently an Intern at Kractivist.org.
 *Vaidehi is currently pursuing her master's degree in Gender Studies from Ambedkar University Delhi. She is interested in politics, public policy, gender, pop culture, and loves to stay caffeinated and revisit basic mathematics from her school days. She can be reached out on [email protected].  Presently she is interning at kractivist.org.