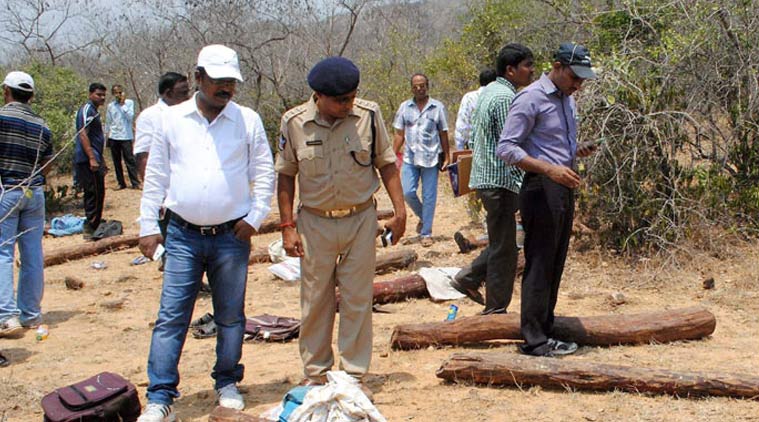 Police personnel and officials after an encounter with red sanders smugglers in Seshachalam forest near Srivari Mettu in Chittoor district. (Source: PTI)
The two FIRs filed by forest officials on the "encounter" near Tirupati on April 7 claim that the 20 alleged "smugglers" killed by Andhra Police and forest guards were chopping and carrying logs of red sanders in the Seshachalam forest the previous night. However, phone records of at least four of the victims, examined by The Indian Express, blow holes in the official version.
READ: 7 of 20 'smugglers' shot dead were picked up from bus by AP Police, says witness
A close scrutiny of the Call Detail Record (CDR) reveals that two of them were travelling for most of that night, and arrived at the encounter spot — Chandragiri Mandal near Rangampet village — only at around 2.30 am on April 7, barely three hours before the "encounter".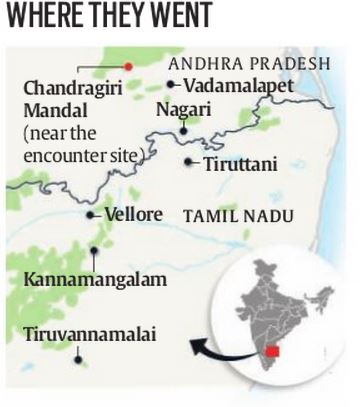 The records also show that a third victim had reached the Tamil Nadu-Andhra border, over 100 km from the encounter site, at around 5.30 pm on April 6, while the cellphone of the fourth remained active till at least 7.55 pm on April 10. All four were shot dead on April 7, between 5.30 am and 6 am, by a group of forest guards and members of a police task force formed to prevent smuggling of red sanders, according to the FIRs.
The call records, however, support the version of the three witnesses in the case who told National Human Rights Commission (NHRC) that they were picked up by members of the task force and forest guards in plain clothes, the previous day. The CDRs were of the same cellphone numbers that police used to identify the victims – of the 20 killed, 11 had registered cellphone numbers, according to investigators.
WATCH VIDEO
The CDRs of a majority of the victims show their phones were switched off or not available April 6 evening onward, almost the same time as they were picked up, as per the witnesses. The Indian Express examined the CDRs of Perumal (37), from Vettagiripalayam village, Palani (35) from Kalasamuthiram village, Magendran (25) from Gandhi Nagar village, and Munusamy (35) of Padaveedu village.
Perumal
Witnesses have testified that Perumal and Palani had arranged for the woodcutters to be taken to Seshachalam.
The CDRs show their phones were active even during the intervening night, even as the numbers of the others showed zero activity.
April 6, 11.14 am: CDR places him at his native village Padaveedu in Tiruvannamalai district. Around 10 from the village leave with him for Andhra some time later.
2.37 pm: Perumal is at Anna Salai near Arcot in Vellore district (Tamil Nadu). For the next five hours, his phone is switched off.
7.44 pm: Perumal receives a 31-second call from Anbalagan, a tailor from his village. At the time, Perumal is at Vadamalapet, near Tirupati in Andhra Pradesh. Anbalagan said he had called to inform Perumal that the shirt he had given for stitching was ready. "Somebody else picked up. I tried to ask about Perumal but I was not able to understand anything and cut the call," he said.
7.44 pm to 9.22 pm: Perumal's location varies from Vadamalapet to Renigunta Mandal, 10 km away, to a check post near Puttur road and back again to Nandavaram village near Tirupati.
9.22 pm: Perumal's phone goes dead again.
April 7, 2.33 am: An SMS goes out to Arumugam, a relative and neighbour of Perumal. The nearest cellphone tower to the encounter site, which is about 25 km from Nandavaram, picks up the signal. Arumugam said he was surprised because "Perumal is not a person who sends SMSes". He said he would read out the message but then added, "Sorry, I deleted it by mistake."
15 seconds later: A message is received by Venkatesh, one of Perumal's neighbours.
2.35 am, 2.36 am: Venkatesh places two calls to Perumal. Perumal's location at the time is Chandragiri Mandal — identified as the encounter site in one FIR. The calls last 28 and 42 seconds respectively. A source close to Venkatesh said he was supposed to join Perumal and the others for the trip to Andhra. "While the others left on April 6 afternoon, Venkatesh started only at 6 pm from Kannamangalam, a town near Padaveedu," he said.
The source added that the first call, at 2.35 am, got cut abruptly. The second time, Perumal reportedly picked up the phone and asked Venkatesh where he was. Venkatesh replied he was at Tiruttani, a town in Tamil Nadu near the Andhra border, 82 km from Chandragiri Mandal. Perumal, the source said, replied in a trembling voice: "I am inside a forest. Come to Tirupati and call me."
Both times, the source claimed, Venkatesh could hear someone else at the other end telling Perumal what to say. An alarmed Venkatesh returned home – his was the last call received by Perumal before he was killed. Venkatesh's number has been switched off for days now.
Palani
According to Palani's wife Loganayagi, he left home on April 6 after lunch. The tailor from Kalasamuthiram near Kannamangalam was wearing a violet colour shirt and white trousers, his wife said – the same clothes he was found dead in. April 6, 6.24 pm: Palani is in Tiruttani.
CDR shows he spends hardly 10-15 minutes here, moving to Nagari in Andhra 19 km away.
6.24 pm to 9.40 pm: CDR shows Palani has 40 incoming and outgoing calls during this time, one of them from his brother Balaji, at 8.42 pm. The other numbers are either not available or switched off now.
9.40 pm: Palani receives a call, lasting 24 seconds, from a daily wage labourer in Dharmapuri district, Balachandar, who is now one of the three witnesses before NHRC in Delhi. Palani is at the time near Renigunta, about 29 km from the encounter spot. Balachandar said he was travelling along with Palani and the others to Tirupati. But while waiting for a bus near Tiruttani, he went to drink at a governmentliquor shop along with another man brought by Palani, he said. "We ended up getting drunk and missing the bus. I called up Palani to check where he was to catch a bus there. But he told me to go back as police had arrested them," he said. According to Balachandar, when the person drinking with him called up his relative Sivakumar, who was also with Palani, an unknown voice replied, "Your men are here. So come to Tirupati immediately." Balachandar says they returned home.
9.43 pm to 2.22 am: Palani's number stays switched off.
2.22 am: Palani's number is located at Chandragiri Mandal, the encounter site as per the FIR; just as Perumal's was at this time.
2.32 am: An SMS goes out from Palani's number to his brother Balaji. His brother said he had tried talking to Palani "around 8.30 pm" to say he was coming home, but Palani had cut off abruptly, telling Balaji to talk to their mother. Balaji didn't check the SMS till much later. Balaji said Palani had two phones with him. "The family didn't know the other number," he said. Recalling the last conversation, the brother said Palani was "rattled".
Magendran
One of the men in Palani's team, he left his home in Gandhi Nagar village near Kannamangalam around April 6 noon.
April 6, 2.18 pm: Magendran reaches Arcot, and 42 minutes later, leaves the town on way to Tiruttani, from where he would later catch a bus to Andhra.
3 pm to 4.49 pm: Five calls are made and received on Magendran's phone. Police are still determining who the numbers belonged to.
4.49 pm, 4.50 pm: Magendran receives two calls from his brother Madhavan, lasting 29 and 24 seconds recently. Magendran's location is near Tiruttani. "Magendran called me up in the morning before he left home. I could not attend the call as I was at work. So I called him back. He said he was nearing Tiruttani and cut the call," said Madhavan.
5.19 pm: Magendran is at Tiruttani.
5.21 pm: Magendran's phone is switched off. Sekhar, a witness before NHRC who was with Magendran that day, said they reached Tiruttani around 5.30 pm. From Tiruttani, they took a bus to Tirupati. Sekar said that one hour into the journey, Magendran and two others were taken off the bus by a young man in plainclothes. "I was spared as I sat with a middle-aged woman. They perhaps thought we were a couple," Sekhar told NHRC.
Munuswamy
He left home at Padaveedu around 12 noon on April 6. Munuswamy used his phone rarely after leaving home. However, several service messages he received showed his locations and these corroborate with what Sekar said. From Tiruvannamalai till Tiruttani, the CDRs of Magendran and Munuswamy — reportedly taken off the bus together — show them at the same places.
April 7, 12.37 pm: A service message to Munuswamy's phone shows his location near Rangampeta in Chandragiri Mandal.
2.52 pm: His phone is located at Porur near Tirupati. His phone would remain active till 7.55 pm on April 10, when it was located to an Aircel tower near M R Pally, Tirupati. "We assume that since Palani and Perumal had arranged most of the workers, police who captured them allowed them to keep their phones alive to catch others on their way," said an investigation officer. Tamil Nadu DGP Ashok Kumar said they had "no role in the investigations" as the killings took place in Andhra Pradesh and the Andhra Pradesh High Court was monitoring the probe. M Kanta Rao, the Andhra Police DIG heading the anti-red sanders smuggling task force, refused to comment on the call records of victims.
http://indianexpress.com/article/india/india-others/tirupati-red-sanders-killings-cellphone-records-of-four-of-20-killed-blow-holes-in-andhra-police-version-of-massacre/99/
Related posts