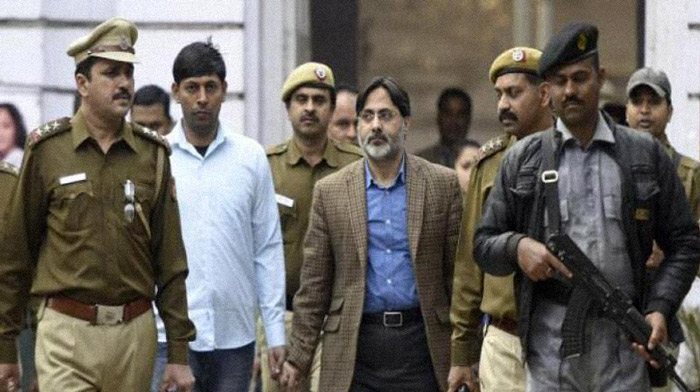 PTI PHOTO
The incarceration
Accused of sedition, SAR Geelani was released on bail on Monday after 35 days in jail
He realises that very few people took up his cause, unlike the 3 JNU students
The appeal
One can't be selective in protesting attacks on free speech and civil liberties
There is a need to fight to preserve the constantly shrinking democratic space
More in the story
Geelani's version of what happened at Press Club on 9 February
Even when SAR Geelani was implicated in the 2001 Parliament attack case, from which he was later acquitted, he was regularly visited by friends and colleagues in jail.
But not one person, apart from his family, came to visit him while he spent 35 days in Tihar jail this year.
Bismillah, his brother, attributes it to the present atmosphere of fear in which nobody wants to be associated with an 'anti national.'
This may explain why the crowds, which poured out in thousands to support the release of Kanhaiya Kumar, were hesitant to come to the defence of Umar Khalid and Anirban Bhattacharya, and safely ignored Geelani, even though all three of them were facing similar charges.
Syed Abdul Rahman Geelani is a professor of Arabic in Delhi University's Zakir Hussain College. And because of the smear campaign against him in the press he is also one of the most well known "anti nationals" in the country.
A day after he was released from Tihar Jail on bail, Geelani tells Catch why he will continue to talk about Kashmir, why he threatened to go on a hunger strike in jail, how police was tampering with evidence right in front of him, and how the liberals in India are ceding ground to those on the far right.
Some excerpts:
SM: You've just been released from jail and the case of sedition and criminal conspiracy against you is still going on. Are you afraid of participating in another rally or discussion on Kashmir?
SG: I am afraid of nobody. They have tried to hang me, then to kill me but I've never stayed quiet. If something is not right I will say it's not right.
If champions of free speech don't speak now, they will find it too late to speak again
SM: Given the sedition case against you and the 3 JNU students, do you think that the space for discussing unpopular subjects like Kashmir is now shrinking in this country?
SG: I think there cannot be a posture of selective silence on impingement of freedom of speech.
The so called democratic liberals are getting scared about discussing these issues, they are ceding this precious space…it is dangerous. It is a tragedy.
The people have to understand whether they want to live in a democratic country. If yes, then they will have to fight for this space which is shrinking daily.
SM: What about the charges that you and the people who came to the function organised by you, raised anti-India slogans?
SG: Let me make this very clear – no anti-India slogans were raised. We were singing, and talking about certain issues that some other group may have found objectionable.
But nobody there [Press Club of India] raised any objection then.
We shouted pro-Kashmir slogans, if you think that is anti-India it is your problem. These people are behaving as if Kashmir has ceased to be an issue any longer.
SM: But Delhi police claims to have evidence against you.
SG: The police was asked to present their evidence. They claimed to be in possession of a video which would have established our guilt. And the judge asked them to present it before the court.
They returned to the court on the next hearing without this video that they had claimed would nail our lies.
And now that you bring up the subject of evidence, let me tell you a little anecdote. The police confiscated my phone as evidence on 15 February. It was confiscated, sealed and deposited in the malkhana and I was given a receipt.
I don't blame anyone. But I understand people found reasons to be quiet because I'm a Kashmiri Muslim
Two days later in front of me a police officer was operating my phone. I complained to the court that this was a case of tampering with the evidence but nothing happened. I don't know what they got out of it and how they used the phone.
SM: How did the arrest take place?
SG: It happened without any prior notice or information. From 12 February, when the FIR was filed, till 15 February, I was following my normal routine. Not once did the police ask me to join investigations.
Then on 15 February, they arrested me in the most dramatic fashion. A group of people mostly in civvies cornered my car at a petrol station and picked me up. The official guard posted with me was about to fire on them because they just came right at us without their uniforms, without a warrant. It could have ended in a tragedy.
SM: Do you feel that your right to have a fair trial was curtailed because you were not produced before the court, except once when you were sentenced to police custody for the first time? Most of your hearings happened through teleconferencing. How was it like?
SG: Yes I do feel that I should have been physically present in court. It would have given me some idea about what the prosecution was arguing and I would have accordingly countered them.
A trial through teleconference is being put in a room with a large screen in which you are by yourself. You don't know what the judge or others are saying. You are just asked 2 questions, your name and your father's name and told one thing – the date of next hearing.
Read more- Left drops Kashmir: Did Kanhaiya Kumar leave his Azadi in Tihar jail?
Once when I had the opportunity of being in a court, it felt like visiting a garrison. This tells you a bit about the strength of the country's democracy today.
SM: Why did you not apply for bail when you were sent to judicial custody for the second time?
SG: I knew there was a lot of prejudice against me. And I also knew that there was a lot of frenzy around people like me. So I was waiting for an appropriate moment. And at the same time I knew my case was similar to the cases of the 3 JNU students. So if I were denied bail, so would all three of them.
SM: How was the time in jail? Last time you spent time in custody, you came out quite bruised by police torture. Were you harmed in any manner this time?
SG: The scars of last time are still with me today. I still cannot write properly because my hands get stiff. I also have, thanks to police torture, three slipped discs in my spine.
This time they did not torture me but they tried to break me down mentally by denying sleep to me.
For the first three days I wasn't allowed to sleep. As a result, my blood pressure was dangerously high for several days. Then in the jail they put me up in solitary conditions where I wasn't allowed to move around or meet anyone.
We shouted pro-Kashmir slogans at Press Club. If you think that is anti-India, it's your problem
I was told that this was for my own security.
This happened for three to four days and only when I threatened to go on a hunger strike did they finally give in.
But it wasn't just me. My family was also affected. They couldn't leave the house, not even to get daily groceries from the nearby market, because of the threats and harassment.
SM: Do you think it is because you are a Kashmiri Muslim that people, who came out in support of Kanhaiya Kumar and a couple of weeks later for Umar Khalid and Anirban Bhattacharya, never spoke for your release?
SG: I don't blame anyone. But yes I understand how people begin to find good reasons to be quiet just because I am a Muslim and on top of that a Kashmiri Muslim.
But again as I said, if people who talk a lot about free speech and civil liberties don't speak now, they will find it too late to speak again.
Edited by Aditya Menon