By: Ayaz Farooqui |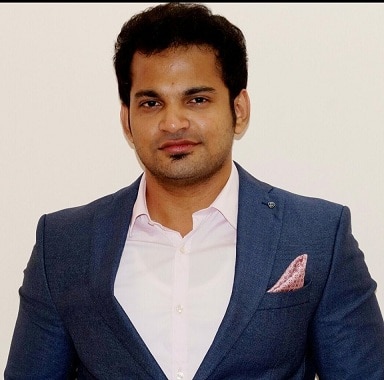 New Delhi: Remember the young man who offered his two apartments to the people stranded in Chennai Floods? Mohammad Yunus he was.
Amid all the hate politics and the intolerance debate, this Chennai man has again set an example which the humanity will remember forever.
Chitra and Mohan, a Hindu couple was stranded in Chennai due to heavy rains as the monsoon showers flooded Chennai and its surroundings. Like this Hindu couple there were more than 400 families who were left stranded as the water entered their home in Urappakkam area.
When Yunus heard about people crying for help on news channels and social media apps, he and his friends decided to help them out of this natural calamity.
The impact of floods was so much that even boatmen were reluctant to bring in boats for rescue.  Yunus tried hard, convinced the boatmen and it took him four hours to find a vehicle to carry the boats to Urappakkam.
After reaching flooded Urappakkam this Muslim Engineer swam through the flood water and rescued Chitra, who was in labor pain, her husband and many others.
"There was no power and people were hanging on trees and building slabs calling out for help. Near a petrol outlet there, we found two families in neck-deep water. Only after we got them into the boat we knew one among them was pregnant and her due date was just two days away. She later gave her name as Chitra, Yunus told the New Indian Express"
"She was under panic, especially after the boat almost toppled when it hit an uprooted tree. I told a story that conveyed a message that money is nothing but a piece of paper until it helps someone," Yunus recalled.
Later, Chitra was admitted to a hospital in Perungalathur where she delivered a baby girl on Saturday. Showing gratitude towards their saviour Chitra and her husband named the baby girl 'Yunus'.
The couple had sent a WhatsApp message to Mohammad Younus:
"Hi Sir, this is Mohan from Urappakkam. My wife Chitra has successfully given birth to a girl baby. We have named our girl as 'Yunus' sir. We take pride in this and we want you to come and make her one day you are free. Also we will not forget the theory of money you taught us on boat. You are our leader and our government sir. Hereafter I will give 50 percent of my salary to the poor only and help needy. You are great.
Mohamed Yunus then said, "What can be a greater bliss? I'm in Cuddalore right now helping relief operations there and will soon visit the young Yunus once I am back.
"I saw messages on Facebook and WhatsApp of people who were stranded and crying for help. I asked myself, what will happen to these people if they're not rescued. I could feel the pain they were going through. I somehow managed to arrange seven boats to reach flooded Urappakkam locality to save these people," Yunus told ABP News.
"There were around 800 people crying for help, stranded amid the flood water. It was a huge task to rescue such a large number of people but I with my three friends was able to save them. This is a part of my duty towards my nation." Yunus added.
Yunus not only saved these these people but later he supplied food packets to the flood victims.
"We have delivered more than 1,000 food packets from our own money to the people in need and we will continue doing whatever we can for the flood victims," Yunus told ABP News in a telephonic conversation.
http://www.abplive.in/india-news/chennai-floods-hindu-couple-names-baby-girl-after-a-muslim-man-257168