A woman took to social media to share her ordeal after a man, who called her with a job offer, started asking her inappropriate questions and later harassing her. Her post aims to warn people who might fall prey to such fraud.
One of the positive aspects of free speech on social media and the widespread reach has been that women across the world have felt emboldened to share stories of being sexually harassed and assaulted, not only because there are so many others with similar stories, but as a means to not let those responsible get away with misbehaving. A Chennai resident Namya Baid did exactly that when she was contacted and then later harassed by a man, who had initiated a conversation by offering a job. Taking to Facebook, Baid decided to share her ordeal and how she dealt with it.
"I started recording the call after 3-4 minutes of the conversation because first few were general introduction. Also, because I did not want to miss out on any information. Then of course I started finding it fishy after he started  asking for my waist size, my breast size," said Baid when asked what made her record the call.
On being asked why she chose to put it all out on social media the 22-year-old said, "I have faced something like this earlier in my life and I could not really fight back. So this time I really wanted to. Also, of course to inform others."
She started her post with a warning asking those around her to be careful before attending any phone calls. She then explained how she had recently started applying for jobs and one of her friends passed her contacts to people via multiple groups and one of the person misused her number. She then received a call from someone who claimed to be from Air France. Sceptical about the call, she recorded it from the very beginning. While the initial questions seemed basic, the 'interview' soon turned into something else. Read her complete post here:
Girls, and everyone around.
This is something serious. I don't want anyone to go through this.
So please please be careful before attending any calls.
Recently I had started applying for jobs and a friend passed my contacts to people he knew.
Someone called me and claimed to be from Air France (+91 73566 88358) and the moment I started finding it fishy, I kept the call recording on.
He claimed to be from Air France, and asked basic questions.
Then my height, weight. It was fine till that. But then he asked my chest size and waist size.
Then he said this was first round, now someone will call for second round. He called at 5:20 and went till 5:55 where he explained the various rounds, job description and what not.
At 6, he itself called for second round (he said another person will, but he himself did). And then said I'll have a WhatsApp video call. Asked me to be alone in a room so that no one's there to help me. Asked me the color of my shirt and pants.
He himself called me on video call with the number +919495771521 claiming to be another person (Dr. Manish Rao, he mentioned) and then on video call, he asked me to show my height and weight. He asked me to show my tattoos. He asked to then show my stomach, I was uncomfortable and denied doing so. He asked me to wear a t-shirt and do so. Then he asked me to take off my innerwear but keep my tshrit on and stuffs.
He clearly mentioned that my nipple bulge is to be seen. I found it weird. Cut the call.
And I again got a call from the previous number and he acted like he's a different person and said that the doctor told him I'm uncomfortable.
My friend was with me throughout and both of us could easily find that the voice was same and when we questioned about it, he changed the thing and cut the call.
Today, when I confronted him, he tells me things like "what he recorded on call was enough", "Namya, you're gone"
For a fact, I know that there's nothing he can do because I didn't do anything he asked on the call.
Girls, take this as a lesson and please please please be safe.
She also shared screenshots of her text messages with the person: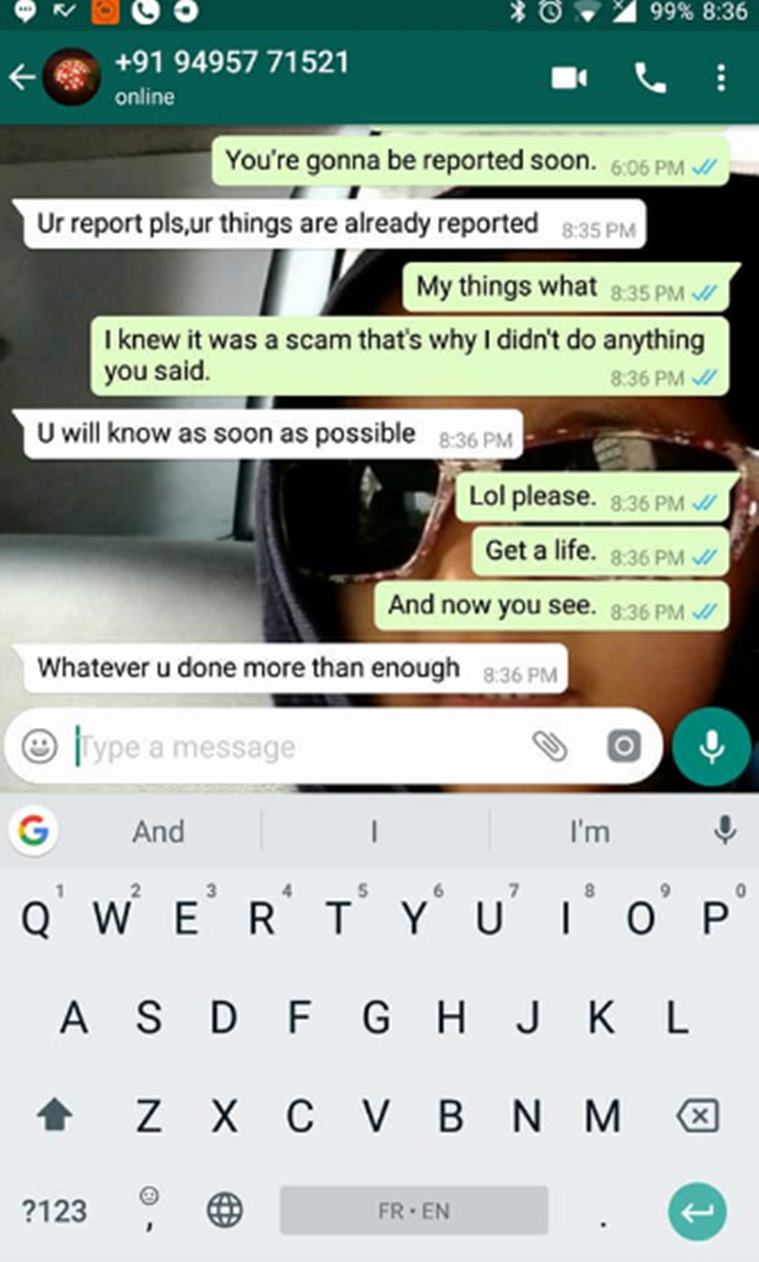 (Source: Namya Baid/Facebook)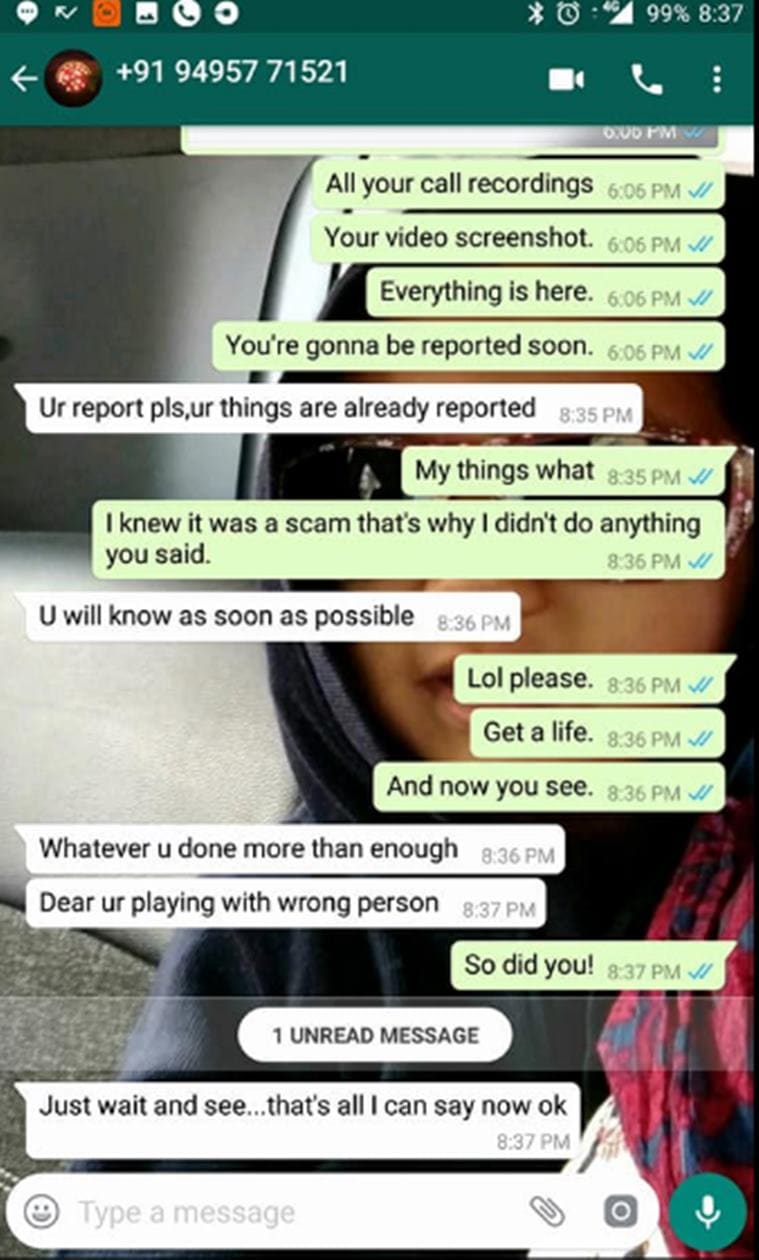 (Source: Namya Baid/Facebook)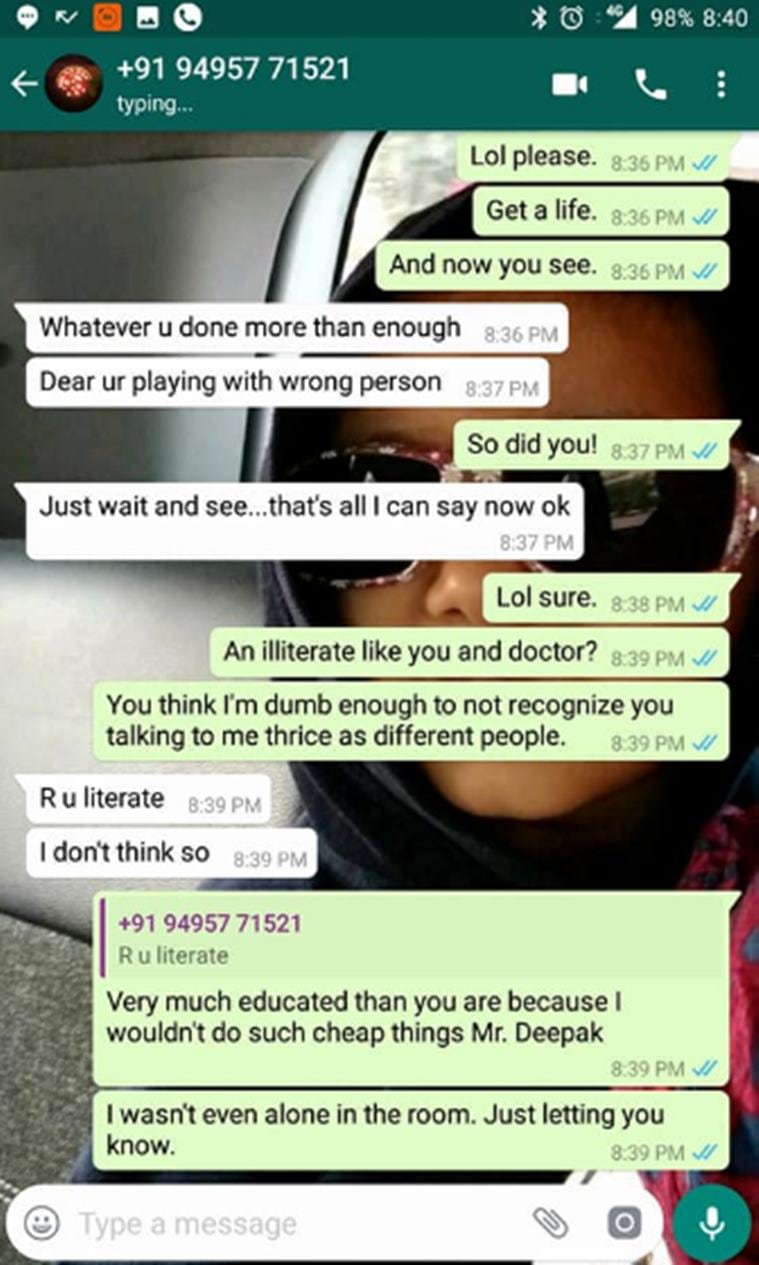 (Source: Namya Baid/Facebook)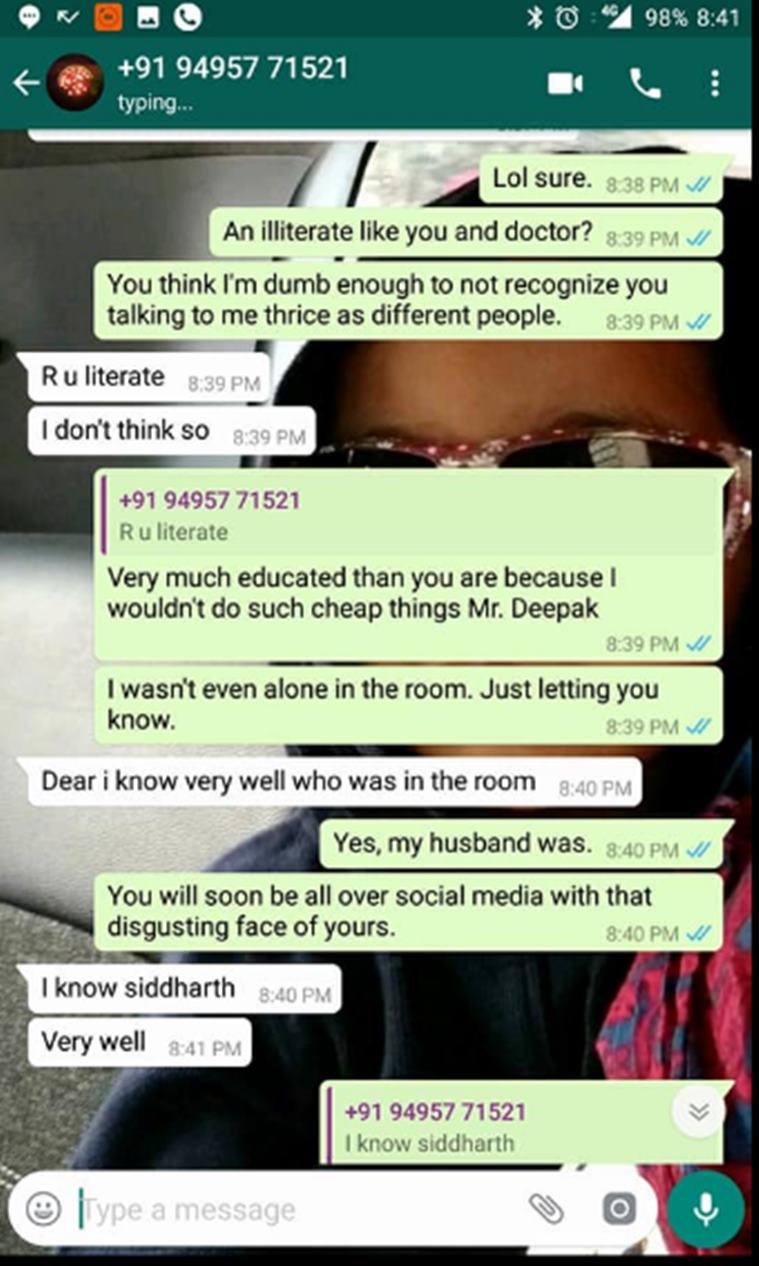 (Source: Namya Baid/Facebook)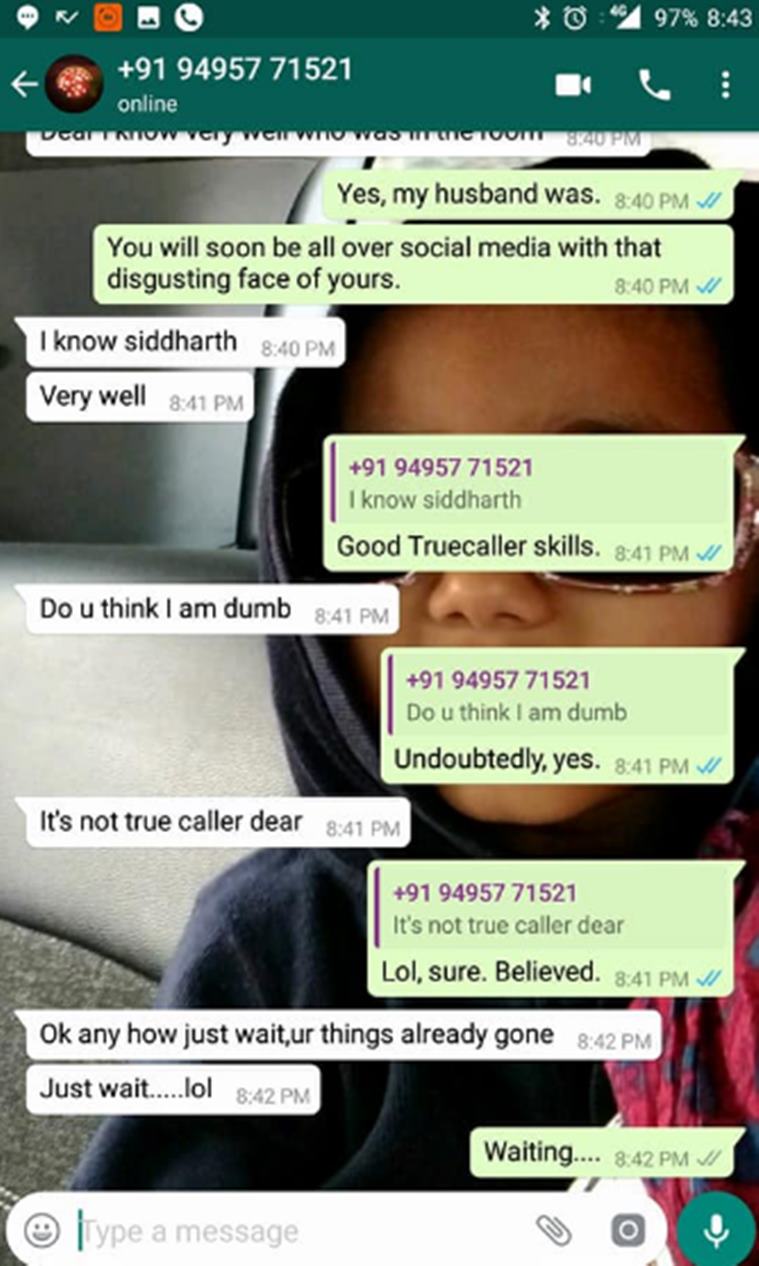 (Source: Namya Baid/Facebook)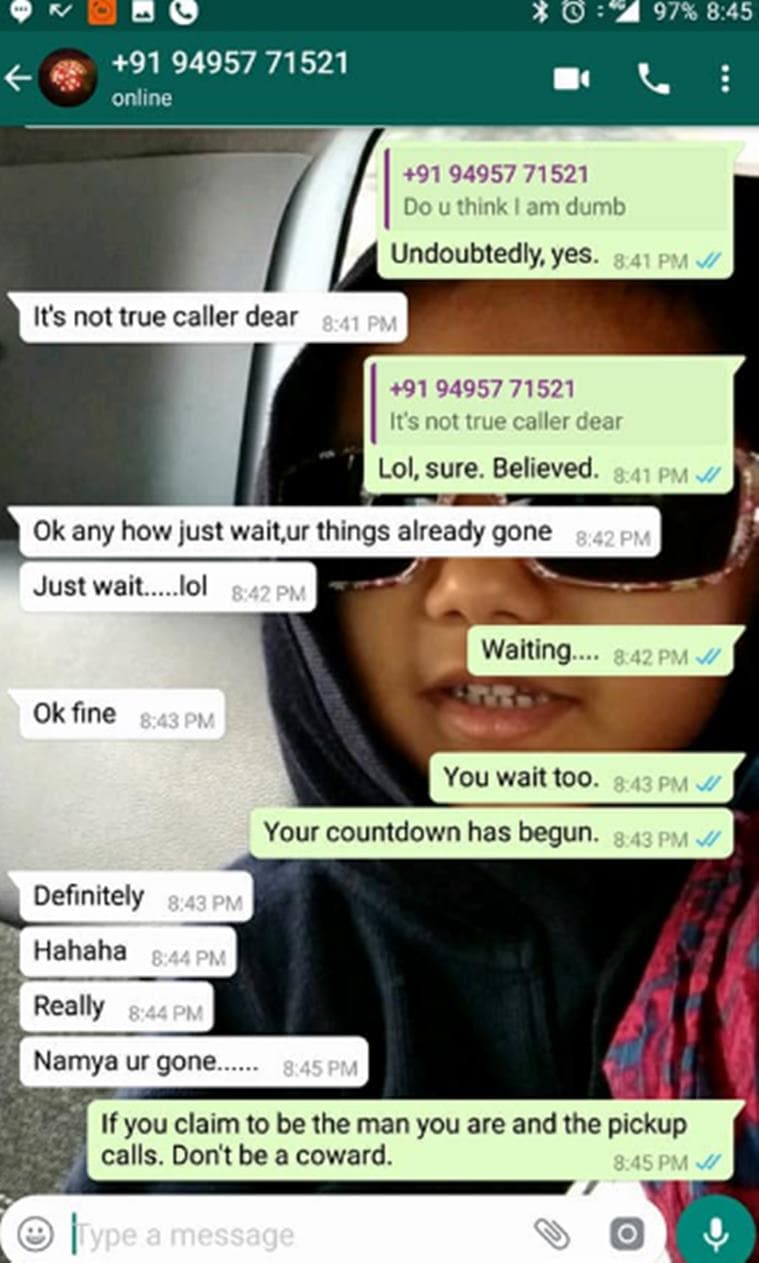 (Source: Namya Baid/Facebook)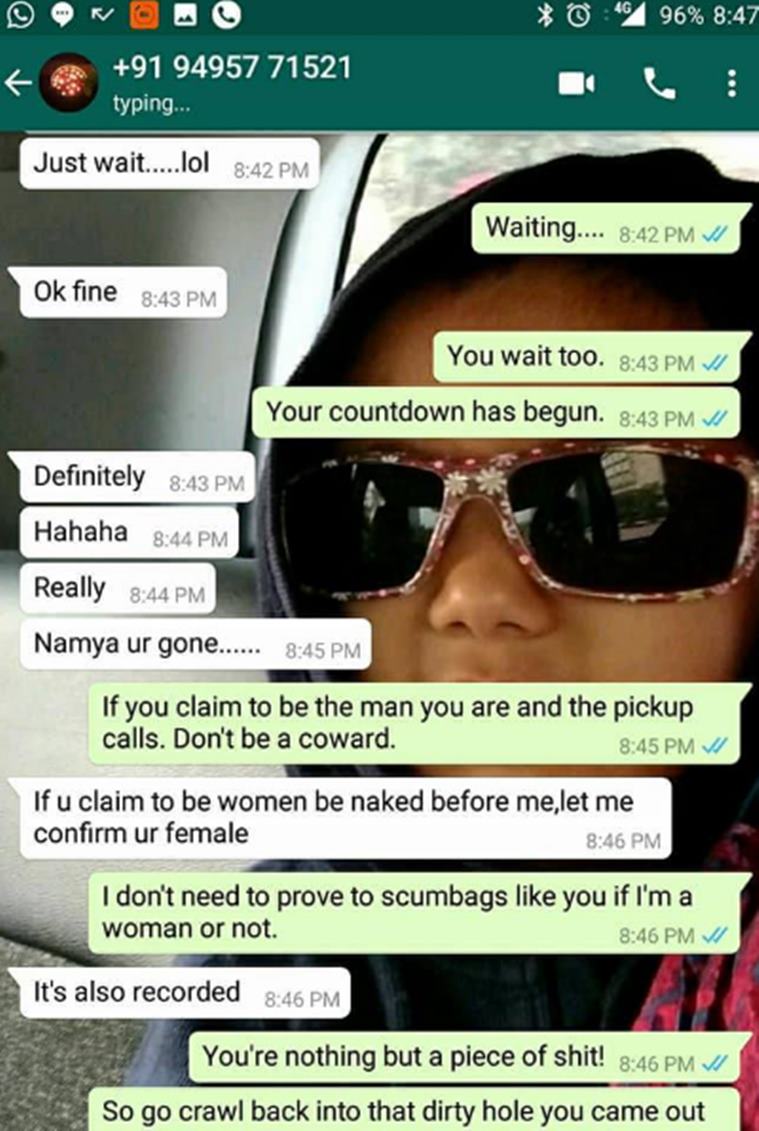 (Source: Namya Baid/Facebook)However, the harasser did not stop even after being confronted by Baid . He continued to text and even tried to scare and threaten her. It is quite common for both men and women to receive such fraudulent calls, texts and mails offering high paid jobs and other perks. While, Baid did not fall prey to this man's tactics and manipulation, there are many who do and end up in trouble. This lady's post should be an eye opener for people on social media and surely a lesson for those who tend to fool others.
Baid posted this incident on social media on January 3 and since then it has gone viral and received a lot of attention. She hasn't received any texts or calls from that person thereafter,http://indianexpress.com/article/trending/trending-in-india/chennai-woman-harassment-warns-others