Days and nights in the forest: 23 days with the Maoists in Chhattisgarh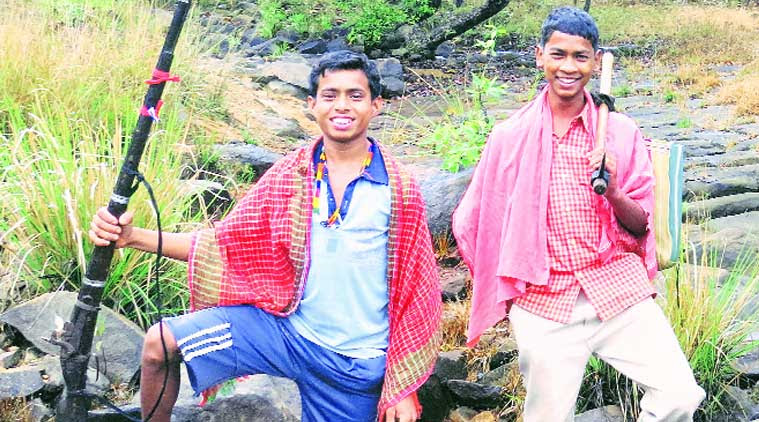 Villagers in the Abujhmaad forest (Source: Express photo by Ashutosh Bhardwaj)
Given rare access, Indian Express reporter Ashutosh Bhardwaj spent 23 days with the Maoists in Chhattisgharh, living in their camps, sharing their food, watching films on a laptop and debating Mao.
In February last year, Ashutosh Bhardwaj gained rare access into the forests of Abujhmaad, Chhattisgarh, a "liberated" Maoist zone run by a network denser than veins in the human body. He spent 23 days in the camps, observing the violence, idealism and deceit that are a part of the guerrilla life. An account of life inside an insurrection.
A rebel fetches water for her camp. Comprising around 40 per cent of the cadre, women form the spine of the insurgency. All responsibilities are shared equally by men and women; the latter get special food rightsThe three of them clutched torches between their teeth, uncoiled the long wire, laid it through bushes, before fixing a Claymore mine and a detonator on opposite ends. On this mid-February night, they looked like three ghosts on the prowl. Their comrades washed dishes in a tiny stream nearby, spread tarpaulin sheets on the ground and sat around the fire. This forested patch, deep in Abujhmaad, Narayanpur district, Chhattisgarh, served as the night halt of this Maoist squad.
The squad leader for the night, Rajnu Mandavi, conducted a final check on the Claymore. It was my third night with them and I was startled. "But you said landmines are for the police?"
Mandavi nodded.
"You said this place was safe. Won't your informers alert you?"
"They also have informers."
"Do you expect a police attack tonight?"
"Our sentry will blow the whistle. I will explode the mine, some of them will be killed. We will open fire, give you cover. Leave everything and run behind that hill," said Mandavi as he lay down on a tarpaulin sheet.
Life in a conflict zone cannot possibly put a premium on safety. The looming possibility of scampering in the dark of the night, away from spraying bullets, bursting grenades and policemen on the chase defines Dandakaranya. If any moment could be the last one, every moment would be felt with unparalleled force and every move determined by just one desire — survival. Since that night, I slept with my shoes on, laptop held tight in my arms.
A makeshift night halt for a Maoist squad inside the Dandakaranya forest. The rebels live a spartan life, with food and tobacco strictly rationed. Intoxicants, including local tribal brews, are banned (Source: Express photo by Photos: Ashutosh Bhardwaj)Always on the move to elude the enemy, a guerrilla rarely spends consecutive nights at a single place. We travel around 10-15 km a day, cross hills, rivers and forests. At least one cadre is posted on an hourly sentry duty at nights. These are frosty nights but Maoists sleep with just a thin blanket and an endless sky stretched above.
By 6 am, the morning drill begins when the squad leader assigns the day's work to the cadres: some bring the wood for cooking, some go to the villages for meetings. Sometimes the whistle goes off at 5 am. It's still dark, but the leader has suddenly decided to change the location, for reasons known only to him.
Eight minutes is what the Maoists get to pack up and move. Their belongings — a plate, a few clothes and basic toiletries — all fit into one pithoo bag. A loaded rifle is slung on the shoulder all the time; a woman carries one even when she goes for a bath in a river.
For the last three days, Fulo Devi, 24, has been the only woman in this six-member squad. They share responsibilities equally with her, be it weapon training or kitchen work. "Not at all," she says with a laugh, when asked if she felt unsafe or awkward among men.
Rice, lentils and occasional vegetables provided by villagers form their diet. However, women get extra: 2 kg of groundnuts and 0.5 kg of gur (jaggery) a month, and if groundnuts are not available, an egg a day. In areas lacking the most basic facilities, special food rights are among the several privileges for women guerrillas, who constitute around 40 per cent of cadres in Dandakaranya, forming the spine of this insurgency.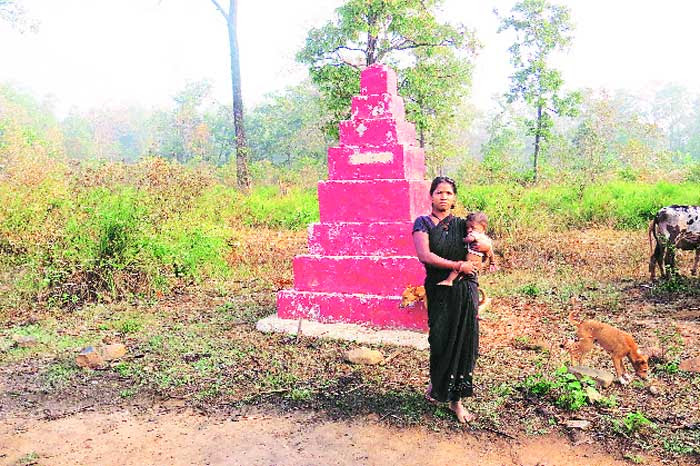 A memorial for Mangal, killed in an encounter a few years ago, outside the Bali Bera village. "Villagers erased his name as they feared the police," says his sister SimriThe CPI (Maoist) marks International Women's Day on March 8 by talking to tribal women about their rights. A Class V dropout tribal from Bastar, 30-year-old Ranita commands the zone where some of the topmost members of the CPI (Maoist) central committee live. Head of the Kutul area committee in Abujhmaad, Ranita joined the Maoists at the age of 14, when her parents wanted to marry her off. "I approached the party. They said you are young, you cannot join, but I insisted," she says.
"The party has done a lot for women, something your governments have not been able to do. Remember the Delhi gang rape? You will never hear about such incidents here," says Ranita, a powerfully built woman. She oversees around 25 Jantana Sarkars or village councils, the ground unit of the CPI (Maoist) "government" in Dandakaranya. Three decades ago, she says, women in Bastar faced all kinds of exploitation. Now they are treated on a par with men as "the party has ended pitrasatta (patriarchy)".
She laughs off the police claim that women cadres are sexually exploited by senior leaders. "If that were the case, you wouldn't find me and so many other women around," she says. However, it is also a relationship bound by strict rules. The Maoist code book prohibits male cadres from even bantering with women comrades. Pre-marital sex is banned and the punishment is stringent — three months' suspension from the party for a member, six months' suspension for an area committee member, and one year for a divisional committee or zonal committee member.
This is to ensure the honour of women members and the revolution itself, say cadres. Even someone like the highly respected central committee member Lanka Papi Reddy, among the earliest guerrillas from Andhra Pradesh to have entered Dandakaranya in the 1980s, was demoted and sent to Punjab for his alleged deviations. Ignored by the party, he later surrendered.
In the Maoist camp, while marriage within the fold is allowed, a man or a woman can propose to his or her partner only two years after joining the party, and marital life too must conform to the "requirements of the revolution". That implies a forced vasectomy for male cadres. Surrendered Maoists often resent that they are forbidden from having children, but cadres see it necessary for a revolutionary party. "I cannot be a guerrilla if I am carrying a baby," says a woman fighter.
She is often seen writing letters. Sometimes when she is reclining against a tree with a Maoist textbook on revolution, she writes on a paper tucked between the pages. Hers is among the nearly 750 letters exchanged every day among Maoists in Dandakaranya — moved hand to hand, it is considered the safest mode of communication. Only a handful ever are intercepted by the police, and then celebrated as a "sensational discovery".
The letters — they begin with "Dear Comrade" and sign off as "Your Comrade" — are never opened in between and destroyed immediately after the recipient reads them. They carry tales of guerrilla life which lie forever buried in these woods. If someone could collect and chronicle them, they might offer a map to the secret desires of this fiercely disciplined party.
Villagers in Bastar carry countrymade muzzle-loading guns called bhar-maar for hunting. The police often round up locals carrying the gun even though the unwieldy weapon is not a part of the Maoist armouryThis reporter wrote four letters to Maoists during his stay. One was to their supreme commander Ganapathy for an interview. The reply came from Arjun, his close confidant. He expressed regret that the meeting was not possible this time, but "hoped" it would be "as soon as possible". "Itna din rukne ke baad bhi aapka kaam safal nahi hua ( You waited for so long and yet your work remains incomplete)— we are sorry for this," he wrote. Arjun surrendered a few months later. Considering the time it takes to approach the police and secretly leave the forest, the surrender was probably on his mind when he had given me that assurance.
Besides letters, the radio is their only other connect with the outside word. Every squad has a radio, tuned to BBC and All India Radio in Hindi, all day. On February 18, 2014, silence descends on a camp, stationed for the day atop a hill, as the radio blares news of the surrender of 22 rebels in Andhra Pradesh. Next day, a couple surrenders in Rajnandgaon. A woman at the camp knew the man, Bhagat. She had participated with him in an ambush.
Almost every rebel remembers a time when the radio, dangling from a tree, announced the death of a fellow comrade or a spouse in an encounter. "It seemed as if he was dying inside this black box. I wanted to break it and take him out," said one.
February 28 brings a change of mood as the same radio has news of the killing of five policemen in Dantewada. Someone says: "Itne maare jate hain ye policewale, phir bhi nahi maante (So many of these policemen get killed, still they don't give up)."
135 killed in Bastar, including Maoists, civilians and police informers, since Feb 2014; 50 killed this yearRajnu Mandavi is philosophical. "It's a long battle. We shouldn't be disheartened by the killing of our cadres or celebrate the killing of policemen. Na hansi, na dukh, medium rehna hai (Neither happiness, nor sorrow, we ought to remain unruffled)."
One day, they rejoice at the arrest of Sahara chief Subroto Roy. "If such punjipatis (capitalists) are punished for their wrong acts, why would we need revolution then?" says Ramdher, who heads one of the only two Maoist battalions in Dandakaranya and has executed some of the biggest attacks on security forces.
The Maoist insurgency is a phenomenon few have the will to grasp. Several thousands of armed men and women live in the forests of central India spearheading a revolutionary struggle which is reaching its 50th year soon. Some better educated cadres work underground in cities across the country. Former CPI (Maoist) spokesperson Azad lived in the heart of central Delhi for years with his comrade wife Padma before he was killed in an encounter in 2010. Ever since mid-1980s, the couple changed several cities, deciding against having children, dodging the police and society. "He (Azad) was among the brightest engineers of his batch but we opted for a guerrilla life because we dreamt of an equal society," says Padma, who after her husband's death now lives in Hyderabad, in a home owned by a person whose comrade son is in a Jharkhand jail and daughter-in-law recently released on bail.
Still, almost every cadre realises that he or she would be killed before kranti. Talk to them and the goal of "revolution" seems too distant, too amorphous. For a vast section, it's just a battle to protect their "jal, jangal aur jameen (water, forest and land)".
A native of Kanker district, Naresh is a member of the Raoghat area committee of the CPI (Maoist). Raoghat has rich iron ore reserves which attract many companies. In any other area, says Naresh, the government would negotiate with local residents, but here they deployed BSF battalions. "You want my land. When I refuse, you post 10,000 soldiers outside my home. What do I do?" he asks.
The state cannot triumph over the rebels without winning over the tribals. The longer this battle carries on, the gap between the tribals and the state will only widen. The state often accuses Maoists of indoctrinating tribals, but it overlooks the fact that it has not convinced them that it can protect their interests better than the Maoists.
The rebels' mammoth political wing work quietly behind the scenes. Few of them have a police record — they are an army in camouflage. "We are a party with many tasks. Ambush is just one of them"Having entered Dandakaranya from Andhra in the early 1980s, the Maoists made this forest their laboratory and now continue to retain control through a network denser than veins in a human body. The government has not even been able to conduct even a decadal Census in the area. It does not know the coordinates of many interior villages in Bastar, its voter lists are full of errors, schools and forest resthouses it believes are polling booths stopped existing long ago.
In contrast, the rebels periodically update their database of villages. Their notebooks list hens, goats as well as the quantity of foodgrain with each family in every village in their territory. Even if a cock goes missing, or a villager does not return from the city after a routine visit or if he takes longer than usual, the Maoists come to know.
Passing through a village one evening, cadres discover two villagers missing. Could they have been police informers? Could they have been arrested? Tension mounts as the Maoists decide to halt in the village. The duo returns the next morning. The delay was nothing out of the ordinary, but the Maoists know their survival depends on not taking chances. The villagers are let off only after thorough questioning.
Leisure is rare. The only moving images a majority of them have seen are videos prepared by the party, either ambush or propaganda, or certain action flicks such as King Kong. These are seen on computers, powered by a solar charger and battery.
One night they watch Theo Angelopoulos's movie Ulysses' Gaze on this reporter's laptop, and are fascinated by the images, particularly of Lenin's mammoth white statue being dismantled somewhere in East Europe. They don't understand the language or the subtitles. This laptop soon becomes the most precious object in the camp as the rebels eagerly wait for night to descend and the machine to switch on.
On March 2, with the radio set to begin broadcast of an India-Pakistan match at the Asia Cup, the rebels ask about Mahendra Singh Dhoni. How does he look, how much does he earn? "He is a sportsperson, he must be very strong." They have never seen any photographs of him.
With the match yet to begin, Rajnu Mandavi stakes his revolution on India's win. "If the revolution has to be successful, India has to win," he says. Excitement rising within the squad, the leader sends his cadres to the neighbouring villages to get a ball. With plenty of logs around, a bat can be easily fashioned. Teams are being decided, and a match between the cadres near a stream seems set to begin. But a ball can't be found. The Maoists' best bet is two days, 24 km and 5 hours away, at the Tuesday market in village Sonpur.
Meanwhile, Pakistan is chasing well and Mandavi looks uncomfortable. Night has fallen, dinner is done, but some ears are still trained on the radio. Then there is a sudden turnaround. Bhuvneshwar Kumar takes two wickets in the 49th over, and R Ashwin claims the ninth Pakistani wicket on the first ball of the 50th. "I told you India will have to win for the revolution," Mandavi says.
Then Shahid Afridi hits consecutive sixes. Pakistan wins by one wicket. Mandavi quietly lies down on his tarpaulin sheet.
An endearing smile, a twinkle in his eyes, Jaylal looks younger than 22. The INSAS rifle on his left shoulder covers nearly half of his 5 ft 3 inches frame, while the other is weighed down by a big pithoo bag. With one hand, he constantly pulls up a pouch holding a pen-gun and a sharp dagger that keeps slipping down his narrow waist. In the party for seven years now, he has never participated in an encounter, nor is he ever likely to. "My task," he says, "is jan nirman (organising the people) in order to bring navjanvadi kranti (a new democratic revolution)."
Jaylal heads a local organisation squad overseeing party work in nearly 10 villages spread over 1,000 sq km. He meets villagers daily and warns them that their land will be taken away if the government and industry enter Bastar. He talks to illiterate Gond tribals about the "treacherous battle of Plassey" and the "false Independence of 1947".
Jaylal represents a face of the Maoists few are aware of. In popular imagination, guerrillas only attack and kill. But the CPI (Maoist)'s mammoth political wing work quietly behind the scenes, sustaining the rebel outfit's support among villagers.
This groundwork makes cadres believe that they can eventually "encircle cities after capturing villages". Few cadres of the political wing have a police record — they are an army in camouflage. "We are a political party with many tasks. Ambush is just one of them," Jaylal says.
In villages, the political wing guides the Jantana Sarkars, which comprise elected villagers, and decide how government schemes will be implemented. In many villages of Bastar, panchayats have been replaced by the Jantana Sarkars. In February 2015, over 10,000 Maoist-supported panchs were elected unopposed in Bastar, a replica of the 2010 polls. The panchayats will oversee schemes worth nearly Rs 100 crore a year. A small fraction siphoned off is enough for the rebels' sustenance.
Though this political wing does not participate in ambushes, they carry arms and build two base-level forces in villages — Jan Militia and Gram Rakshak Dals. The militia mostly operate as Maoist informers. Members of the latter carry minor weapons and act as armed sentries. Cadres for the Maoist platoons are mostly drawn from these groups. A large part of their tribal support rests on the fact that villagers have few options. "Whenever we go out, police stop us, harass us, say we are informers," villagers say. Consequently, tribals remain locked inside, with the Maoists, who talk to them about their rights, as well as history and ideology.
Jaylal once presided over a controversial Jan Adalat or people's court. Kawasi Chandra, a resident of Konger village, was an alleged informer who was clubbed to death before his wife, parents and children by around 200 villagers in 2013. "Villagers decided the punishment. Such lessons are necessary sometimes," he says.
Ask him what's the difference between them and police who they accuse of torturing tribals, Jaylal looks towards the evening sky and replies after a long pause: "Yes, you are right. It's bad." He then quickly adds, "Maybe it's for the senior leaders to decide."
Always argumentative, the guerrillas are not unwilling to accept that there are chinks in their ideologies. When they say "all property is bad, monetary incentives for work make one dishonest," I ask them: "I earn a salary. If I work hard, I get incentives. Do you think I am a bad person? Why do you believe all that Mao said?" They reply:"Okay, but central committee leaders must decide about it".
But how do they overcome the fear of death when revolution is not in sight? There is the desire to protect their land and the idea of being "recorded in history". "When a villager dies, he is remembered only by local villagers. If I die, you all will remember me. The party will write pamphlets on me," Naresh says.
The irony is that all lives are not equal in death. Comrade Mangal was killed in an encounter a few years ago. Maoists erected a memorial for him outside his Bali Bera village, but the villagers erased his name from it. "They feared police would know that he lived here," says his sister Simri, who lives nearby.
In vulnerable moments, they reveal that their fate would not be different from Mangal's. Party pamphlets will never be enough and villagers will eventually move on to cities, but for them there seems no return. They admit that revolution would not be possible in their lives but they see no alternative to this struggle. "It's a protracted battle. I will be killed, but the revolution will take place," says one of them.
The outside world often seems of a completely different order from their ideology. Rebels who have been with the party for a decade and can hold forth for hours on "the significance of deerghkaleen ladai (protracted battle), and the dangers of neo-imperialism and globalisation", sit wondering one night where "neo-imperialist Amrika" is. "Amrika kahan hain? (Where is America)?" a woman asks, resting next to a fire after a dinner of rice and papaya curry. She is astonished, as are the others, when told that earth being round, America is almost on the exact opposite side of the planet from where they sit. Or, that it is day there at the time.
A majority of the Gondi tribal cadres have not stepped out of their forested zones since joining the party; they have never seen electricity, phone signals or vehicles. "I've heard there is something called a fan in cities. How does it work?" a cadre asks. Another can't believe that in cities people use gas for cooking and don't need wood. "Raipur kitna bada hai? Kitne ghar hain wahan? Gaadiyan? (How big is Raipur? How many houses does it have, how many vehicles?)" asks a third.
They believe they will die without answers to the questions. "Bahar nikalte hi mara jaonga. Ab to kranti ke baad hi bahar jana ho payega (I'll be killed the moment I get out. Now we can get out only after the revolution)," says a youth.
One evening, a boy, barely 15, joined the camp. He was studying in Class VIII in a Narayanpur hostel and was visiting his Abujhmaad village home for Diwali. His father made him stay for the harvest, and then the Christmas holidays and a few more months as well. When the Maoists visited his village, they took him along for an initiation.
Among the most educated in this area, he is itching to return home but cannot. He is being taught revolutionary politics and ideology, occasional combat drills too. It seems unlikely that he would ever be able to resume his studies now. Even if he does, these guerrilla days will forever haunt his young, impressionable mind.
The Bastar tribal is one of the biggest casualties of this war that has fundamentally altered his DNA. A free-spirited forest-dweller, he is suspicious of everything today. He is the first source of information for all — police, journalists and Maoists. Sandwiched between all of them, he lives on a dagger's edge. He has, hence, learnt to double-cross both camps. Both Maoists and the police realise it but hesitate to accept that most of their ambushes are contingent on the treachery of this tribal, a sarpanch or a school teacher.
If the Maoists freed the tribals from the excesses of forest guards and patwaris, educated them about their rights, they also introduced them to history and ideology. A person who lived in an alternative universe of the forest suddenly felt the "historical responsibility of revolution" as the classical Marxist doctrines invaded his life. He was forced to shun his family, gods and ghotuls (community centres), and undertake a struggle to find "a place in history books".
Reams have been written on people displaced by industry, villages evacuated by the Salwa Judum, but there is no account of the Bastar tribal uprooted after joining the Maoists. The family of a cadre lives just two hills away, but he gets to visit them, slyly, only once in two years.
I ask the Maoists why they insist on taking this boy along against his wishes. He wants to be with us, they insist. The boy says otherwise. He is worried that if word goes out about his stay here, his return to the school will be impossible. The police will harass him. He might be forced to become an informer and embark on a path of treachery. The police barracks and village lanes of Bastar abound with such informers.
Betrayal is now a prerequisite for the tribal's survival. Everywhere, you see the death of a tribal and the birth of an informer. A transformation yet to be recorded in history.
http://indianexpress.com/article/india/india-others/days-and-nights-in-the-forest-23-days-with-the-maoists-in-chhattisgharh/