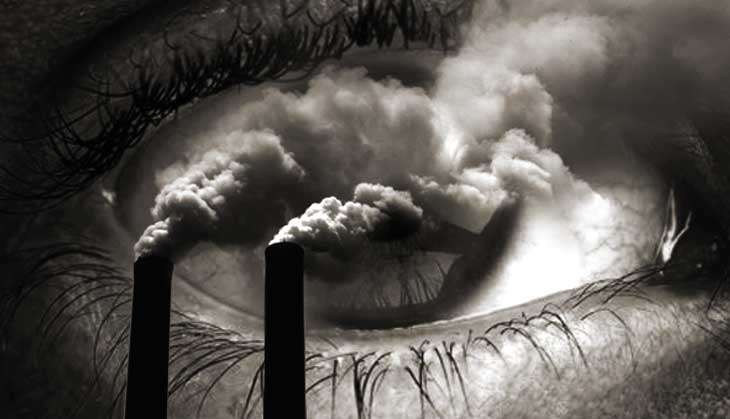 Chhattisgarh's region of Janjgir-Champa has long been famous for paddy cultivation. It is now also emerging as state's power hub with several power plants coming up in the area during the recent years.
While fuelling economic growth of the resource-rich state and giving employment to hundreds of impoverished Adivasis, these electricity projects are also turning many local residents blind. Thousands of people are suffering from cataract due to dust and ash emitted from the power plants.
Yet the district hospital does not have even a single eye surgeon for the past 14 months. Dr A L Korram was the last eye specialist to serve at this hospital.
It is common knowledge that 90% of cataract patients can be treated if provided right treatment on time.
A survey conducted by the state health department reveal only a few cataract operations have been carried out in Janjgir-Champa region during the past four years. Meanwhile, the disease has reached its last stage in over 5,000 patients for the want of treatment. The only way to prevent their eyes from going dark is to ensure that an operation is done as soon as possible.
"90% of cataract patients can be treated if provided right treatment on time "
Kunwar Bai (65) is one such patient. She has spent her life living below the poverty line. At the dusk of her life, she desperately needs a cataract operation. However, the government hospital does not have a doctor that could cure her and going to a private hospital is beyond her means.
This leaves Kunwar Bai with only one option; to wait for her eyes to completely turn blind. Many young people working in power plants are facing the same predicament.
"The number of eye patients is increasing due to ash and dust emitted from chimneys of power plants. Every year, around 1.6% people of Janjgir-Champa district are turning blind. People living near industrial areas are the worst sufferers. Areas like Malkharauda, Dabhra, Pamgarh, Bamhanidih are most affected by this pollution, says Dr Prabir Chatterjee, who works with the Chhattisgarh State Health Resource Centre.
THE EYE CAMP BAN
According to district's Chief Medical Officer (CMO) Dr V Jaiprakash, five letters have been sent to the administration during the past 14 months asking for the appointment of an eye surgeon at the district hospital. But, there has been no action so far.
The ongoing ban over government eye camps is only aggravating the situation. These camps were discontinued after several cases of negligence came to light during 2012 to 2015. Around 60 patients completely lost their eyesight during this period due to mistreatment in these camps. The official blames lack of facilities and dereliction of duty on the part of the doctors for these figures.
"Eye camps were banned in the state after 60 people lost their eyesight due to mistreatment"
Most numbers of such cases were recorded in Durg district's Balod and Dhamtari region's Bagbahra. The state government had to face the ire of the people due to these eye camps. It responded by scrapping these camps altogether. There is no doubt that eye camps could have saved many patients from blindness in Janjgir-Champa.
"Any eye patient will now only be treated at a regular hospital equipped with proper facilities for eye operations," claims Dr Subhash Mishra, the state in charge of the National Programme for Control of Blindness.
"We have received instructions from the central government for qualitative eye surgeries," Dr Mishra adds. Interestingly, the government never shies away from issuing such guidelines. Yet, it takes no measures for the appointment of doctors for the same purpose.
A POOR RECORD
Chhattisgarh is already at the bottom of the list of states with the most number of eye diseases. The state fares at a poor 20th spot in terms of eye donation. The data released by the state health department reveals only 83 people have donated their eyes during the past one year. Chhattisgarh is also lagging in the target of providing free spectacles for the school children.
The government had aimed to distribute free spectacles to 21,070 children in 2016. However, only 7,202 could get this benefit during this period. Similarly, there are no special units for eye operations in the government hospitals of Bijapur, Sukma, Surajpur, Balrampur, Baloda Bazar and Mungeli.
http://www.catchnews.com/india-news/darkness-falls-thousands-go-blind-in-chhattisgarh-no-relief-in-sight-1482151308.html?pg=2