The lawyer discovers disturbing development while speaking to Rediff.com's Prasanna D Zore.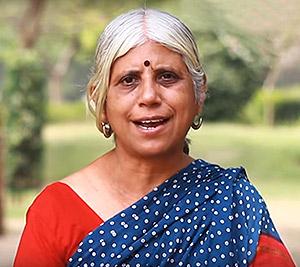 Social activist Bela Bhatia, whose house in Jagdalpur's Parpa village was attacked by a mob on the intervening nights of January 21-22 and again on the afternoon of January 23, had told Rediff.com on the evening of January 23 that she has been provided a Suraksha Dal comprising of a posse of 15 to 20 policemen, including "security forces also."
However, there was not a single policeman stationed outside her home on Wednesday morning when this correspondent called her.
As she stepped out of her house for better telephone connectivity, Bhatia discovered that all the cops were missing.
When asked if her security has been withdrawn she said she would be able to respond only after speaking with the local thana in-charge and the district collector.
At the time of writing this report, she sent a text message saying that the local police in-charge, Mr Khan, told her he was looking into the disappearance of the cops stationed outside her home since January 23.
Repeated calls to Mr Khan did not elicit any response.
"The collector had said he will find alternative accommodation for me, but so far they haven't given me any. They are saying they are busy because the chief minister (of Chhattisgarh, Dr Raman Singh) is visiting and also because they are overseeing the arrangements for January 26 (Republic Day). The understanding is once these are over they will find something for me,: Bhatia said.
On January 23, a mob of 30 people had threatened Bhatia and her Adivasi landlord with arson and physical harm if she did not leave Parpa village by 6 pm on January 24.
Bhatia and her landlord had given in writing, under threats and intimidation, that she would leave the village before the deadline.
But since Collector Amit Kataria was not able to find a suitable, safe, accommodation for her outside Parpa village, she is still living at the same place.
"The collector has instituted an independent inquiry and the understanding was until they find me accommodation there will be forces here. Till yesterday night they were here and now while speaking to you as I came out for better signal there is not a single cop here," a worried Bhatia said.
When asked if this sudden disappearance of the security personnel from outside her home could be a precursor to another attack on her, Bhatia said, "I am wondering what has happened because this is contrary to what was understood and I don't know why this sudden withdrawal and this is something I will be asking the local thanedar and the collector and the journalists will have to investigate into."
Bhatia asked that the interview be terminated so that she could call the local thana and find out what is going on.
"If I don't get a satisfactory reply I will then call the collector," she said.
Bhatia, who works for the Jagdalpur Legal Aid Group, had accompanied a team of National Human Rights Commission officials to seek the testimony of Adivasi women in Pedagallur and Bellam Lendra villages on January 19-20.
Since then, she has been intimidated twice by a group of people who could owe allegiance to the Samajik Ekta Manch, an organisation supported covertly by the state administration, the activist had said earlier.
After she spoke with Khan, the thana in-charge of the Parpa police station, he immediately rushed two unarmed policemen to find out if her security guards had indeed vanished from the scene.
In the meanwhile, Bhatia sent a text message to the district collector, appraising him about the disappearance of her security personnel.
Khan told Bhatia that the police personnel who were stationed outside her home since January 23 belonged to the District Reserved Group, DRG, headed by an officer named Mandavi and they had their main post in Jagdalpur, which is 13, 14 km away from Parpa village.
Khan promised Bhatia that he would find out about the missing policemen. The two policemen that he had sent acknowledged the absence of security personnel outside her house.
"The two policemen who had come here to inquire said that the DRG was called back and another lot will be coming soon," Bhatia said.
"The two cops who came in the Parpa thana jeep are standing on the road (some 200 metres away from Bhatia's home) and are unarmed. Their being here is no protection as such," Bhatia said when asked if she was satisfied with the security arrangement.
Bhatia said the collector has ordered an independent magisterial enquiry into Sunday and Monday's incidents, which has already spoken with Bhatia, her landlord and his wife.
Prasanna D Zore / Rediff.com