On 1 August 2014, US Foreign Secretary John Kerry was in New Delhi on a mission to salvage the Trade Facilitation Agreement (TFA) in the wake of India's veto that had threatened the fate of negotiations among World Trade Organisation's (WTO) members on customs procedures.
Prime Minister Narendra Modi – new to the office at that point – minced no words in conveying that small farmers remain the top priority of the government and that India would not their survival for the trade deal.
"There is a need for developed countries to understand the challenges of poverty in developing countries and their governments' responsibilities in addressing the concerns of the small farmers, when discussions take place in international forums," read the statement released by the Prime Minister's Office.
However, the statement rings hollow when it comes to the state of Chhattisgarh, which is also known as the rice bowl of India.
The latest census data reveals the number of farmers has gone down by 12% in the state during the past decade. In contrast, the number of landless labourers increased sharply by 70% during the period. Most agricultural experts believe these are mostly small farmers who have either lost their land to industrial projects or quit farming as it was no longer economically viable.
Ratan Sahu (name changed), a small farmer in Dhamtari district, was forced to purchase a water pump last year to irrigate his paddy fields. It punched a big hole in Sahu's pocket but the drought had left him with no other option. The cultivation of 2.5 acres of ancestral land is the only source of livelihood for Sahu and failure of the paddy crop would have meant starvation for his entire family. So he borrowed money from a local lender. Sahu now stares at the prospect of falling into the trap of cyclical debt.
It's a similar story for over 30 lakh small farmers in Chhattisgarh.
"Around 80% of farmers in Chhattisgarh are small-time cultivators. Most of the unirrigated agricultural land belongs to them. They are completely dependent on the monsoon and are able to reap only one crop annually. They are totally at the mercy of nature. It is this segment of farmers that is affected by the politics over compensation. Most of these farmers are Adivasis and Dalits. Failure of crops forces them to migrate to other states for livelihood. They are fearing the worst this season due to insufficient rainfall," says agriculture expert Sanket Thakur.
"The latest census data reveals the number of farmers has gone down by 12% during the past decade"
Sanket points towards the fact that area of irrigation land has only marginally increased from 23% to 32% during the past 16 years. "This shows the extent of government apathy for the plight of these farmers. 90% farmers are not able to reap two crops in a year forcing them into economic uncertainty," he adds.
Sanket Thakur's viewpoint is vindicated by a report prepared by the National Sample Survey Organisation (NSSO), which says that farmers who own land up to two hectares don't earn enough to meet their average monthly expenses.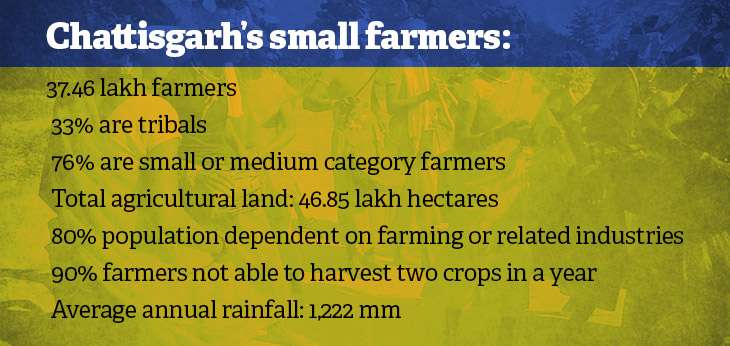 Catch News
TRANSPORT AND STORAGE ISSUES
Even a good harvest is no guarantee of 'Acche Din' for these farmers. Their travails only intensify after harvesting. Most cannot afford the cost of transporting their crops to the procurement centres.
This brings middlemen into the picture, who make most of the chance to buy crops from small farmers at a trifle.
As farmer leader Rajkumar Gupta says, "Small farmers lack storage facilities. Therefore, they cannot wait for 2-4 months when the rates become higher. Moreover, government banks offer little help leaving these people at the hands of exploiting money lenders."
FERTILE LAND
But there are people who are positive about the future of agriculture in Chhattisgarh. Dr MP Thakur, Director of Extension at Raipur's Indira Gandhi Agriculture University, feels the state is better placed for farming as compared to other states.
"The soil in Chhattisgarh is still fertile. It has not been polluted with fertilisers and pesticides. We will have to devise better mechanisms of water management. Israel has managed to bring prosperity to its farmers by harvesting just 500 mm of rainwater. Small farmers will have to think beyond remaining dependent on growing paddy. The government will have to help them diversify to horticulture, animal husbandry and dairy farming," Thakur says.
" Most cannot afford the cost of transporting their crops to the procurement centres "
"The government should stop supplying seeds that require excessive water and chemical fertilisers. Such seeds have low immunity for pests. The use of pesticides decreases fertility of the soil. It also increases the incurring cost for the farmers," says Jacob Nellithanam of the Richharia Campaign, a movement seeking to improve the condition of paddy farmers.
The Richharia campaign is named after the renowned scientist RH Richharia who had managed to collect and store over 20,000 indigenous varieties of paddy seeds in Chhattisgarh. He believed that desi seeds can yield good crops in any conditions.
NO COMPENSATION
Far from coming up with such innovations, the state government has not gone beyond announcing compensations for every crisis afflicting farmers. "The administration has distributed compensation to every deserving farmer as per the government policy during the past year," claims state revenue secretary KR Pisda.
"We have no information of migration from any district. Only a negligible section has moved to other states, but it happens every year. The government has tried to give employment to 10 lakh people under MNREGA," he adds. Pisda's claim gives an indication that a large number of farmers are turning into MNREGA labourers every year.http://www.catchnews.com/india-news/farmer-distress-in-chhattisgarh-30-lakh-stricken-no-respite-in-sight-1475764282.html/fullview