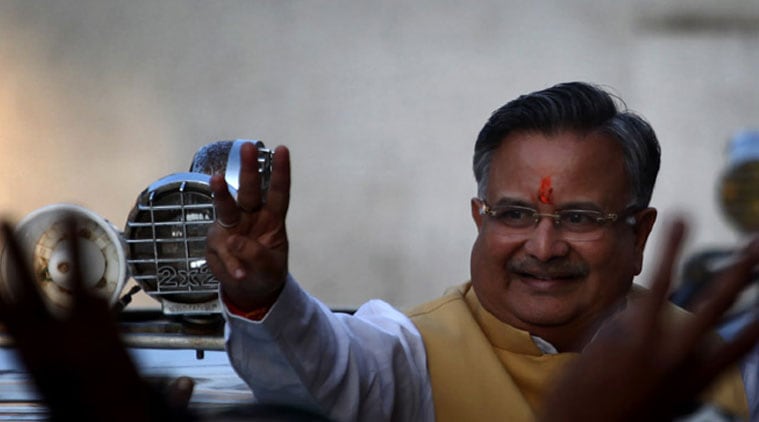 Welcoming the move, the RSS claimed that it was not a political organisation and that the Raman Singh government has done a good thing.
Kicking off a political storm, the Chhattisgarh government has issued a notification that allows government servants to join RSS and participate in its activities.
The Chhattisgarh Civil Services (Conduct) Rules 1965 prohibit a government servant from taking part in politics. "No government servant shall be member of, or be otherwise associated with, any political party or any organisation which takes part in politics nor shall he take part in, subscribe in aid of, or assist in any other manner, any political movement or activity," states Rule 5(1).
However, the state government, in a notification dated February 23, with the subject line "regarding participation of government servants in activities of RSS", said that "as far as Rule 5(1) of Chhattisgarh Civil Services (Conduct) Rules 1965 is concerned, its restriction does not apply to RSS".
The notification was signed by Additional Secretary (General Administration Department) K R Mishra, and copies were marked to almost all major government officer-bearers in the state, including Principal Secretary to Governor; Chief Minister's Office; Principal Secretary, Vidhan Sabha Secretariat; Registrar General, High Court; Public Service Commission; Human Rights Commission; Lok Ayog; Information Commission and all collectors and divisional commissioners.
Opposing the notification, the Congress termed it as "politicisation of administration". "It is an unconstitutional move with clear political colours. It will indoctrinate government servants. They will go to shakhas and will no longer remain impartial," said former chief minister Ajit Jogi.
"It is an attempt by the government to force officers to visit RSS shakhas. It will blur the dividing line between the government and a political party. The BJP's top leadership is annoyed with Raman Singh. He wants to save his chair and please them. The present move confirms his desperation," said PCC chief Bhupesh Baghel. "Officers will now openly speak and work in favour of RSS-BJP. It will damage democracy in Chhattisgarh," he added.
Welcoming the move, the RSS claimed that it was not a political organisation. "This rule was made by the British but still continues. This government has done a good thing. The RSS is not a political party, we are a social organisation," said Deepak Vispute, RSS's Chhattisgarh Sar Sanghchalak.
Asked about the RSS's involvement in campaigning for the BJP, he said: "We never asked people to vote for BJP. RSS ne wahi kaha jo Election Commission ne kaha — matdaan karo. We only asked people to vote for rashtra hit."
When pointed out that RSS leaders occupy top political posts, Vispute said: "Our swayamsevaks are in various fields. Some of them are in politics also, but we are a cultural organisation."
Countering the RSS, Baghel said: "The RSS claim is bogus. Everyone knows that it is into deep politics and controls BJP." Several officers also expressed their displeasure with the move.
Earlier, the Centre had held that the RSS and Jamaat-e-Islami are political organisations and "participation in them by government servants would attract provisions of sub-rule (1) of Rule 5 of the Central Civil Services (Conduct) Rules, 1964." In its 1966 order, the Centre had said that "any government servant who is a member of or is otherwise associated with the aforesaid organisations or with their activities is liable to disciplinary action."
The Union Ministry of Home Affairs had clarified to The Indian Express last year, in response to an RTI application, that the 1966 order is "still applicable."
In Himachal Pradesh, the previous BJP government withdrew the memorandum (restricting its employees from participating in RSS activities) with immediate effect on January 24, 2008. In Madhya Pradesh, the BJP government issued a clarification on August 21, 2006 that the "restrictions are not applicable to the RSS".
— With ENS, New Delhi
http://indianexpress.com/article/india/politics/government-staff-may-join-rss-no-service-rules-being-violated-chhattisgarh/99/