Gynaecologist Dr Arun Choudhary, 29, is among the young, first-generation specialists offering hope and relief at the Bijapur district hospital
Written by
Dipankar Ghose
| Bijapur(chhattisgarh) | Updated: March 27, 2017 8:14 am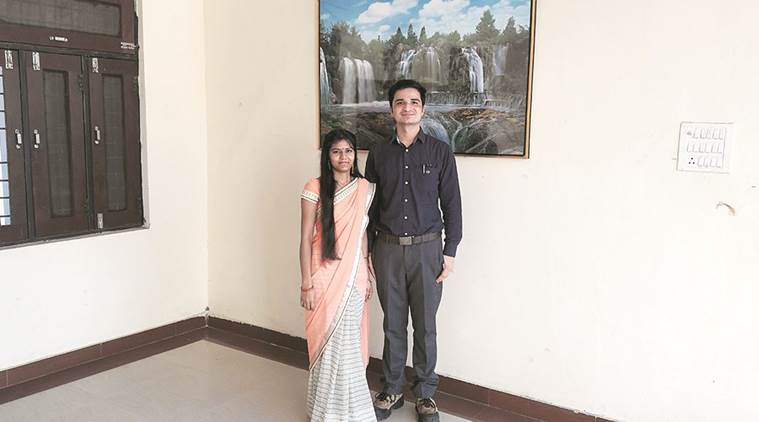 Dr Choudhary with his wife Pratibha, a school teacher, in BijapurIn his final year as a student of gynaecology at Aligarh Muslim University, Dr Arun Choudhary first heard of the need for doctors in a place called Bijapur. Like many others, he first mistook it for the district in Karnataka. When his head of department, Dr Seema Hakim, told him that it was a district in Chhattisgarh's Naxal heartland, Choudhary admits there was doubt. But he was young and free, and told his professor that he would see the place for himself. And in July 2015, with his wife Pratibha, Choudhary set off on a 1,400-km drive.
"It was raining throughout, and it was just so beautiful. I remember stopping everywhere, and clicking pictures," says Choudhary. With forests lining both sides of the road from Bastar to Bijapur, they were "singing in the rain". "We had never seen anything like it before. So even before we got to Bijapur, the battle in the mind was already half won," he says. But at the understaffed district hospital, Choudhary walked in to an emergency. In front of his eyes, a mother, her labour obstructed and heart rate dipping, was brought in. Even though he wasn't an employee yet, the civil surgeon looked at him pleadingly. And, as he emerged from the only operation theatre at the time, he carried a bawling baby in his arms. "The signal was clear. I had to stay," says the 29-year-old from Iglas in UP's Aligarh.
Choudhary then went to meet District Collector Ayyaz Tamboli, who had introduced a differential incentive system to Bijapur, offering doctors high salaries for time spent working here. Tamboli would later also send out an SOS on social media platforms asking for doctors — The Indian Express reported last week that the number of doctors in the hospital has tripled. Choudhary and his wife Pratibha now live in a two-bedroom house in Bijapur, in the transit hostel for doctors in the hospital campus, which reminds them of "hostel life." Most other doctors that have arrived in Bijapur are "young, first-generation doctors," says Tamboli, and the hostel reflects that. On the walls are large colourful posters, and in one room, is a table tennis table, two rackets and a ball on its surface speaking of its regular use.
"I now work in a place where nearly every patient has a desperate need. There are times when one woman with a complication is wheeled in, and as the operation begins, another comes in. The nurses here are excellent, and are always ready, the ecosystem here is of people committed to doing work," says Choudhary. A Masters in English from Agra University, Pratibha teaches at the government school in Bijapur, and her only complaint remains her husband's odd hours. "He will put in a shift during the day, but then a woman will be wheeled in at night, and he'll be off. Food timings are irregular, and every Friday, even when he could take a few hours off, he spends time teaching the nurses on what they must do," she says.
In Bastar's Maoist land, healthcare, education and social indicators are often low, but the Bijapur hospital is an anomaly, a symbol. There is a new blood bank, new operation theatres, and a 50-bed maternal and child healthcare section, strung up with the latest technology. On a two-year contract, Choudhary has already completed a year-and-a-half. Whether he stays is up to him, but the Collector argues that nowhere else will Choudhary get this experience. "If the administration and environment stay the same, why leave?" he asks.
http://indianexpress.com/article/india/chhattisgarh-bijapur-hospitals-naxal-doctor-maoist-area-arun-choudhary-4587013/