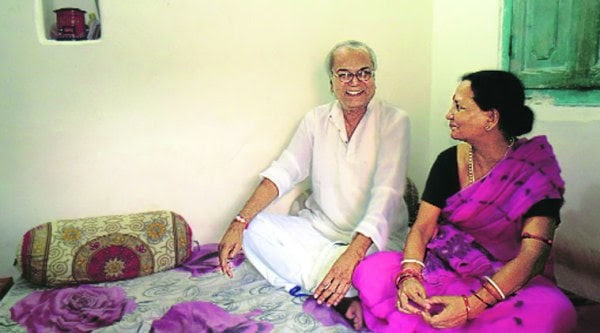 Prafulla Jha with his wife.
The boy stopped short. Tightly clutching his school bag, he stretched his hand and felt the old man's face. "You look just like my father," he said. Pragya Jha had just returned home from school and met the man his grandmother had often told him about.
Pragya was only a year old when his grandfather Prafulla Jha was arrested in January 2008 and later convicted of sedition and having Maoist links — the first journalist in Chhattisgarh to be held guilty of the offence.
After completing the seven-year term in Raipur jail, Jha was freed on Saturday only to find his city's landscape having changed almost beyond recognition. "Are these the same roads? I asked my wife. She assured me that we are in Raipur," he said with his wife Kavita blushing nearby and reminding that his release came a day after he turned 69.
Jha was among seven others, including his son Pratiek, arrested in January 2008 in what the police termed as "the biggest case of urban network of Maoists". None of them, the court said, was a Maoist.
There were alleged recoveries — a bag of weapons from Jha's house among others — mostly before police witnesses that formed the basis of their conviction. Among the convicted were two cloth merchants and a tailor, who were held guilty of providing and stitching clothes for the Maoists.
Jha's case was curious. The court noted that he was not a Maoist and his interrogation report called him "a Gandhian who would never resort to or support violence". The police had admitted that he was not a Maoist and attributed the bag allegedly recovered from his home to his son, but added that "his arrest was necessary to teach others a lesson". In a way, he was the victim of the fear psychosis created around the term "urban network".
A few top Maoists lived in Raipur and Bhilai since late 1980s and were friends with journalists. Their articles used to appear in newspapers and someone had to arrested, and it was Jha.
Seven years later, the "Gandhian" Jha does not hold a grudge. "Yes, I was wrongly convicted and I will fight against it, but I utilised my time inside for reading. I read a lot," he said.
The first book he asked from the jail library was Tulsidas' Ramcharitmanas, followed by Bal Gangadhar Tilak's Gita Rahasya and Mahatma Gandhi's My Experiment With Truth. "I'd read these books several times earlier. But behind bars, I found rare wisdom in their pages. Gandhi was the only Indian who blended Ramayana and Geeta in his life."
He soon aroused curiosity among jail staff who wondered "how could an atheist Naxal read religious literature?" So he told them: "Neither I am a Naxal nor these books are religious. I suggested them these books as compulsory reading to know Indian society and culture."
Due to his daily schedule as a "devout Brahmin", involving early morning puja, the jail staff soon began calling him "Maharaj". "I was treated very well in jail," he said, and also praised Raipur Jail Superintendent K K Gupta.
His release was due in January, but his sentence was remitted by a few months.
Another convict Meena Chaudhary was also released with him and Jha's son Pratiek will be released in a few days.
– See more at: http://indianexpress.com/article/india/india-others/jailed-for-maoist-links-journalist-claims-he-was-wrongly-convicted/99/#sthash.7YDETQG6.dpuf