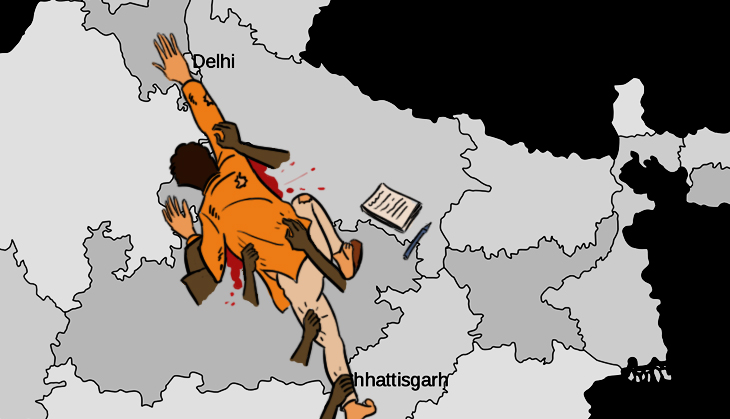 At Jantar Mantar in New Delhi on Tuesday, 10 May, there were several hundred people demanding reservation for Jats. Right beside them, there was another protest, but this one consisted of just 15 people.
These 15 people are all journalists from Chhattisgarh, and all they had was a handful of placards demanding the right to report freely, for false charges against them to be dropped and for their colleagues who are already behind bars in false cases to be released.
The journalists' protest is still extremely significant, for it's the first time that reporters, persecuted by the state, have brought their protest to the capital.
"Only about half the planned gathering turned up, owing to last-minute pressure tactics by the police"
However, in that too, they had to overcome seemingly insurmountable odds. Only about half the reporters meant to come from Chhattisgarh had turned up, owing to last-minute pressure tactics by the local police.
Most of the assembled journalists came from Bastar, which is the eye of the Naxal-State conflict, and probably the most dangerous place to report from in the country.
FORCED NOT TO REPORT
Kamal Shukla, editor of a Bastar-based newspaper, Bhumkal Samachar, did take part in the protest. He says that just before the journalists were to leave Bastar, "we started receiving calls from the local police".
He, too, received a call. "Police wanted to find out where I was going, and threatened me of dire consequences in case I went ahead with the protest. Journalists who were coming by train and air, had to make last-minute cancellations," he says.
This is the reality of the conditions in which Chhattisgarh journalists work – forced not to report against the state, and threatened not to speak against this gag.
At least five journalists have been put behind bars in the last six months, on various pretexts from corruption to harassment. Some have been tortured and stripped several times.
GLUT OF FALSE CASES
Fearing arrests and torture by the police, six journalists from the same area have been on the run. Rajesh Sahu is one of them.
Sahu's story is similar to that of most of the journalists bearing placards at Jantar Mantar on Tuesday morning.
In 2013, he filed several stories on a public scam in the constituency he hails from, Rajnandgaon, which has been the constituency of the state Chief Minister Raman Singh and his son.
Soon, the pressure started building on him. But he continued writing against corruption in the state.
In 2014, two FIRs of financial misappropriation was filed against him, despite enough evidence with him to prove his innocence. A third FIR was filed against him in 2015 and, soon after, in August last year, he was arrested and sent to Jagdalpur jail where he spent two months.
""Whoever has written against the state has found out the consequences of going against the state""
He was able to secure bail, and since then, has avoided going back home, in order to avoid arrest and torture.
"Whoever has written against the state, be it Somaru Nag, Santosh Yadav or Deepak Jaiswal, has found out the consequences of going against the state. Illicit liquor has been planted on journalists, and they've been arrested for that. When police doesn't want to come into the picture, journalists are beaten up by their local sympathisers. We have really nowhere to go," says Sahu.
The situation was never so bad, he says. But in the last year-and-a-half, local journalists, who enjoy little support and patronage from their media houses, have either left their profession or moved out.
SPARE A THOUGHT FOR FAMILIES
It's not just those who go against the state who suffer.
DP Goswami of Naya India took part in the protest on Tuesday, and says one must spare a thought for the families who lose their breadwinners and have to go through hell to make ends meet.
"Somaru Nag has go three young daughters, and there's nobody to feed them. Santosh Yadav's wife and her young child have nowhere to go," Goswami says.
"It's only some of us who pitch in to help them get two square meals a day. But we don't know how long can we hold out either."http://www.catchnews.com/india-news/chhattisgarh-journos-cry-at-jantar-mantar-let-us-report-freely-1462900468.html